Children's love for writing
Recent findings from the Annual Literacy Survey show that enjoyment of writing is at one of the lowest levels we have evidenced since 2010.

National Literacy Trust, 2023
Losing the love of writing
Over the years, it seems like an adventure into the magical world of writing has turned into a bit of a slog for our children, slowly taking the enjoyment out of writing. Instead of splashing around in the glorious puddle of self-expression, children have been asked to focus so much on, 'It should be…' – spelling should be perfect, punctuation must be on point, grammar needs to be impeccable, and let's not even get started on handwriting. In this flurry of formalities, the sheer joy of putting pen to paper seems to have slipped through the cracks.
It is now time to provide considered opportunities aimed at reconnecting children and young people with the creative elements that transform writing into a pleasurable personable practice.

National Literacy Trust, 2023
Writing for enjoyment
Writing is much more than a set of rules or a polished story. It is an enchanting adventure! It's a canvas of thought and emotion, similar to painting, sculpting, and composing music. When we let our guard down, loosen up those language laws a bit, and embrace the essence of writing, we can all discover a mode of expression that feels just right. This could take any form – a silly poem, a secret letter, an amazing story, a set of song lyrics or even a cool rap.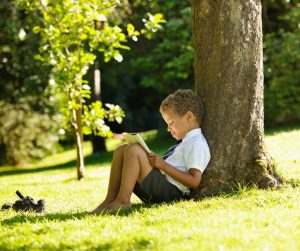 Finding the spark
Think of writing as a golden key that unlocks uncharted territories and sends us off on thrilling expeditions. It helps us create make-believe worlds, places that exist only in the colourful crevices of our creative minds. It gives us the wings to fly, to explore, to break free from the ordinary, and to test the waters of diverse situations.
So, let's think about how we can get our children to get their spark back when writing for pleasure. Once children develop a passion for writing, they will be more willing to learn and refine their technical skills, ready to take their writing to the next level.
Here are some top tips to consider when trying to add enjoyment back into writing:
Creating the right space
Many children are expected to follow rigid writing conventions while seated at a table, often ticking off writing features from a checklist. However, this process isn't natural for all young writers, including inspiring authors. People have diverse writing styles. Some may prefer curling up on a sofa, jotting notes on various pieces of paper, or even sketching out ideas before penning them down. It's essential to acknowledge individual writing preferences and provide spaces that foster comfort and inspiration.
In some classrooms, designated writing areas can inadvertently discourage children from enjoying the writing process. Instead, let's try and create environments where children can write purely for pleasure. We can achieve this by:
Provide different levels to write at and encouraging various writing positions. By doing so, we can significantly enhance children's writing experiences. Some children may feel more comfortable and inspired when they write laying on their tummies, sitting at a low table, or curled up on a cosy beanbag.
For younger children, mark-making in a tuff spot with a range of writing materials or writing on paper placed underneath to create secret messages in a hidden cave can be an exciting way to explore writing.
Allowing children to explore with what works best for them and recognise that each person's writing journey is unique.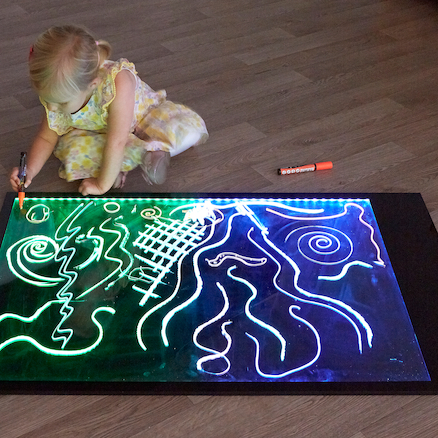 Take writing outdoors
Embracing outdoor writing experiences can be a fantastic way to engage children who love being outside or learning in nature's playground. By creating spaces for writing outside, we can encourage children to explore diverse forms of expression beyond traditional pen and paper. Some great ideas for incorporating writing into the great outdoors include:
Chalkboards and Eco Outdoor Mark Making Daisies – Setting up chalkboards or using resources such as the Eco Outdoor Mark Making Daisies in outdoor areas allow children to freely draw and write, fostering creativity and spontaneity.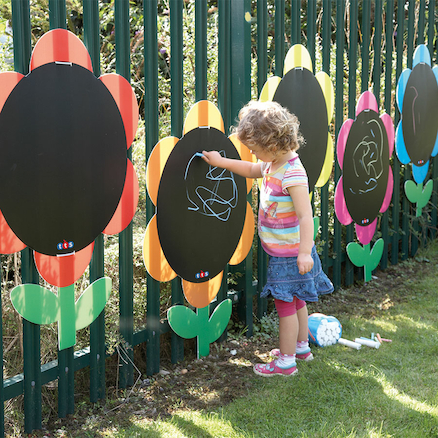 Whiteboards – Portable whiteboards can be placed outdoors, enabling children to jot down ideas, create stories, or make mind maps while enjoying the fresh air.
Recordable Talking Clipboards – Equipping children with resources such as Recordable Talking Clipboards allows them to dictate and tell their stories while exploring the outdoors, capturing the magic of nature in their words.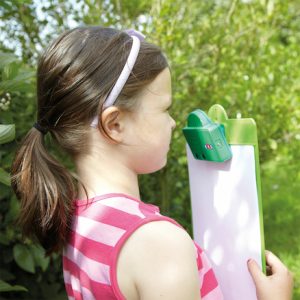 Natural Mark Making Tools – Encourage children to craft their own mark-making tools using sticks, branches, leaves, or feathers. By doing so they will learn to be resourceful and find ways of writing that they find pleasurable.
Mud Writing – Embrace messy play and let children explore with mud as an alternative writing canvas. Writing in mud allows for sensory exploration and provides a unique tactile experience.
Using props- role play and storytelling
Incorporating props like puppets, small world characters, tuff trays mats, and story sacks enhances the joy of writing for pleasure.
Puppets bring characters to life, allowing children to explore imaginative narratives through play.
Story sacks, filled with related objects and visuals, inspire creativity, and provide tangible connections to the world of stories. Storytelling, whether by teachers or peers, ignites imagination, and encourages children to craft their own tales. These props can create immersive and interactive experiences, making writing an amazing adventure where children can weave their stories with enthusiasm and excitement.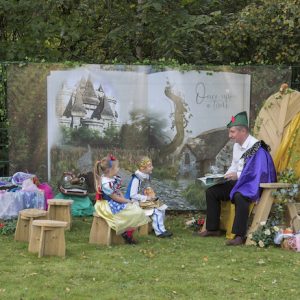 Promoting choice
Offer a range of writing materials, from traditional pen and paper to digital tools, so children can experiment and discover what sparks joy in their writing process. Here are some fantastic resources available that cater for a range of needs and preferences:
Sensory Illuminated Mark Making Boards – These boards are not only a fantastic way to combine writing with drawing and art, but are perfect for children who struggle with pencil pressure and experience hand and finger fatigue. They can promote a love of mark-making and writing whilst at the same time, developing crucial motor skills needed for more formal writing.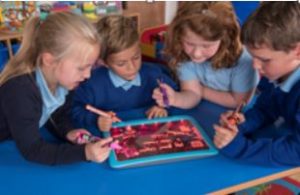 Recordable devices – Cultivate a writer's mindset by promoting the idea that everyone can be a writer or storyteller, regardless of age or skill level. Some children find it easier to express their stories, poems, songs, etc, out loud before writing them down. Resources like the Easi-Speak Microphones, Recordable TalkeTime Cards, and Kitt the Learning Companion are ideal for this purpose. They give children opportunities to create writing for a purpose e.g., vlogs, record music videos or make mini-movies with accompanying scripts. They allow them to explore and experiment with language and words without the pressure of immediate writing.
Inspiration for creative writing
Introduce playful writing activities like storytelling games, writing prompts with imaginative scenarios, or collaborative writing projects with friends.
In conclusion…
When we prioritise writing for enjoyment, we empower children to explore their creativity, engage with their imagination, and discover the joy of self-expression. By celebrating their efforts and the process over rigid rules, we create an environment where writing becomes a source of delight, inspiration, and a creative outlet for our children. So, unleash the creativity, boost imaginations, and bring back the joy of writing!