Refresh your Bots!
Refresh your Bee-Bots and Blue-Bots and get the most out of these versatile resources.
Most primary schools and teachers are aware of Bee-Bots. They have been around such a long time now, that even many grown-ups have fond memories of the little yellow and black robots.
But, in a busy learning environment with so much to think about, they can be under-used and (perish the thought!) left unused and unloved in cupboards.
Bee-Bots and Blue-Bots are incredibly versatile resources. They are well-known for teaching early coding skills, but there are also many ways they can be used across the curriculum.
For little or no money, you can refresh them and make them an integral part of your setting.
Free resources include:
We also have a large collection of inexpensive accessories to add some extra excitement and revitalise your Bots!
For example:
Did you know there are more than 30 mats available covering a wide range of topics and subjects? Here are a few for you to explore.
Exciting and fun resources to combine Maths and technology.
Wonderful ways to develop ICT skills while exploring phonics or retelling stories.
Inspire children's imaginations and learn about different places.
Excellent ways to learn about Science and develop ICT skills.
You will find lots more from our Treasure Island mat, Construction Site mat to our French Town mat. There is also a Transparent Grid mat, where you can create your own mats for your Bots to travel through, and a Changeable Maze mat. Challenge pupils to program the Bots through their own obstacle courses. Lots of opportunity for variation and progression in each lesson.
More ways to refresh your Bee-Bots and Blue-Bots
To accompany the mats we have topic tins that contain six jackets to transform Bee-Bot and Blue-Bot into a range of characters, ten cross-curricular activity cards and twenty prop pieces to place on the mat!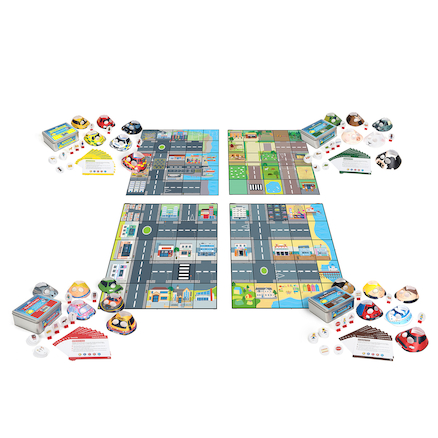 So don't leave your Bee-Bot and Blue-Bot unused. Get them out and use them to explore a range of cross-curriculum learning opportunities and enhance coding and computational thinking skills.