A sensory space is a practical and effective way to provide a calming and safe space for children with autism and other special educational needs. Sensory spaces are often thought of as being a room inside. Many schools and classrooms have a sensory space, however an outdoor sensory space is less common and yet the outdoors in itself provides an amazing sensory experience.
Historically, being around nature and outdoors is how we as humans lived our lives. Our grandparents, great-grandparents and ancestors spent so much more time exploring, working and enjoying being outside. Even today when we are outside, we are surrounded by telephones, technology and not switching off. As a generation up to 90% of our time is spent indoors. This means we are only giving 10% of our time to be outdoors.
Being outdoors has many benefits for all children.
It is vital to improve well-being, it is calming, peaceful, and allows us to tune in with ourselves and the world around us. For our children it is vital for supporting their brain development. By exploring with their senses, for example touching flowers, listening to the birds, feeling droplets of water and smelling the fresh air, they are strengthening the connections in their brain. A sensory space and experience allows children to become more aware of one's self, promotes mindfulness, self-regulation and builds resilience as well as many cognitive benefits. A sensory space outdoors can spark both sensory experiences that the child creates themselves by interacting with something, or can be a constant sensory experience that is heightened by the sensory properties of being outdoors.
In addition to the benefits above, for children with SEND a sensory space outdoors can help them to feel calm and provide a safe space to gain rest and respite when the environment within the classroom gets too much.
When setting up a sensory space, the key question to ask yourself is why?
Why am I setting this up? What do I want my child to gain from being in this space? How will it support them? Each space, school and student is unique and the sensory space you create should also be unique to the individual children in your care, but ultimately you want to create a space that gives children the freedom to explore the environment for themselves, using all of their senses. You can read my other blog post "How to set up a calming sensory space in the classroom" which explores the rationale behind a sensory space in more detail.
This summer I had the pleasure of working with TTS Special Direct to create a calming sensory outdoor space and I'm going to share with you below my top tips to follow to create your own outdoor calming space!
I wanted to create an area that would stimulate all the primary senses – sight, touch, smell, sound and taste but also provide a calming retreat to be in. It's important to highlight that having a sensory space is fantastic, but it's what happens in the sensory space that is really important for supporting our children and young people. The role of a skilled and understanding adult – knowing when to step in, when to observe, when to reason and talk and equally as important, when not to do these things in the sensory space.  I used a variety of fabulous TTS resources combined with some DIY hacks to create this sanctuary!
Sight
Light is a big factor in creating any sensory experience, but with being outdoors you have the added bonus of natural sunlight to really hone in on this sense.
Tactile
The use of sensory equipment can help children to develop a range of skills such as hand-eye co-ordination, fine and gross motor skills, sensory skills and communication. Having something to feel, touch and do in the sensory space is key for self-regulation and develops key skills.
I added a variety of TTS resources to the sensory space which provide opportunities for children to do something hands on. Being outdoors in the sensory space boosts well-being which is vital for social and emotional mental health, and this coupled with the carefully selected sensory products made for a perfect combination!
The items I used to stimulate touch from TTS were:
Sound
Depending on whether a child is sensory seeking or sensory avoiding sound, the sensory space created caters to both. It is in a secluded, outdoor area with very little noise other than natural elements such as trees blowing or birds. This makes it the perfect environment for a child who is sensory avoiding as it is calm and quiet. However, I have also included resources which would suit a child who was sensory seeking sound within the sensory area.
Smell/Taste
In order to ignite this sense in the sensory space, I planted a variety of scented or edible plants in the area. Herbs are particularly beneficial as they can have real effects on the body and mind when their scents are inhaled, such as rosemary can help ease fatigue and lavender helps you relax. Plants I recommend for this are lavender, mint, rosemary and basil.
Also … consider seating and soft furnishings
In addition to the above, I think it's really important to have a range of calming seating and lying down areas within the sensory space.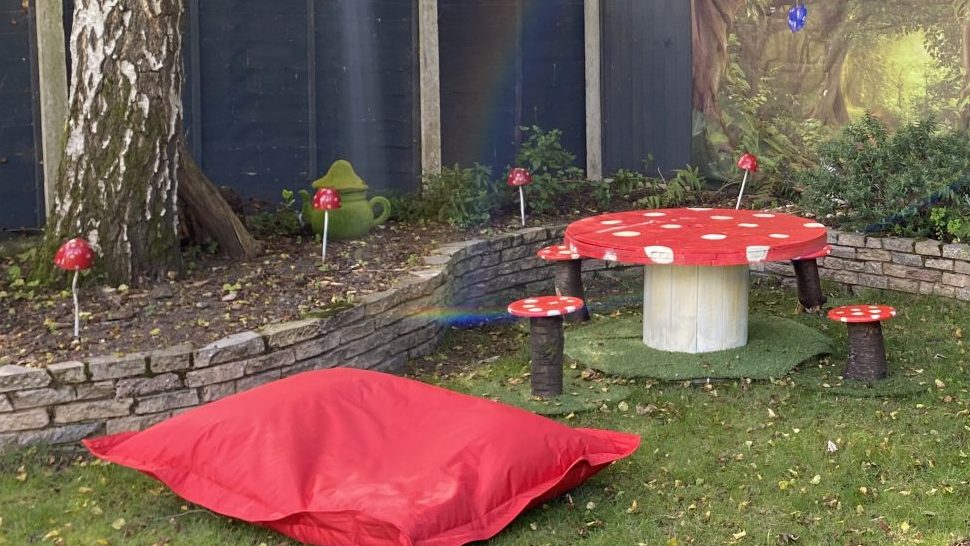 Having an enclosed space is also important for children who may wish to have a smaller area or feel more enclosed / in darker light. The willow hut is perfect for this as is the portable sensory den. I added some sensory lights into the den to provide an additional sensory element, but this could be added or removed dependent upon the needs of your child.
Anything else?
As I mentioned previously, having a space with wonderful things in is brilliant and children then have the freedom to explore everything around them, but it's also important to provide mini tactile sensory items for your child to use whilst in the space. I set up an outdoor box which contained the following items and could be taken out and used as required: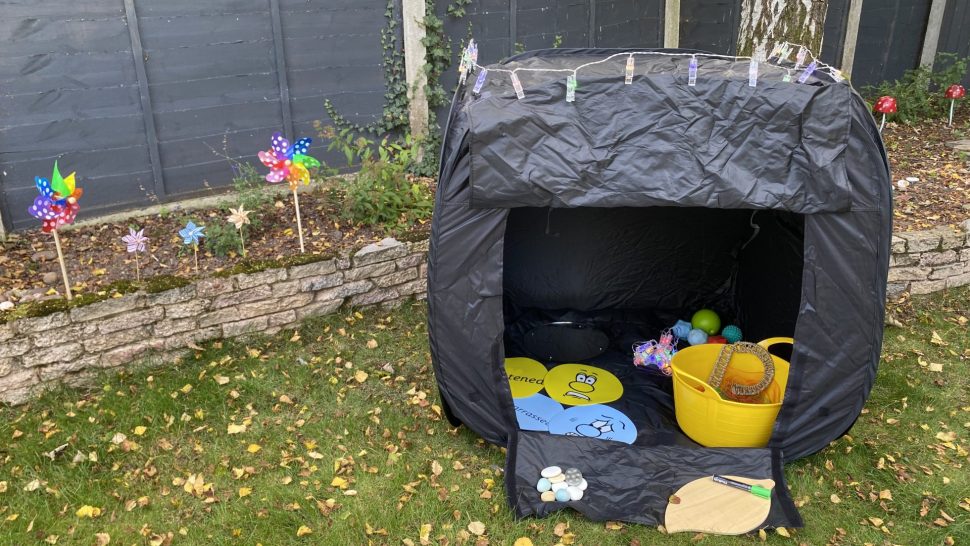 Setting up a sensory space can seem a really daunting task, but once you get started you will see all the opportunities around you in nature. Focus on the five primary senses and use the space you have to incorporate as many different sensory areas as you can.
With many thanks to Ruth Lue-Quee for sharing her ideas, insights and inspiration for creating outdoor sensory spaces.
Ruth Lue-Quee is the founder of My Mummy Teacher, an Educational brand that whole-heartedly believes in the power of play. My Mummy Teacher empowers parents and professionals to help their children learn through play, through their best-selling Learning Through Play Cards and a range of additional products and services, that are uniquely adaptable for a wide range of abilities. Ruth is a highly qualified, former Deputy Headteacher of a primary school and has also worked in many aspects of Special Educational Needs including mainstream and additional resourced provision settings. She has considerable experience as a Senior Leader and is passionate about teaching, learning and inclusion within KS1 and EYFS. As well as running My Mummy Teacher, she proudly works in partnership with Cadmus Inclusive as an Inclusion Consultant and regularly writes as an expert for businesses, companies and in the press on Educational and Parenting matters.