Chinese New Year, also known as the Lunar New Year, falls each year between 21st January and 20th February. The Chinese zodiac has a 12-year cycle, each represented by one of twelve animals, and each animal is also linked to an element: metal, earth, wood, water, or fire.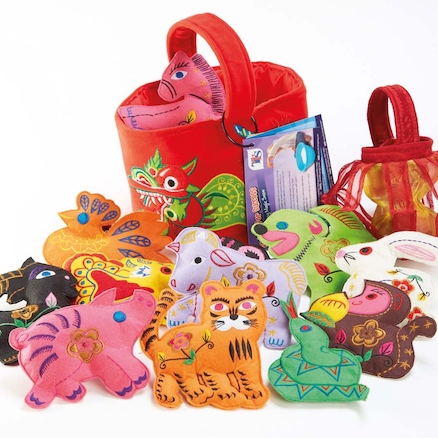 Chinese New Year 2022 will be the Year of the Water Tiger.
As in nature, tigers are given qualities of power and bravery in Chinese culture. They are also considered to be kind, liberated and slightly unpredictable too!
To celebrate Chinese New Year, there are many activities which can be enjoyed, and which will enhance understanding of this vibrant cultural event.
In this blog, we suggest some ideas for activities linked to the theme of Chinese New Year to try out in class or at home.
1. Chinese Zodiac
Research and learn about the origins of the Chinese zodiac, as well as the Year of the Tiger. There are lots of useful websites and videos available online, for example this studycli website.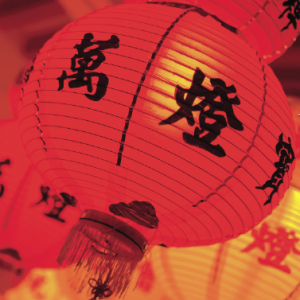 2. Traditional Phrases
Learn some different traditional phrases, for example "Kung hei fat choy," is the Cantonese way to say, "Wishing you prosperity,".
There are lots of useful websites to help you, for example, this one from China Highlights.
3. Tiger Artwork
Look at photographs and artwork depicting tigers. There are many illustrations which can be found online, including a wealth of Chinese examples ranging from ancient rock carvings through to modern interpretations. There are also some great YouTube videos of murals being created with tigers as the theme.
4. Tiger Portraits
Children could create their own tiger portraits using a variety of media, and these could be displayed as class collages. This example includes textile work using stitching and gluing.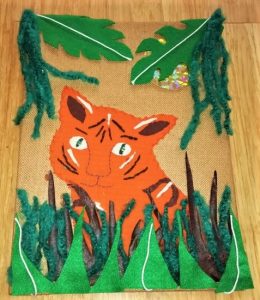 5. Terrific Tiger
Collect adjectives to describe tigers. These could be used to create speech bubbles surrounding a print of the tiger, e.g. I am strong! I feel free! etc. The adjectives could also be written within the stripes on a template printed out or used to create a list poem. The descriptions could be developed further to include alliteration, similes etc.
6. Fortune Cookies
A large fortune cookie could be made using cardboard and children can write a New Year wish for someone else on a slip of paper to be displayed inside.
7. Red Envelopes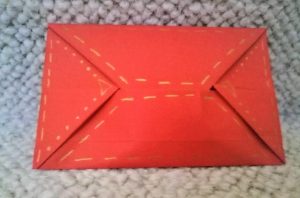 Use red paper and fold this to create a "lucky money" envelope (there are several videos on YouTube with instructions for folding to make a paper envelope).
Decorate the envelope using gold pen and write someone else's name on it. Slip a gold chocolate coin inside and pass the "lucky money" envelope to the other person at the end of the celebrations.
A nice way to make sure every child receives a lucky envelope is to print out every name, cut them up and hold a random dip like a sweepstake.
For more information about this tradition, take a look at this website.
8. Zodiac Silhouettes
Use black card to create silhouettes of all the zodiac animals. Attach these to sticks and use them to re-enact the mythical race.
This could be done from behind a white sheet/paper and backlit by a lamp as a shadow puppet performance.
9. Tiger Puppets
Make mini tiger puppets using card and sticks. These could be decorated and coloured using felt pens, paint, different coloured paper, or card, and embellished using feathers, tinsel etc.
Create a tiger face, a tiger bottom including pipe cleaner tail, and four legs and paws.
Use two strips of card to make a concertina body.
Glue these at one end at right angles and fold the pieces across one another until there is no more card to fold; you may need to make a few of these depending on the length of card used.
Glue to fix.
Add the legs to the start and end of the concertina, then glue each end of the concertina to the inside of the head and bottom.
Attach a stick towards the front and back of the concertina and children can use the sticks to animate the tiger.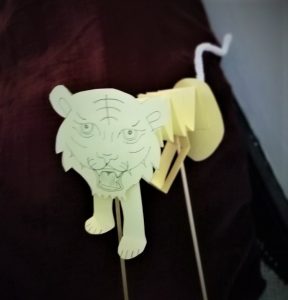 Why not set up a tiger parade around the hall/playground accompanied by some percussion instruments.
10. Sharing and Reading
Share books together and talk about what children learn from the different texts. Here are some of our book recommendations:
Holidays Around the World: Celebrate Chinese New Year (National Geographic) – Carolyn Otto
Sam and the Lucky Money – Karen Chinn
Ruby's Chinese New Year – Vickie Lee