Celebrating the 5 days of Diwali from 2nd to 6th November 2021.

When I began planning this blog, I decided to contact friends and former pupils who celebrate Diwali to ask them about their thoughts and experiences of Diwali and how it was marked within the school calendar.
People told me that the importance of the celebration was to represent new beginnings, the triumph of good over evil, of light over darkness. Overall, they expressed hazy but fond recollections of dressing up, making clay diyas, sharing food in class and having a special whole school assembly. I remember these assemblies as a gorgeous riot of colour and sound including stick dancing and drumming. One of the people described it as "one of the best times in school".
Several people expressed the importance of sharing the stories of different pupils' faiths and celebrations within school to promote awareness and understanding of a variety of cultures. They also recommended that, if possible, children should visit a Hindu temple during the festival to soak up the atmosphere, and enjoy the colours, even if they don't gain a full understanding of what is going on.
Everyone who replied to my questions was unified in their clear expression of joy and pride in the festival celebrations within their family and community. "A lovely festival," as one person described it. They mention the excitement of shopping for new clothes, exchanging gifts and sweets, cooking feasts to share, praying, and lighting candles, oil lamps and fireworks.
One person made the point that, even as an adult, they are still learning more about the way Diwali is celebrated now. Recognising that some elements are part of religious belief, and others are traditional activities which now form an intrinsic part of the five-day festival. The same may also be said of celebrations being observed across a range of different faiths.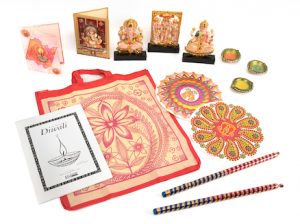 Some book recommendations …
Holidays Around the World: Celebrate Diwali: With Sweets, Lights, and Fireworks – Deborah Heiligman
Lights, Camera, Diwali! – Amita Roy Shah, Diane Lucas
Rangoli: Discovering the Art of Indian Decoration – Anuradha Ananth, Shailja Jain
Art and Craft Idea
Create decorative painted stones with traditional rangoli patterns.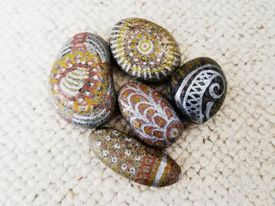 Show children a range of different mehndi (henna) designs and rangoli patterns. Explore the colours, shapes and different designs.
Clean a selection of different pebbles (wash and dry in an oven, leave to cool).
Seal the pebbles with PVA glue/clear varnish.
Plan and practice creating different designs.
When ready, use metallic pens/markers to mark the pebbles.
For more Diwali ideas, explore …