Milk Barfi
Ingredients
Preparation Time: 5 min
Cooking Time: 10 min
Setting Time: 2-4 hours
Makes: approx. 30 pcs.
365gm Instant Milk Powder
473ml of Double Cream – 1 pint
150gm of Icing Sugar
1 tin of Condensed Milk
Preparation method
In a deep microwave-safe bowl, mix the dry milk powder, double cream, icing sugar & condensed milk
Mix very well
Cook in the Microwave for a minute at a time, taking it out every time and mixing it very well
This takes about 8 minutes in total – Every microwave is different, so look for the mixture fluffing up and folding in. Keep an eye on it, and make sure it does not spill over.
Stop cooking once the mixture is folding in
Mix again and then put all of the mixture onto a baking tray, which is lined with waxed baking paper
Spread the mixture out flat. The mixture should be roughly 5 centimetres deep
Allow the barfi to set in the fridge for at least two hours
Once set, cut into whatever shapes you like
Enjoy your Mik Barfi!
What is Diwali and who celebrates it?
Diwali is celebrated by Hindus all over the world, (as well as Sikhs and Jains, but for different reasons). Diwali is translated as meaning a ''row of lighted lamps''. (The name of the festival comes from the Sanskrit dipavali). Deep means light and avali a row or line.
Hindus celebrate with their families and friends for five days, each day having a special significance. It is a time to think about the future, have fun, share food and gifts as well as remembering the traditions related to the festival. Diwali takes place on the last two days of the dark half of the Hindu months Ashwin and Kartik (Oct/Nov). The date is not the same each year as the Hindu calendar is based on the moon.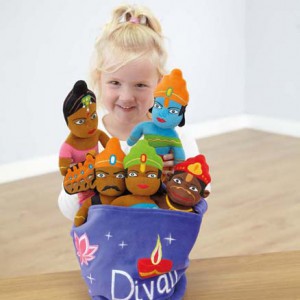 In some countries, such as India and Nepal, Diwali is a public holiday. However, wherever Hindus may be they will share the Diwali celebrations of light conquering darkness and good triumphing over evil.
Sikhs celebrate the first stone of the Golden Temple in Amritsar being laid during their Diwali celebrations. Similarly, lights are lit in recognition of the Sikh leader, Guru Hargobind being released from prison, along with 52 other princes in 1619.
Hindus and Sikhs alike consider Diwali as a special time with lots to celebrate and be thankful for.
This recipe card comes from the Diwali Basket developed for understanding celebrations in early years settings. Thanks to Anjula Wilson for her help with the Milk Barfi recipe.