This series of articles has been written by industry experts to help you to understand changes to the EYFS Framework. In this blog, Early Years consultant Alistair Bryce-Clegg looks at the Physical Development area of the framework. 
It is easy to fall into the trap of thinking about physical development as just being about gross motor skills. As part of the EYFS Revised Framework, Physical Development has been split into Gross Motor and Fine Motor development. Each has equal significance and importance.
Whilst gross and fine motor development are very much linked to how we gain control and build strength in our muscles, joints and tendons, our bodies also rely on the effective development of the vestibular system. This is linked to balance, and proprioception, which is your awareness of your own body and how you manipulate it. Proprioception allows you to close your eyes and touch your nose with the end of your finger. You can do this because you have a sense of where your body is and how to control it.
As practitioners, we need to think about what is 'typical' for the physical development of the age we work with.
To be able to sit or stand still, you have to be able to control all of the muscles in your body and consciously stop them from moving. To be able to do that, you first have to practice moving them. This is so that you gain an understanding of how your body works and moves. Moving also helps you to develop muscle tone, which you also need to help you to sit and stand. So, you cannot underestimate the power of movement in the Early Years.
As practitioners, we also need to think about what is 'typical' for the physical development of the age we work with. I am often asked how to stop children from throwing things indoors. My response is to ask the question 'Is throwing a typical behaviour of children of this age?' to which the answer is invariably 'yes'. Well, if it is typical behaviour to throw and we are trying to support the development of these children, then is it reasonable to say that you can only throw at certain times, in certain places and with certain resources?
Get creative and, rather than be frustrated by the problem, invent a solution.
If children will benefit from throwing, then make provision for them to throw. Obviously not something that could cause injury or harm. There are plenty of things that children can throw indoors that are appropriate, from the good old bean bag, to paper aeroplanes through hoops suspended from the ceiling. Just get creative and, rather than be frustrated by the problem (which is more ours than theirs),
invent a solution!
Fine motor development is linked to the smaller more refined movements that children make. This is often with their hands, wrists, and fingers (but also in their feet and toes). There are lots of everyday activities in Early Years that require fine motor dexterity. These include painting, cutting, construction, even picking up your snack to eat it. But, if we encourage children to take part in activities that they have not yet got the fine motor development to accomplish, then they will struggle. They will often experience physical discomfort and make negative emotional associations with the task.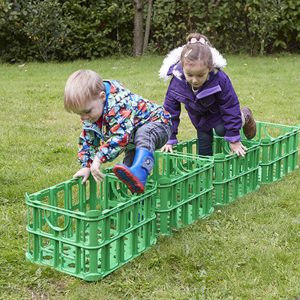 There are significant differences between the bone, cartilage, muscle and tendon development of a 1, 3 and 6 year old. If you look at the hand of a 3 year old next to that of a 6 year old, you can see the difference. Providing lots of opportunities for children to engage in play that capitalises on their fine motor use, like construction, small world, puzzle play and malleable materials, will really help them to build and develop their muscles and tendons and equip them for the next stages of their development.
Shop Physical Development Resources here.
Interested in finding out more about the changes to the EYFS framework?
Click on the links below to read our other articles from Alistair Bryce-Clegg …
Thank you to Early Years consultant and expert Alistair Bryce-Clegg for the content in this blog.