1. Instant Garden Planters with Castors
No need for a large amount of soil or space! Lockable castors make it easy for you to move your outdoor garden planters whenever needed. Sow, plant and grow a host of flowers, vegetables and plants without the mess and hard work. Removable planting tubs make it easy to separate crops, allowing individual children to tend to them. The garden planter is supplied with a trellis, allowing you to grow a variety of climbing plants. A chalkboard to the front of the planter can be used to indicate what the children are growing, which children are looking after the planter and more.
2. Wallhugger Planter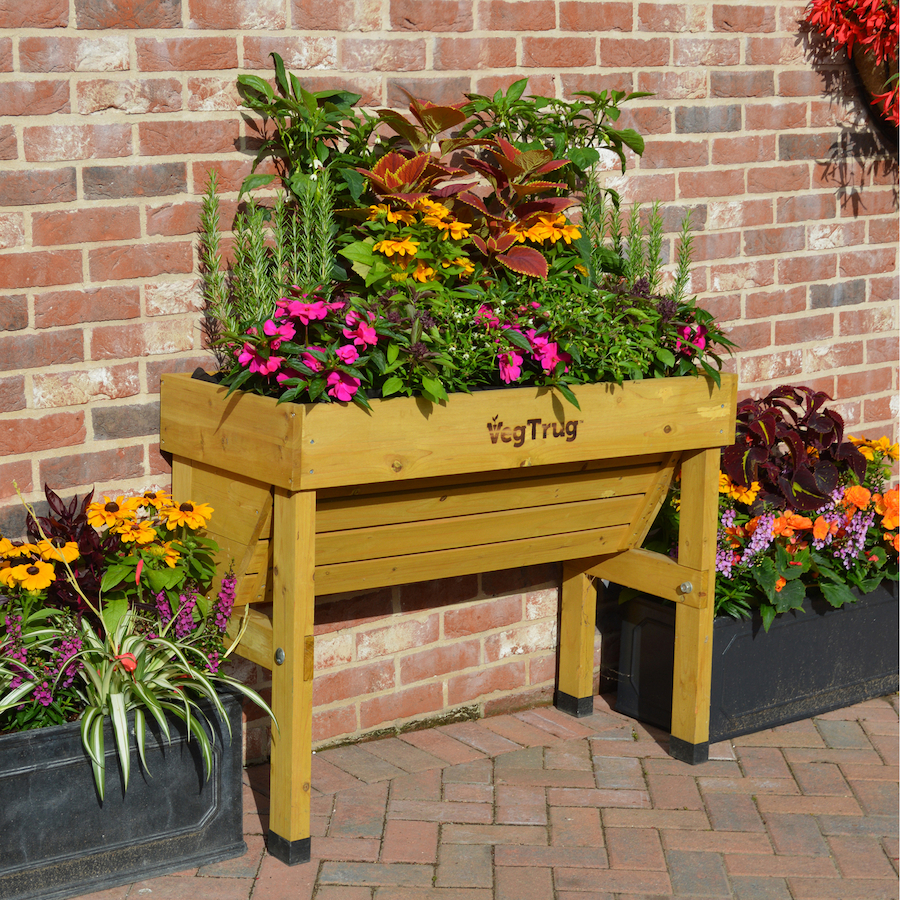 This wallhugger planter is ideal for narrow spaces and can be placed in front of a wall or fence for vertical growing. A comfortable working height with easy wheelchair access. Keeps produce away from slugs and animals with a unique V shape that allows deep rooted produce.
3. Outdoor Wooden Minibeast Mansion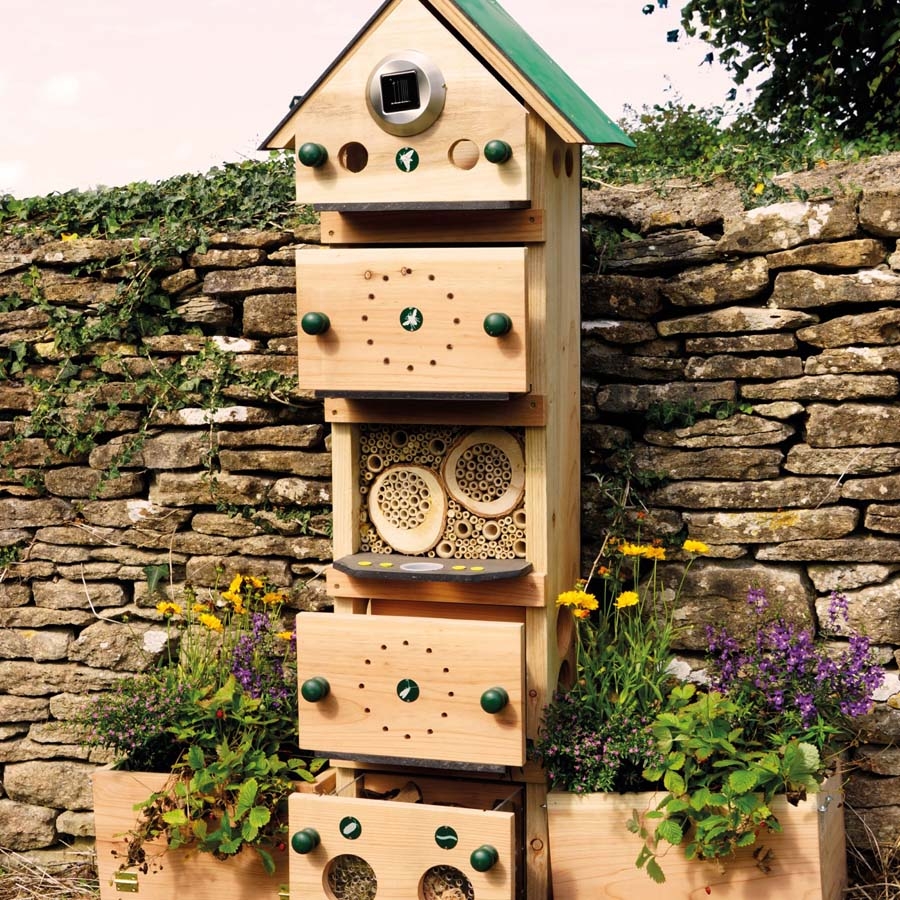 Built to the highest specification with the maximum number of interactive habitats, the mansion provides plenty of opportunities for insect study and is designed for use in schools – a real gem for budding scientists and explorers.
4. Outdoor Wooden Shelving Unit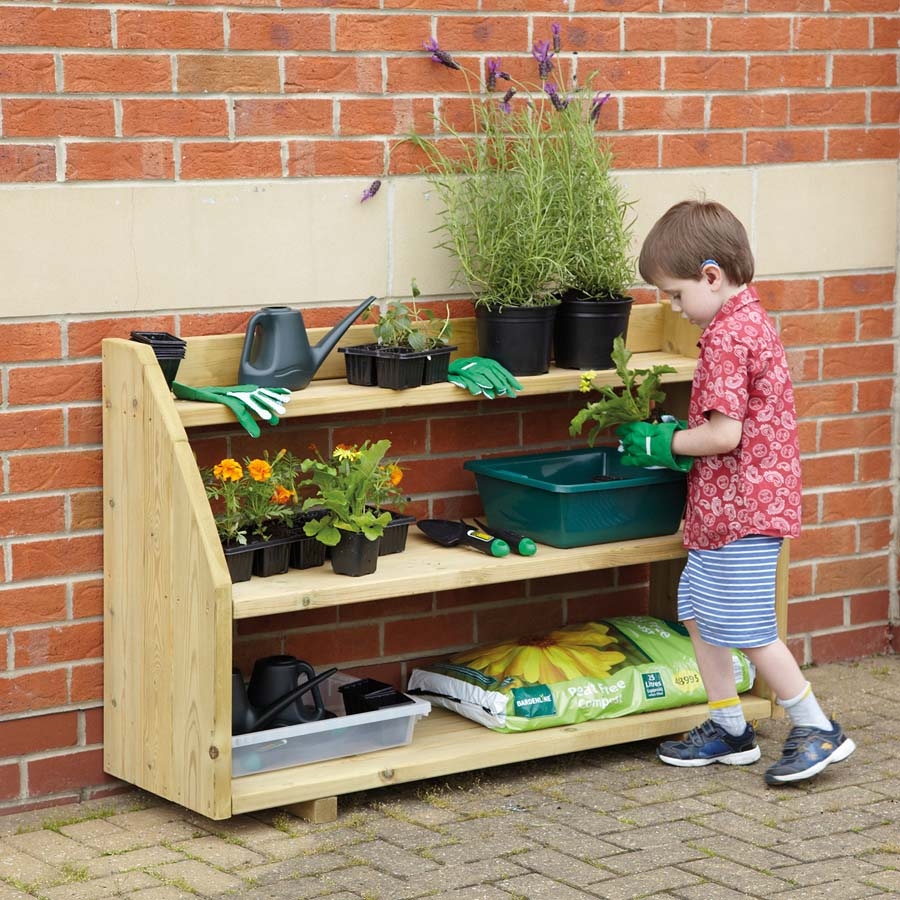 Take the classroom outside with this robust, practical shelf unit. It can be used for pot planting as well as storage.
5. Bee and Bug Sanctuary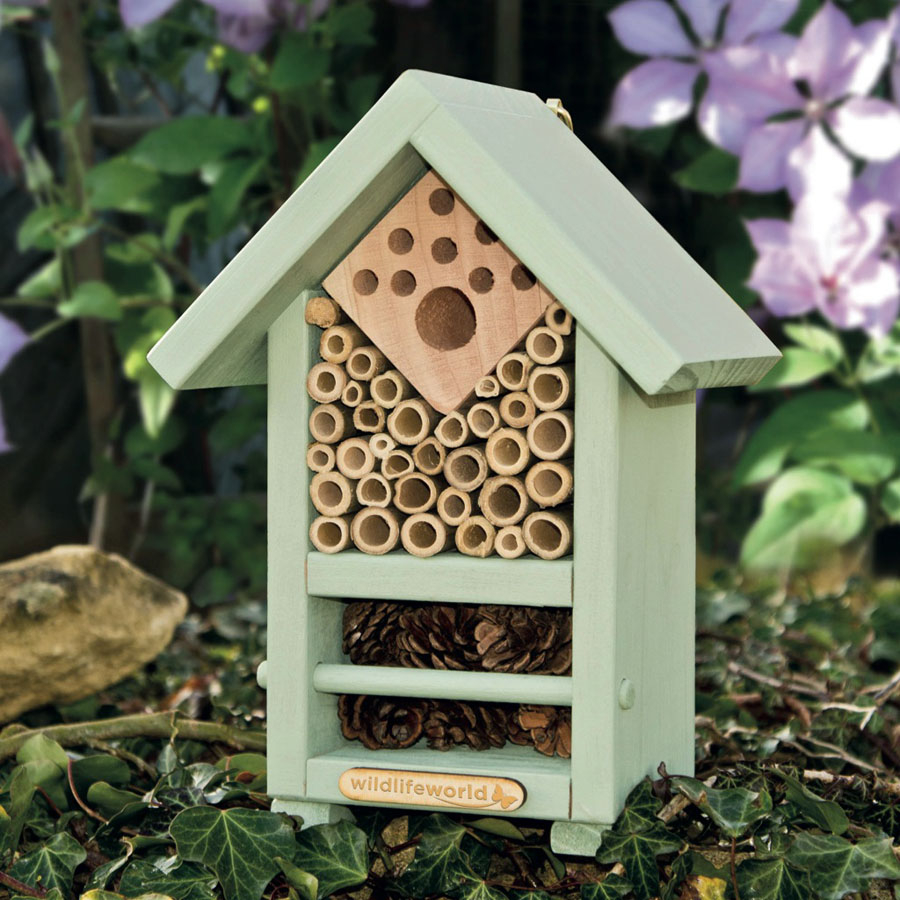 This habitat attracts both solitary bees and other insects. The top chamber of the biome features seven bamboo nesting tubes. The larger feeding hole is for other insects such as ladybirds and lacewings. Includes bee guide and seeds pack.
6. Ladybird Insect Habitat Tower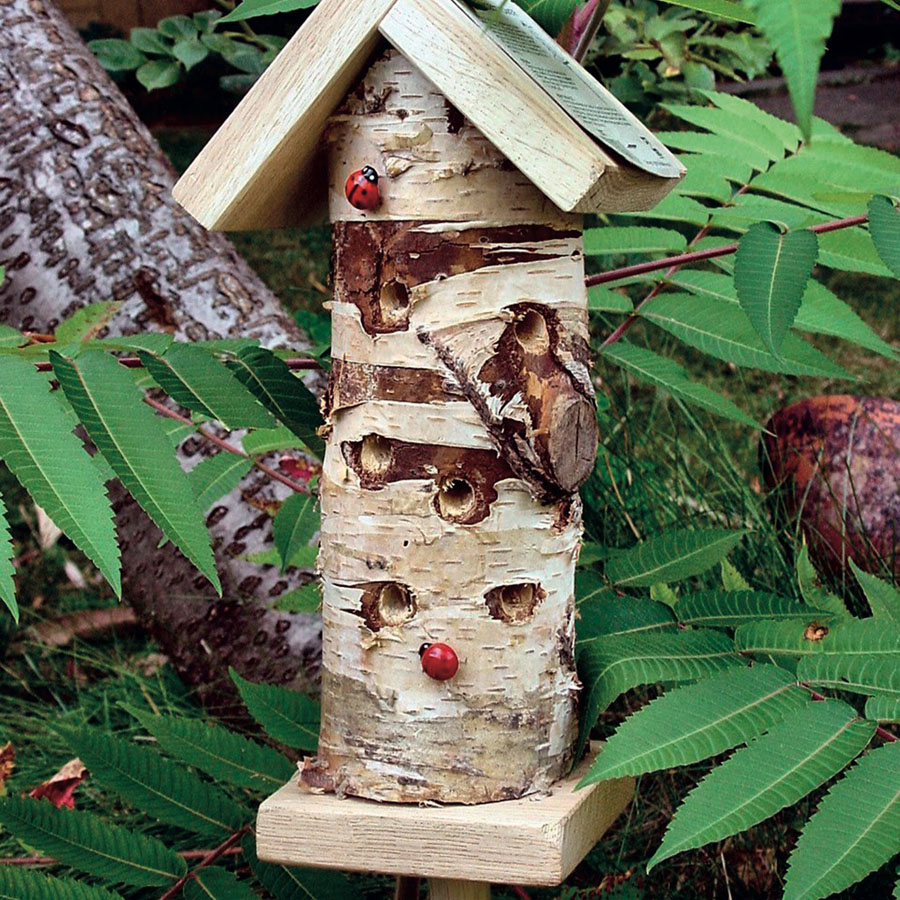 Provide a natural habitat for ladybirds and other beneficial insects with a small, space saving habitat tower. It has a hollow central chamber filled with natural material to provide insulation and is made from solid FSC timbers.
7. Outdoor Nature Signs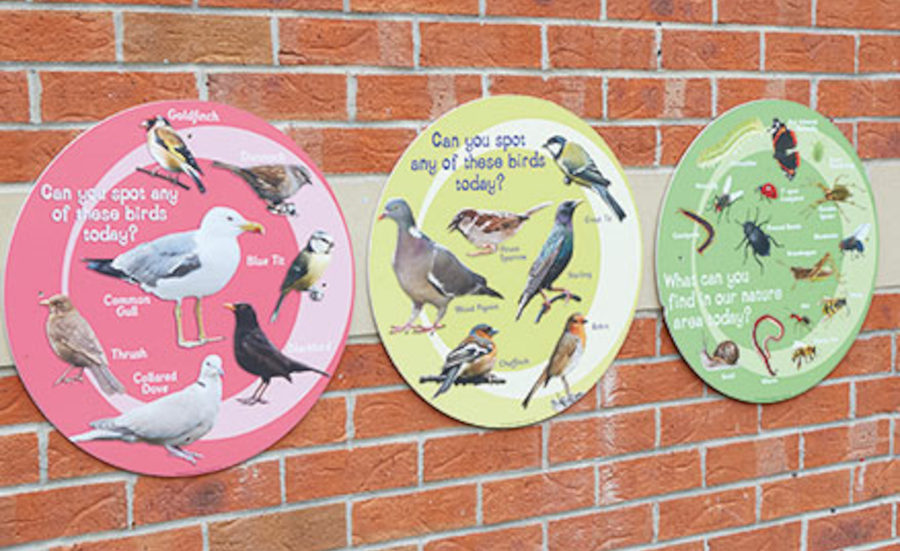 Add a splash of colour to your playgrounds and nature areas with these large outdoor nature signs. Choose from garden birds, wild birds or minibeasts.
8. Mini Greenhouse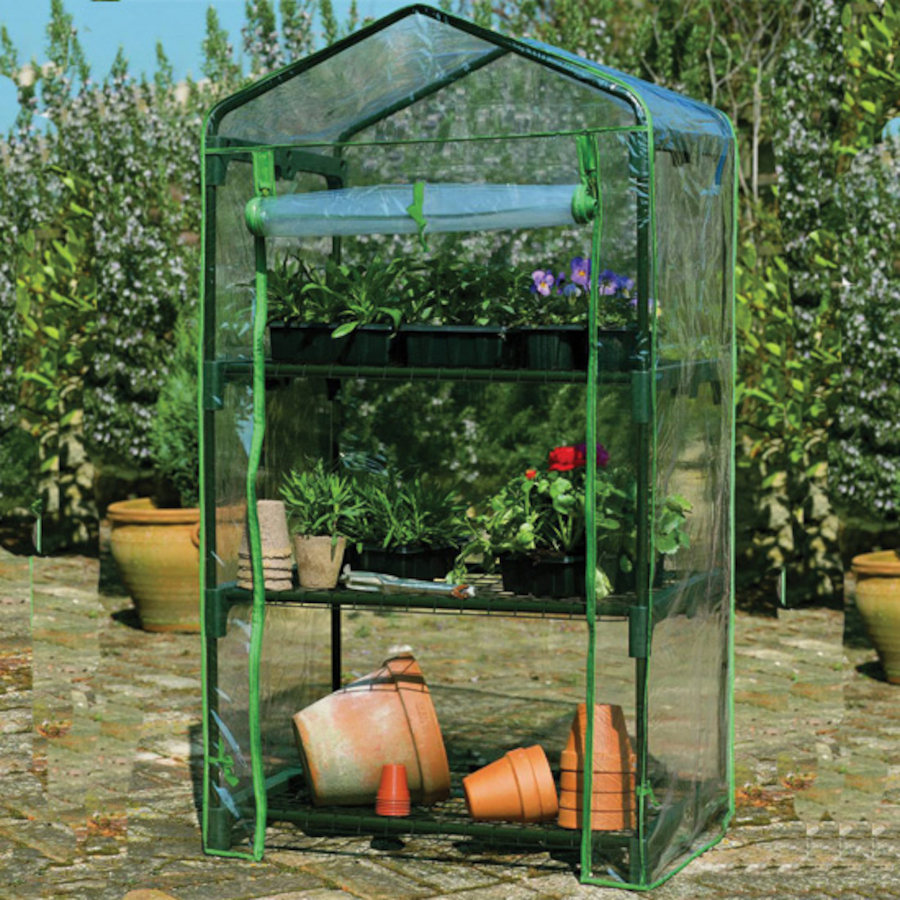 Where space is at a premium, the Mini Greenhouse is the answer. This three tier 'greenhouse', will fit into school gardens or playgrounds and offers a truly cost-effective means of plant propagation and protection.
9. Wooden Planters with Trellis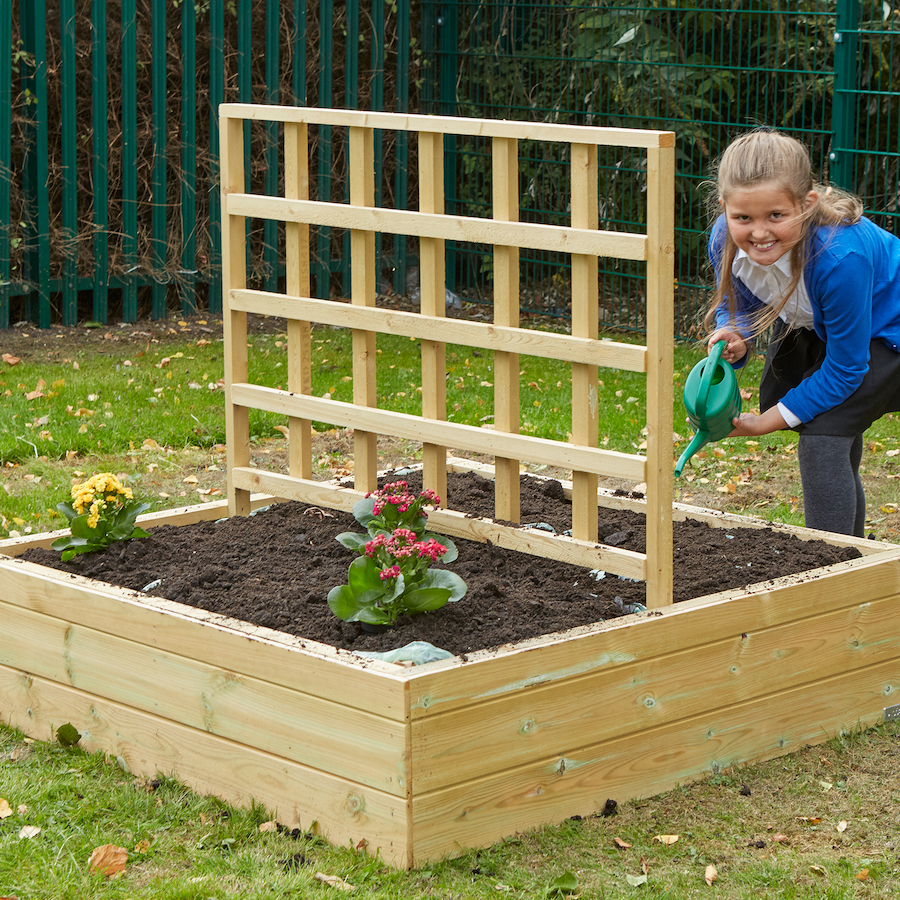 These planters with a central trellis, have been designed to accommodate children on all sides. Each trellis acts like a partition, enabling different plants to be clearly segmented from each other. Planters do include a solid base and are designed to withstand all weather conditions.
10. Vegetable Planters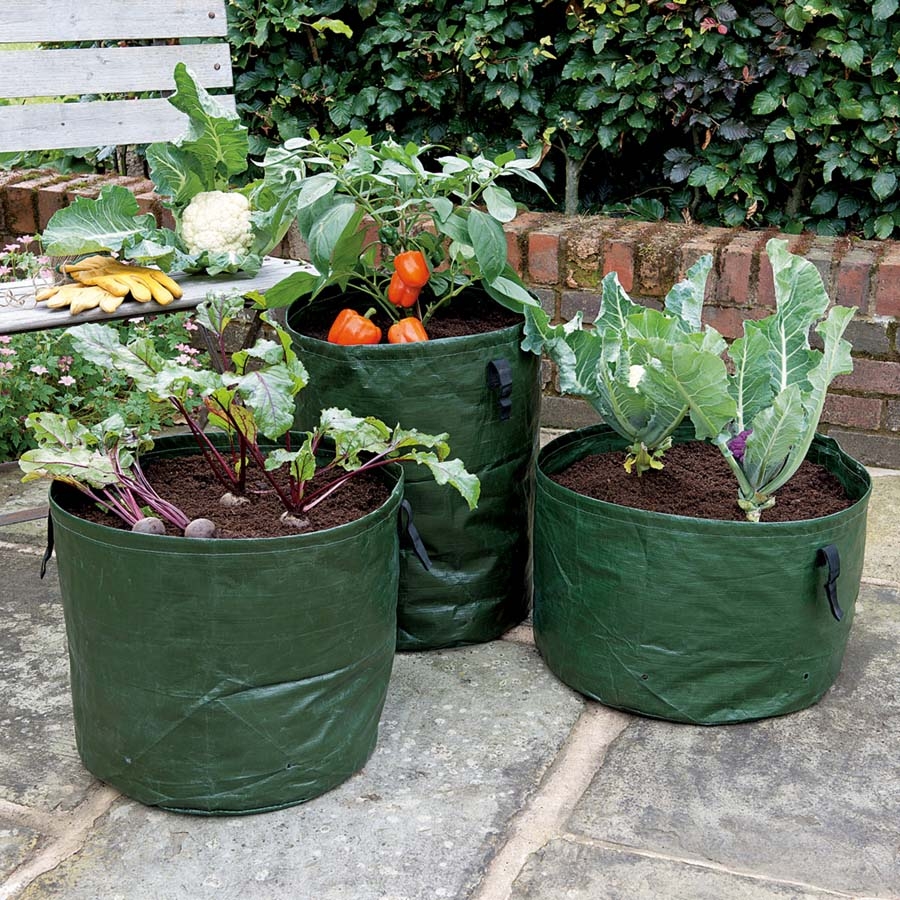 A set of planters for growing a variety of vegetables, salads and herbs.
11. Outdoor Wooden Crittacabin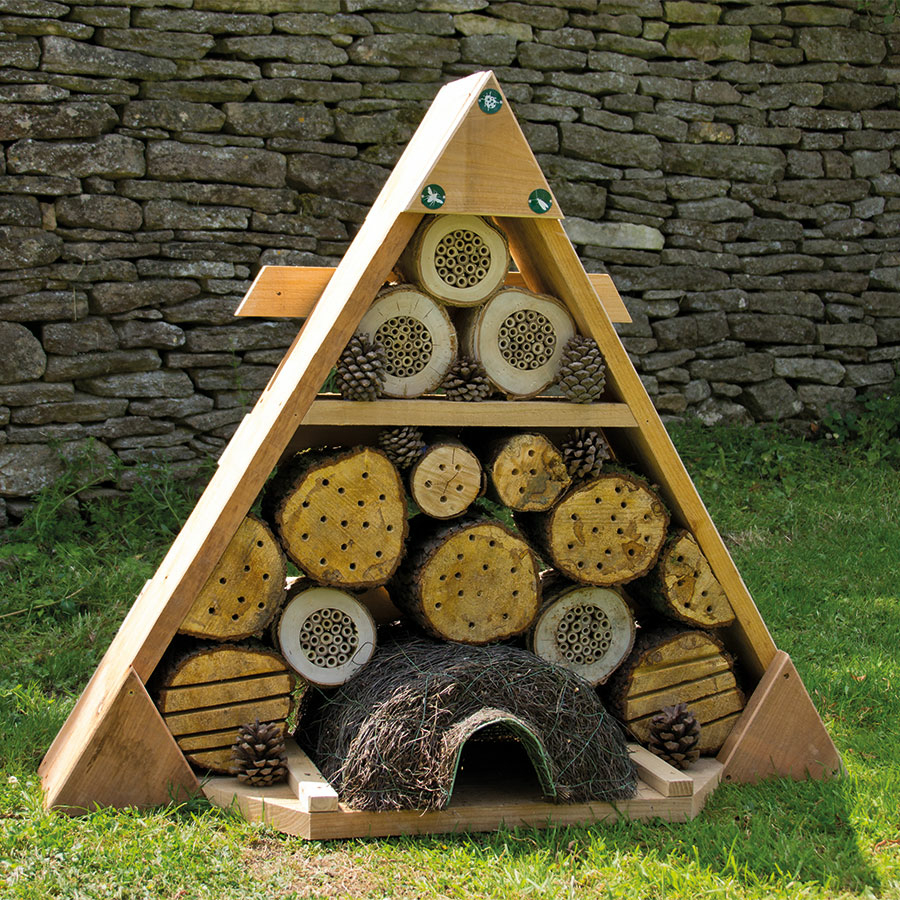 This free standing unit is ideal for studying minibeast activity through every season. The multi-habitats allow children to monitor the habits of insects and mammals. Locate in a sunny position preferably close to flowering plants and shrubs.
12. Insect Habitat Study Centre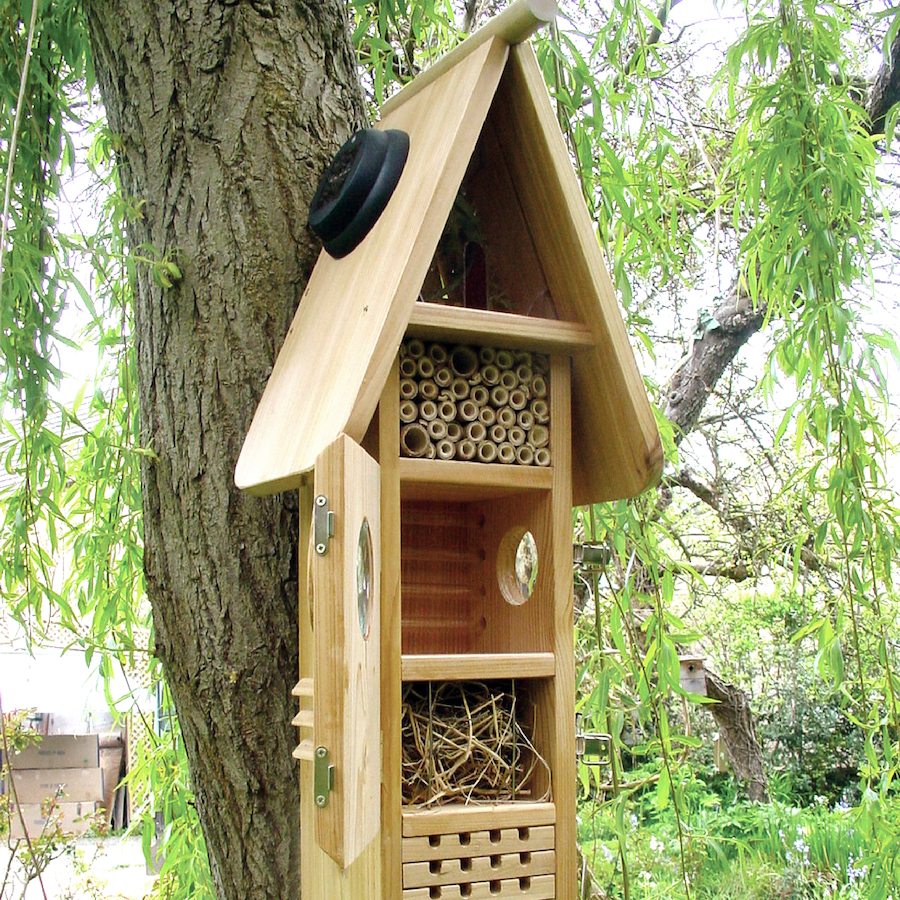 This study centre features five different chambers, including the big bug magnified area, which is ideal for observing insects. Makes a fantastic viewing area for any school garden.
13. Bugs Life and Planter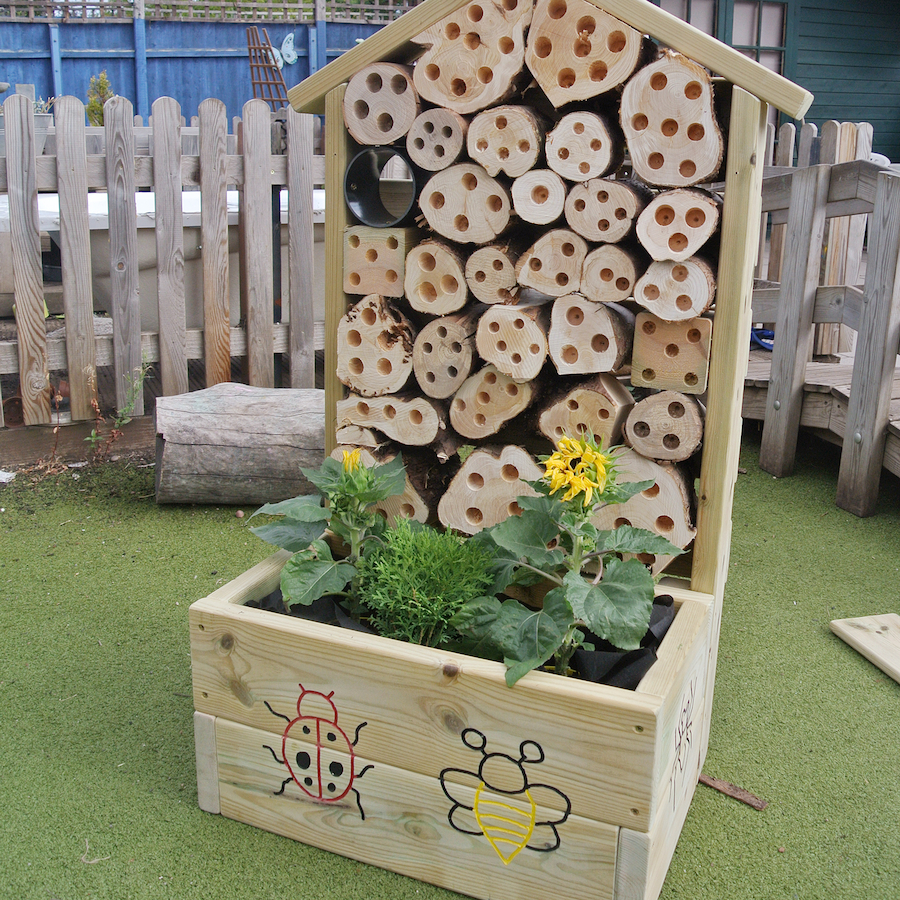 Working in groups, children can plant seasonal vegetables in this Bugs Life & Planter. Children can also learn how to become self-sufficient while creating a home for all the local creepy crawlies.
14. Bug Garden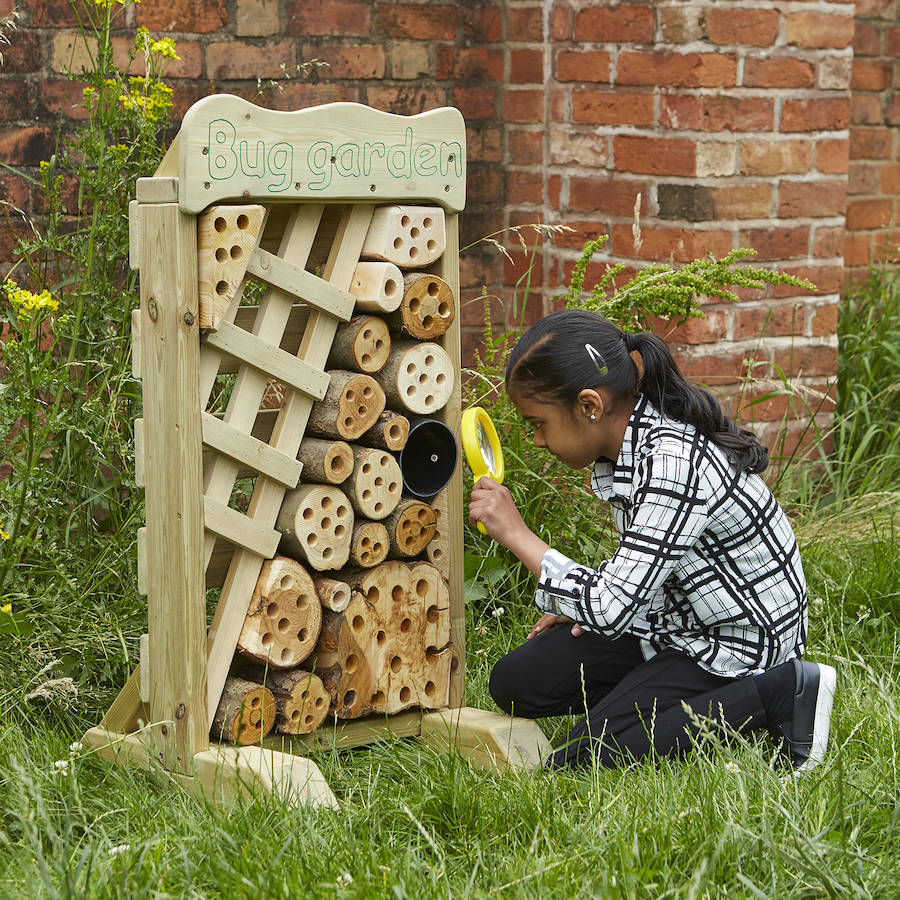 The Bug Garden is designed to encourage bees and bugs to feed and nest in your play area. This is a great addition to any playground and nature corner.
15. Herb Garden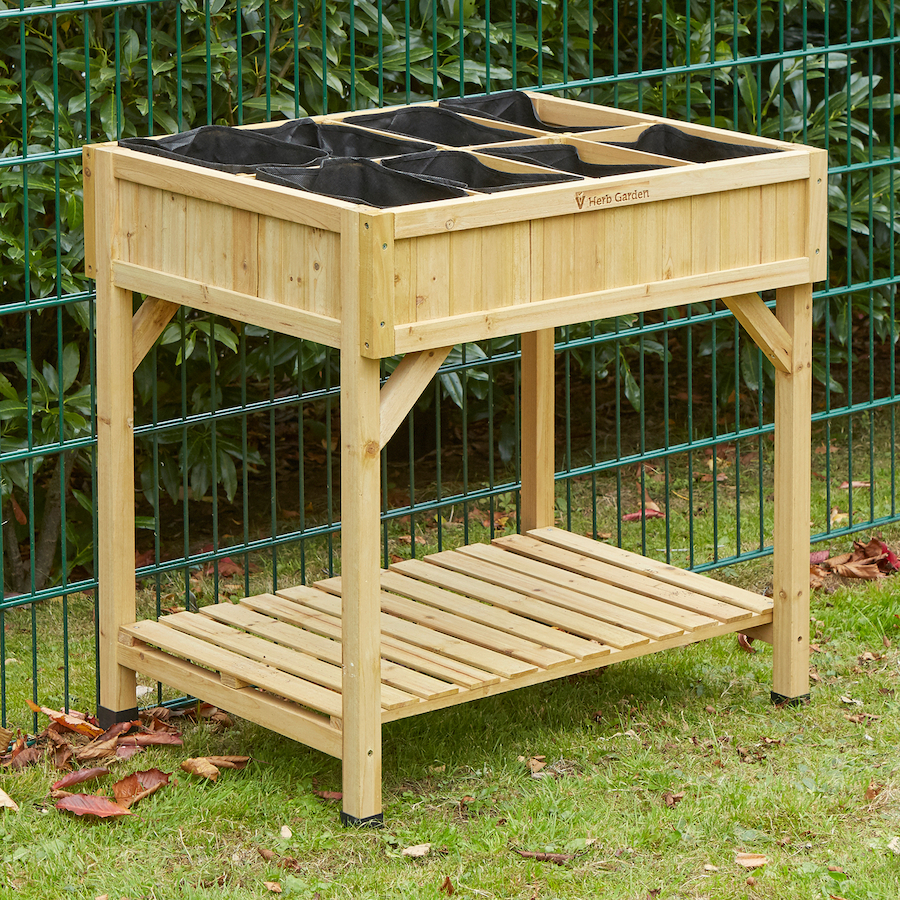 This easy-to-assemble planter is raised to the ideal height that allows easy-to-harvest herbs without you needing to crouch down or compromise your posture. A pre-formed liner and herb divider is included as useful addition to keep the herbs in separate pockets and the soil healthy.
16. Outdoor Reading Corner Bench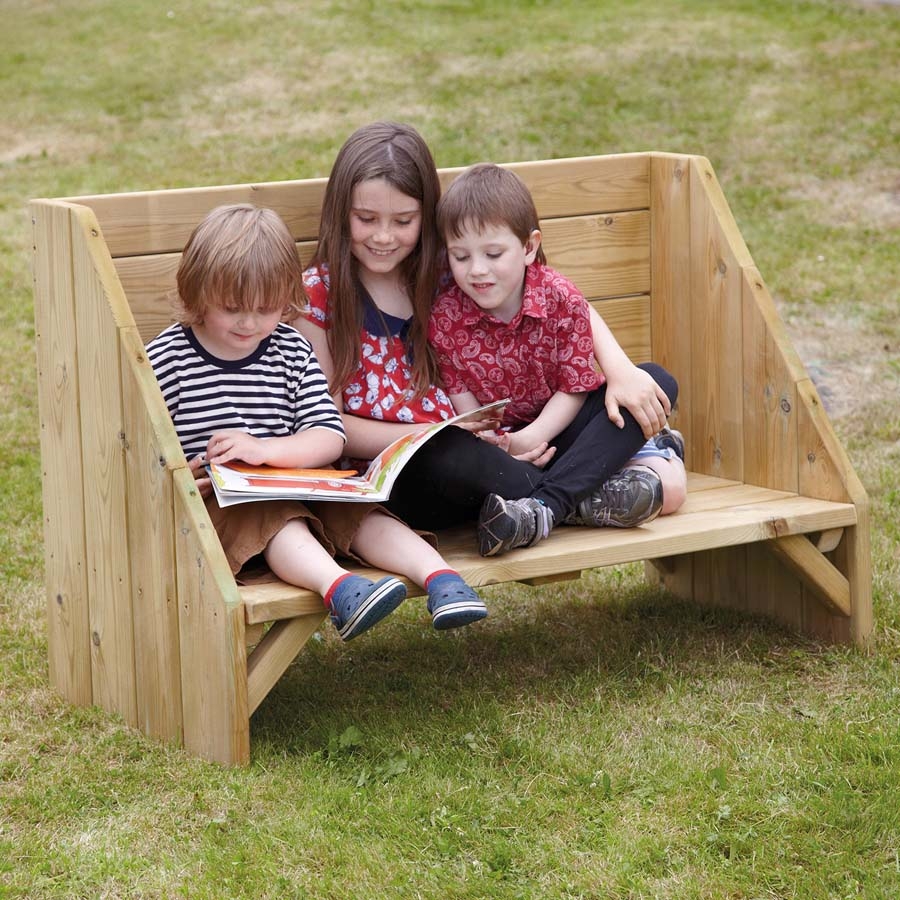 Encourage reading outside with this durable, compact wooden bench. Under the seat, there is added room for storage. Add your own cushions to complete the reading corner feel.
17. Wooden Active World Stand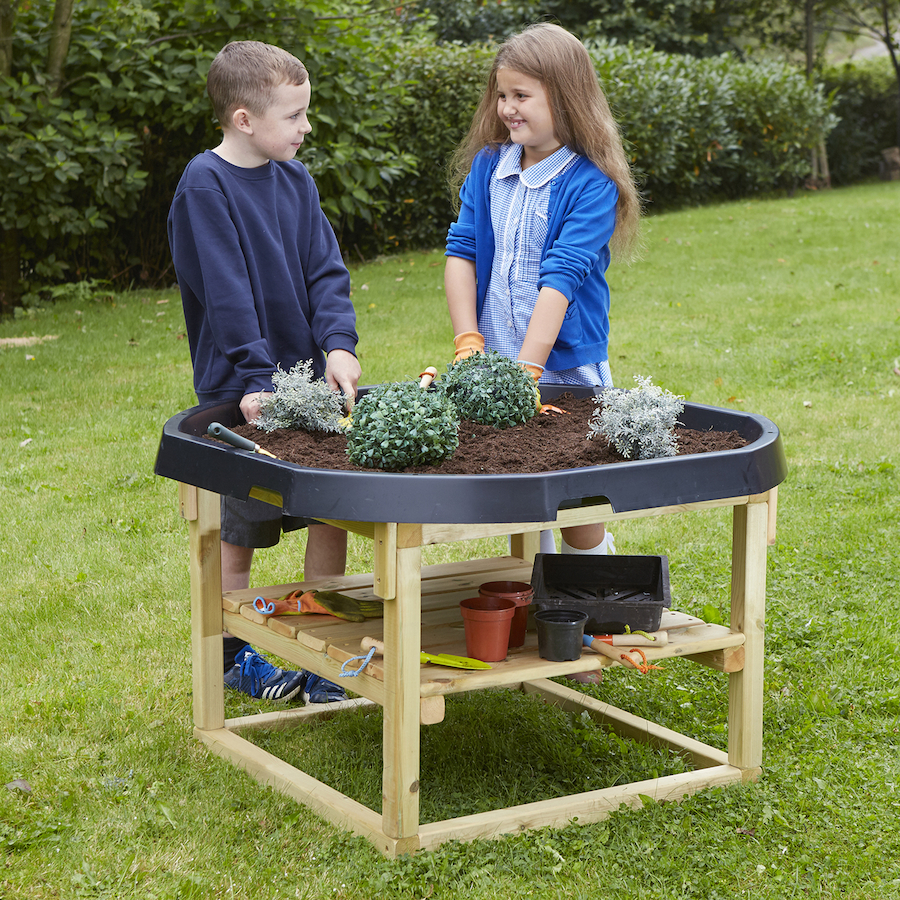 An outdoor wooden stand for the Active World Tray/Tuff Spot is ideal for planting projects with storage underneath.
18. Wooden Mini Mud Kitchen
A miniature, wooden mud kitchen ideal for small spaces. Top and base shelving allows for accessories and ingredients storage. The metal bowl is removable for easy cleaning. Versatile and lightweight, this little kitchen can be moved about the setting for use in different areas.
19. Creative Crates and tops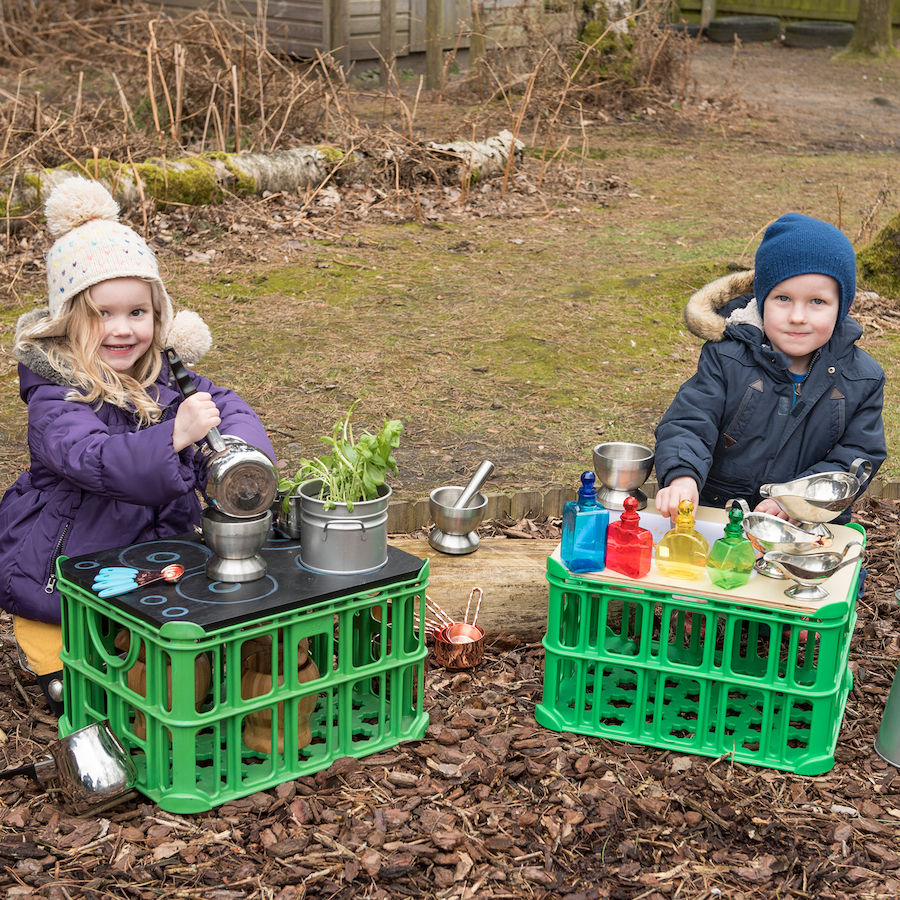 Extend the learning opportunities of our amazing Creative Crates with these open-ended crate tops. Featuring either a black chalkboard surface or a basic bench with sink. Build a concoctions centre, a home corner or a mark making zone. Use chalk to create different designs such as racing tracks, stove tops and small world locations on the chalk top, or create magical mixtures in the removable sink. Ideal for pack away settings, these tops are very versatile and easy to clean and store.
20. Urban See Through Bird Feeder House Box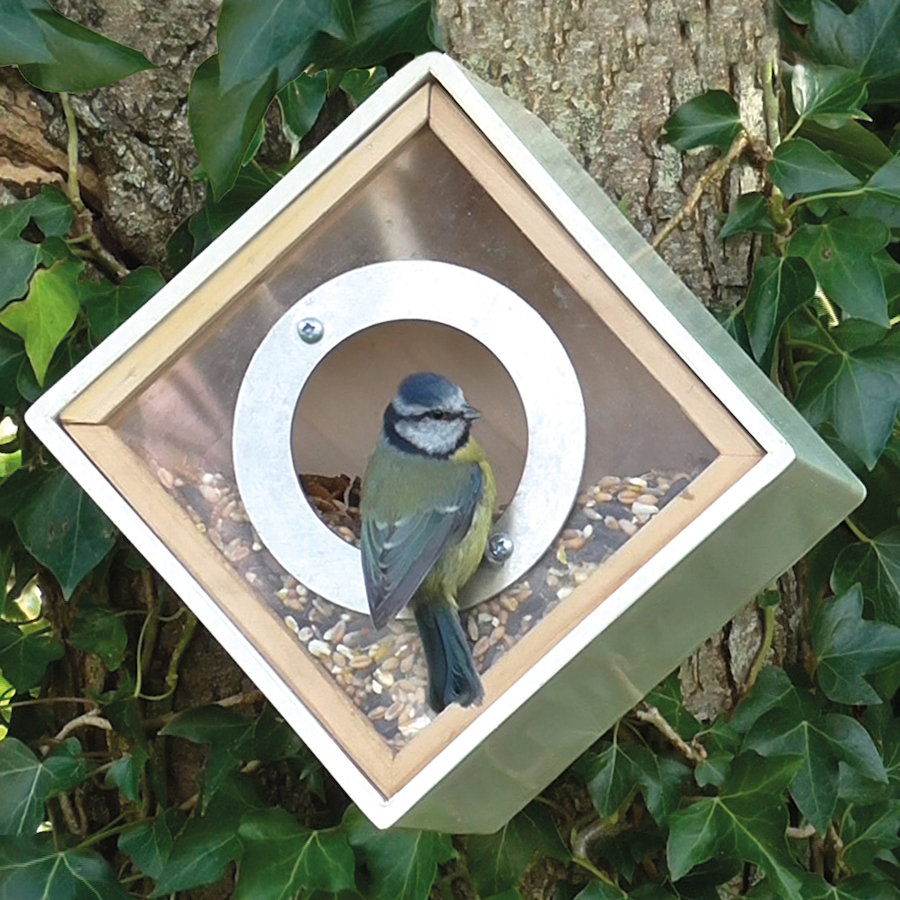 A handy-sized bird box with a see-through front that can be affixed to any wall. This dynamic design is ideal even for the smallest of outdoor spaces.
21. Mini Storage Shed
This robust and durable, smaller sized outdoor storage shed provides children with easy access to resources. Allowing them to self select a range of stored materials from PE equipment to mark making materials and messy play.
22. Mobile Mini Water Wall
A mobile water wall, ideal where outdoor space is limited, or for packaway settings. It is durable, purpose designed castors to wheel into place, or in and out of storage. With access on both sides, this unit allows a small number of children to enjoy investigating with water at the same time. Low enough in height for younger children to reach the top. Guttering, hooks, funnels and tubes (all included) can be positioned on the wall where children see fit, enabling them to experiment away. Water is collected in the removable troughs and can be simply scooped to the top again.
23. Individual Wooden Planter Set Wall Mounted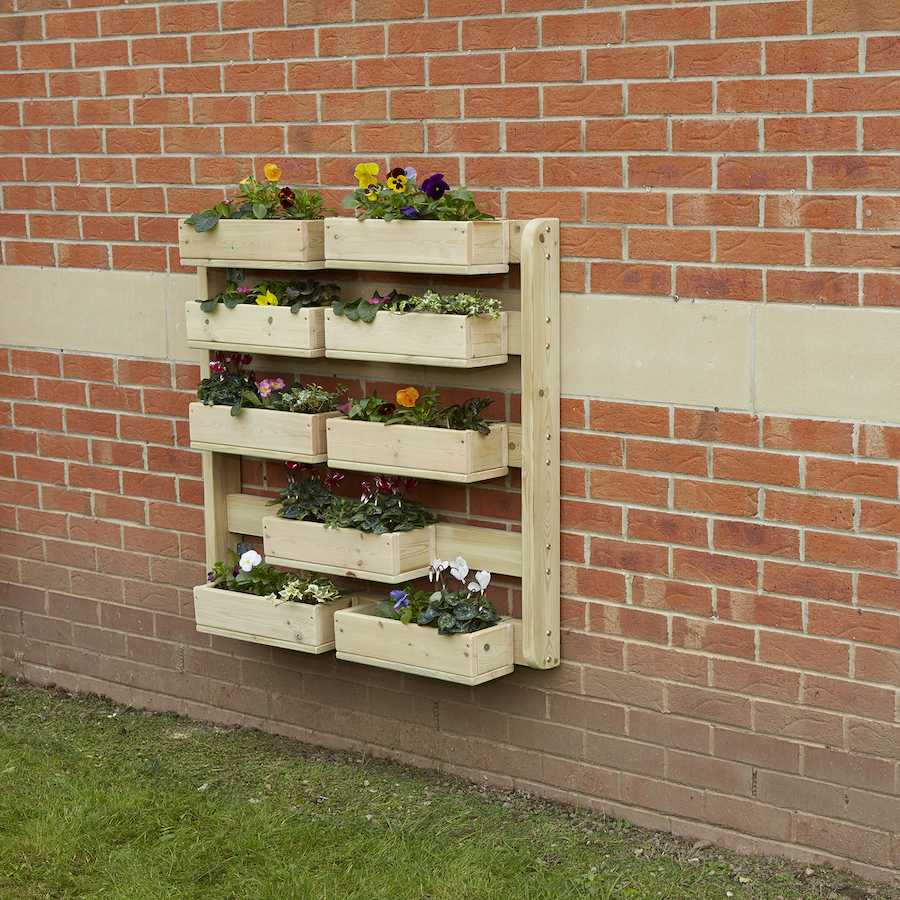 Small rustic planters that children can use for gardening then display them on a free standing frame or on the wall. A great space saving piece to brighten up any wall or fence.
24. Outdoor Climb and Crawl Boxes
These climb and crawl boxes cleverly transform a featureless surface into a varied topography. The endless combinations provided by the boxes will provoke children to walk, crawl, roll, slide and run over a landscape that is not flat and unvaried. Boxes are easy to handle, and stack neatly so are easy to pack away.