This giveaway is now finished. Be the first to hear about all our fantastic giveaways by signing up to our blog and by following us on our TTS Group Facebook page, over on Twitter or on Instagram.
The 5 prizes:
Day 1: Monday 2nd October
Plastic Messy Play Potion Bottles (worth £24.95)
Congratulations Abbie Danielle – you are our Day 1 winner! We also selected an additional winner via our Twitter Early Years page.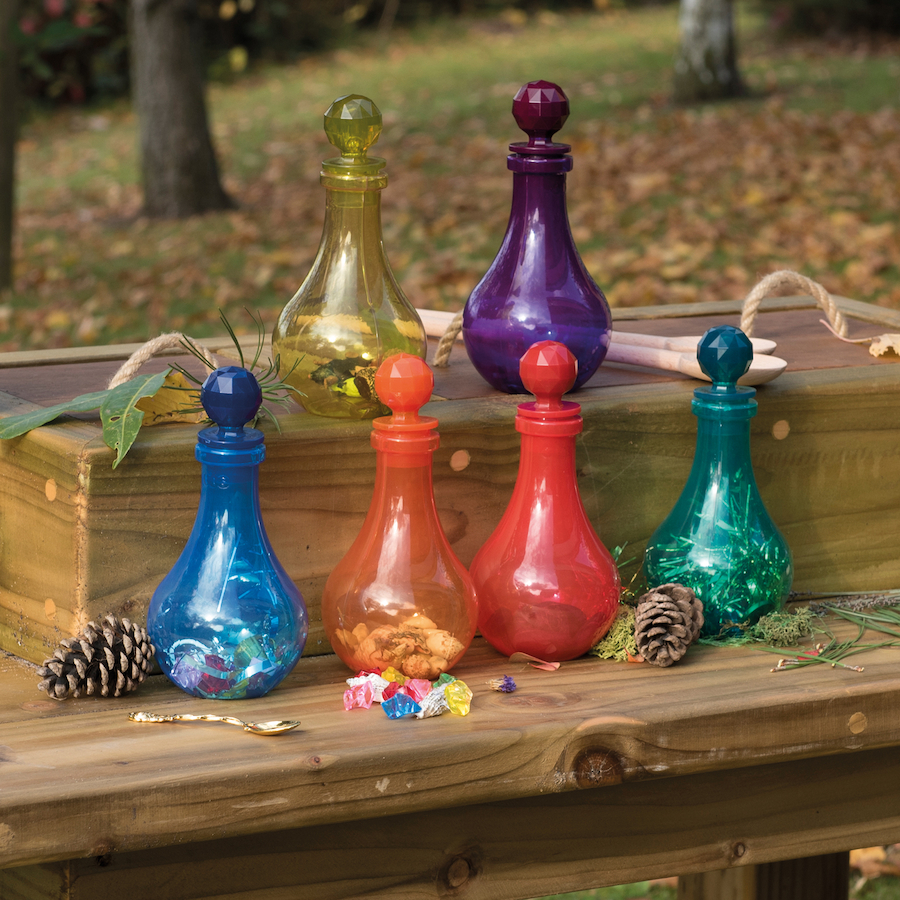 What will you mix in these appealing magical potion bottles? They look like glass but are made from a tough, safe plastic; ideal for using indoors or out. Children will love adding all kinds of ingredients, from glitter and petals to leaves and stones; helping their imaginations soar whilst developing fine motor skills. Great for mud kitchens, messy stations, sand and water play etc. Add a sense of awe and wonder to experimenting and exploring.
---
Day 2: Tuesday 3rd October
Cauldrons – 4 pack (worth £24.95)
Congratulations Stephanie Renee – you are the lucky winner of our cauldrons! – selected via Facebook entry.

This set of four cauldrons is perfect for messy mixtures. What will you create? Perhaps a potion for fairies or a batch of dragon stew made from found materials. You might add them to a wizarding world area or cook-up an alphabet soup using Squidgy Sparkle Letters. A truly open-ended resource, these wonderful containers are big enough for all the messy play fun you could want.
---
Day 3: Wednesday 4th October
Giant Wooden Spoon and Giant Potion Bottles (worth £71.90)
Congratulations to Southborough Pre-school – you are the lucky winner of Day 3 – entered via blog sign up. 
Large Outdoor Wooden Spoon – Children will love using this enormous spoon as they create inspiring recipes. What will it be today? A potion for a princess or a dish to use in the mud kitchen? (Accessories not included). Made from beech wood. Occasionally treat wood for good condition and store in a dry place.
Giant Potion Bottles – A set of 3 colourful magical potion bottles with a decorated finish – what will you put in yours?
---
Day 4: Thursday 5th October
Potions and Concoctions Outdoor Mixing Kit (worth £80.34)
Congratulations to Esther Maie and her reception class –  our lucky day 4 winner!
A selection of messy play accessories, perfect for creating magical potions. This fantastic set includes a range of our favourite potion making resources. Why not try creating a mud pie for a giant? The large spoon alongside the metal containers will provoke real wonder and encourage imaginative play.
Includes:
1 x Large Cauldron with Handle

4 x Black Cauldrons

3 x Metal Creative Tubs

1 x Large Wooden Spoon

3 x Assorted Spoons

1 x Creative Crate
---
Day 5: Friday 6th October
Outdoor Wooden Messy Concoctions Bench (worth £599.95)
Congratulation to Theresa Buckley – our very lucky day 5 grand prize winner!
This bench is our grand finale! Let imaginations soar, investigations begin and concoctions be mixed and stirred with this inspiring centre. The bench includes handy hooks for your utensils and 3 concealed containers with lids for that extra reveal factor. With a top ledge, wooden hooks and a lower shelf, you can store leaves, petals, gems, sand and soil for all of your messy experiments. An ideal unit for making aromas, magical potions and mud mixtures. Encourage scientific inquiry and investigation skills as the children experience materials in a multi-sensory way. Add tubes, beakers and funnels to create a laboratory. Imagine the centre in the winter as the children experiment with snow and ice; it could become the Jack Frost Factory! A wonderful addition to your setting. Made from pressure treated timber, coated with linseed oil. Accessories not included.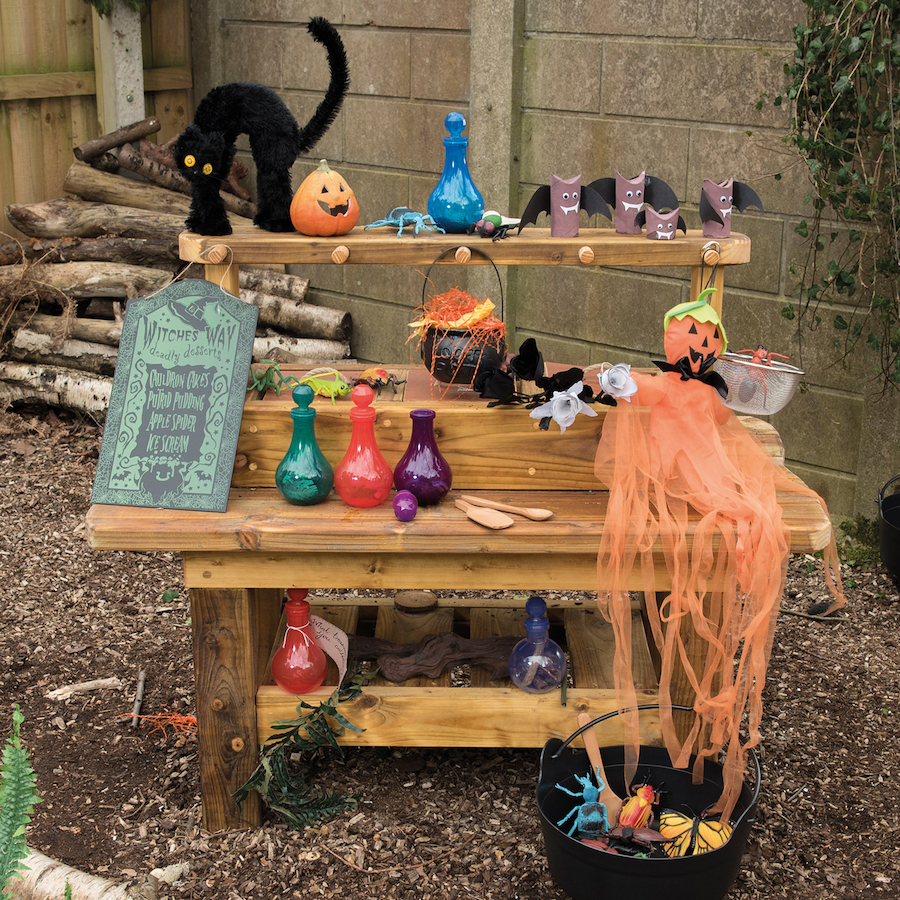 How to enter:
Beginning on Monday 2nd October, each day's prize will be posted on Facebook, Twitter and Instagram before 9am. 1 winner will be selected at random and announced the following morning at 10am. Friday's BIG PRIZE – Outdoor Wooden Messy Concoctions Bench – 1 winner will be selected at random and announced on Monday 9th October at noon. This giveaway is for UK schools, nurseries and childcare settings only.
To enter simply do ONE or ALL of the below:
Like our main Facebook page: @TTSGroupLtd, like the relevant post and leave a comment on the relevant giveaway post.
Follow us on Twitter: @TTS_EarlyYears and Retweet the post using #TTSMessy.
Sign up to our blog for more ideas and inspiration and leave us a comment below.
Check out our blog posts for Halloween activities and crafts below…
P p p pick up a Pumpkin! A visit to our local Pumpkin Patch!