The medieval legend of St George and the dragon is over a thousand years old. The tale goes that the dragon made its nest by the fresh water spring near the town of Silene in Libya. When people came to collect water, they inadvertently disturbed the dragon and so offered sheep as a distraction.
After time, there were simply no sheep left to offer the dragon so the people of Silene decided to chose a maiden from the town by drawing lots. When the results were read, it was revealed that the princess was to be the dragon's next victim. Despite the monarch's protests his daughter Cleolinda was offered to the dragon…
However, at the moment of offering, a knight from the Crusades came riding by on his white stallion. St George dismounted and drew his sword, protecting himself with the sign of the cross. He fought the dragon on foot and managed to slay the beast and save the princess. The people of Silene were exceptionally grateful and abandoned their pagan beliefs to convert to Christianity.
Here we show 5 of our favourite dragon crafts!
1. Roald Dahl inspired dragon dream jar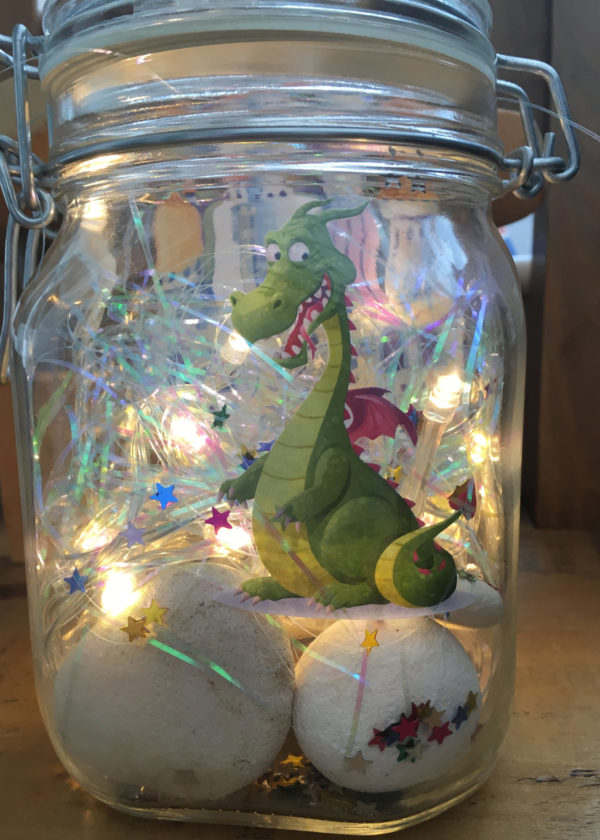 Simply fill a jar with whatever the children want – stones, glitter, sequins, rechargeable tea lights and pictures of dragons and castles – or why not add small world figures? For detailed instructions see our Dream Jar blog post here.
2. Decorate a giant papier mache dragon head!

Our papier mache dragon head makes an ideal class project. It can also be re-purposed as a Chinese New Year dragon!
3. Toilet roll tube dragons!
These are super cute and simple to make. Simply paint a toilet roll tube or craft tube, add pom poms, wiggly eyes and crepe paper, then add cellophane for fire.
4. Hand print dragon
Either draw around your own hand and cut out or use the rainbow hands from our bumper craft pack. Stick them together, add lolly sticks, feathers and glitter for decoration, wiggly eyes and cellophane for fire.
5. Egg box dragon 
Make this colourful egg-box dragon by painting an egg box in whatever colour you want your dragon to be. Decorate with coloured card, feathers and glitter.
6. Tactile Dragon
Have great fun making these multicoloured tactile dragons.
Some St George's Day resources for your classroom.
Create a small world scene where children can recreate the story with these Dragons, Fantasy Figures and these small world Knights and Dragons.
Have a fantastic day!