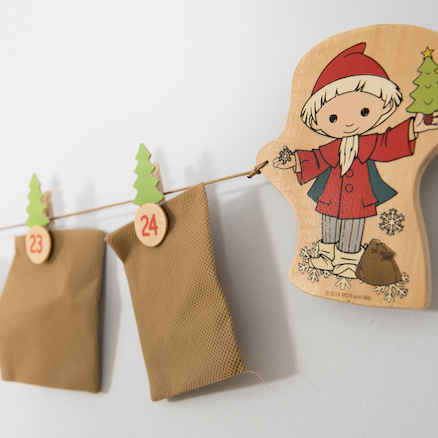 1. History
Tell children a little about the history. Advent is a Christian tradition – a time of preparation and waiting for the celebration of the birth of Jesus. The word 'advent' comes from Latin and means 'coming'.
Advent begins on the 4th Sunday before Christmas, but because the dates vary every year, calendars usually run from the 1st to the 24th December.
Many churches, schools and homes keep an advent wreath. They usually have four candles and each is lit, one at a time, on the four Sundays before Christmas.
2. Make your own calendars
Get children to make their own 'window opening' advent calendars.
Choose 2 pieces of thin card of the size you would like.
On one piece, draw the 24 windows. You might use a stencil for speed and accuracy.
Using a craft knife, a cutting board, and with adult supervision, cut along the three sides of each window.
Place your 'window' card on top of the second piece, so that children can make small marks where their pictures will go.
Draw or stick festive pictures where each of the windows will open. (Children might cut pictures from old Christmas cards.)
Stick the 'windows' card on top and decorate by adding numbers, pictures and glitter.
(It might be useful to have tiny pieces of sticky tack to hand to keep some of the windows closed.)
3. Advent with a difference
Hang clean socks or small bags on a washing line and number them consecutively from 1-24.
Prepare a list of treats, write them on rolled-up paper and put them in the socks. Choose a pair of children to pick out the paper and read what it says to the class.
Suggestions might include:
You may choose your favourite picture book for us to read together at the end of the day
You may all have 5 minutes 'Golden Time' at the end of today.
We will share satsumas/clementines at the end of the day. The FREE download sheets below explain where the tradition to have oranges in stockings may have come from. You can download copies of the sheets by The Tesco Eat Happy Project here.
We will sing your favourite Christmas song and play bells/tambourines/triangles to accompany it
You may all choose a sweet
We will play 'Pass the Parcel'
NB: The 'treats' will obviously vary depending on what you can offer. You will only need 14 suggestions to cover the days you are at school.
4. Advent story time
Wrap and number a selection of books (with Christmas paper if possible) and put them in a special box.
Choose a child or pair of children to unwrap a book per day and read it at story time. Include Christmas stories and books they may not usually have in the classroom.
5. Advent poem
Either:
Write out and cut up the lines of an appropriate Christmas poem (such as, 'Twas the Night Before Christmas' by Clement Clarke Moore).
Cover up and number a line or two for each day of advent you are at school.
Get a child to reveal a line each day and read it together. Children will be learning to recite the poem a small bit at a time, until they are able to read or remember the whole thing!
Or:
Prepare a selection of 'festive' words, place each one in an envelope numbered with glittery glue and hang them up in the classroom
Each day, choose a child to open an envelope and together, think about how to make that word into the line of a poem.
Write out the line and add to it each day, creating your own original Christmas verse.
Alternatively, each word could begin the first line of an acrostic poem such as:
Carols ….
Holly ….
Reindeer ….
Icicle …
Santa Claus ….
Toys …
Mistletoe …
Angel …
Snowballs …
Candles ….
Elves …
Lights ….
Eggnog ….
Bells ….
Rejoice ….
Artificial Tree …
Turkey …
Ivy …
Ornaments …
Nativity ….
With thanks to Beverley Smalley for writing this blog. Beverley is an education specialist, writer and former primary school teacher.