'The core of computing is computer science'.
This includes:
Understanding fundamental principles and concepts of computer science
Analysing problems in computational terms
Writing computer programs
Evaluating and applying information technology
Making safe, responsible and creative use of ICT

Introducing Blue-Bot! – A Bluetooth enabled floor robot which means you can control it with your Tablet or PC. You can plan your algorithm on the screen of your device and send it remotely to Blue-Bot to perform right in front of you!
Blue-Bot has a clear shell which means children can see the components inside and identify what gives Blue-Bot its buzz. It can be programmed like a normal Bee-Bot by selecting the buttons on top of the robot. Blue-Bot is capable of performing 45 degree turns and you can also include repetitions in your algorithm which means this is the perfect resource for KS1 and KS2!
Blue-Bot is:
Compatible with iOS, Android, Windows 7 and Mac OS
Rechargeable, no batteries required
Perfect for KS1 and KS2
Blue-Bot App – designed to work across a number of platforms and is a FREE download! Once you open the app on your device, select your Blue-Bot and get programming! The app allows you to select a Bee-Bot mat that you may already have, so you can replicate what's on screen in real life!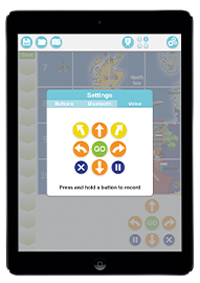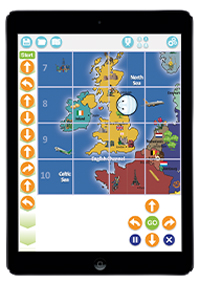 Blue-Bot at BETT 2015
To mark our milestone 30th birthday, we hosted an event with Miles Berry, a principal lecturer and subject leader for Computing Education at the University of Roehampton. Miles spoke at length about Blue-Bot and its relevance to the new Computing curriculum, whilst visitors got their chance to have a go with our latest release. Blue-Bot was received with great enthusiasm and feedback has exceeded any of our expectations