My Initial Thoughts on the Giant Light and Sound Spinning Top
As a children's physiotherapist, it was a pleasure to assess and review the Giant Light and Sound Spinning Top, a modern adaptation and progression of a classic, centuries old concept. It offers versatile play and learning opportunities, and assists motor skill development in many engaging ways.
Individual children (with supervision), small groups, or practitioners (in whole class activities), can benefit from using this resource. They can switch the light and sound on or off to accommodate a range of sensory needs and seeking behaviours.
Colour and Sound: Engaging Curiosity and Enhancing Coordination Through Play
Colours transition smoothly and the sounds of a gentle breeze/waves and wind chime encourage curiosity, attention and concentration. The colour sequence offers opportunities to develop memory and hand-eye co-ordination.
I enjoy the aspect of the change of colour and would use this in group activities to incorporate physical play. An example would be if the spinning top lands on red the group will do 5 stars jumps, if green, run on the spot…

Heidi Taylor, Student Primary Teacher
Developing Motor Skills
Wrist, hand and finger strength, and coordination can also  be developed by manipulating the buttons and twisting and turning the Giant Light and Sound Spinning Top. Fine motor skills, including finger tracking and pointing to shapes, and shoulder stability, through spinning and lifting the Giant Spinning Top can also develop through play.
Core Muscle Strength and Endurance
The Giant Light and Sound Spinning Top enhances core muscle strength and endurance. These are vital for developing onward gross motor skills. When children twist and move the top, they must apply thoughtful force to turn and spin it. This action engages core muscles in the stomach and back, vital for maintaining healthy, balanced postures. Core muscle strength and endurance allow children to stabilise their body, enabling them to use their hands for writing and other fine motor activities. This strength also allows them to use their feet to jump and kick a ball.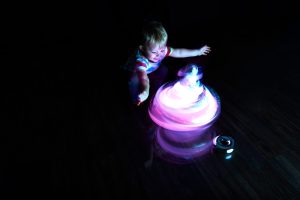 Body and Spatial Awareness
Children can learn about their body and spatial awareness through the giant spinning top. Both are essential elements of physical motor development. They learn by using forces, body actions, and coordination needed to spin and move the top in different directions. The top can be tapped with one or two hands, spun, stopped, or hugged. All of these are fantastic movement opportunities to develop and build spatial and body awareness.
Curiosity and Exploration
I appreciate the Giant and Light Spinning Top for creating a sense of fun and teaching children about movement and cause and effect. It stimulates curiosity and boosts confidence. This sense of inquisitive learning extends to other situations as well.
My Final Verdict…
I would recommend the giant spinning top (rechargeable through USB) as a versatile piece of equipment which offers many play, learning and motor development opportunities.
Many thanks to Lorna Taylor, a Paediatric Physiotherapist, for writing this blog.