Get ready for Mother's Day 2021 on Sunday 14th March! Everybody loves a homemade card with a heartfelt personalised message and a chance to show our Mums how much they are appreciated! Here are 5 sweet and simple ideas to use, adapt or add to as you like.
1. Paper Heart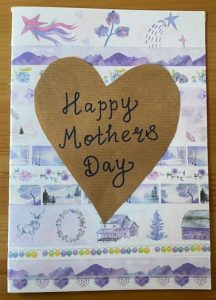 You will need:
A piece of card folded in half
Washi/craft tape
Brown paper
Glue stick
Scissors
Pen
How to:
Simply cut strips of your favourite craft tape and stick down in lines to the front of your card
Cut a heart shape from brown paper, write your message and stick it to the tape.
Top tip: Practice writing your message before sticking the brown paper down to get the spacing and letters just right!
Fabric craft tape         –        Printed craft tape
2. Umbrella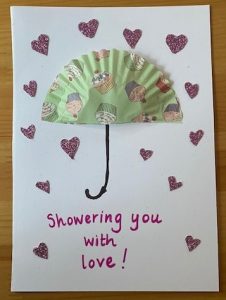 You will need:
A piece of card folded in half
Cupcake cases
Glittery paper or similar for the small hearts
Pens
Glue stick
How to:
Cut a cupcake case in half. Stick the first half down flat and glue only the edges of the second half, so that it has a 3D effect.
Draw a brolly stick underneath.
Cut out small hearts from a paper of your choice. Stick them around the umbrella, like rain falling.
Finally, write the caption.
3. Printed look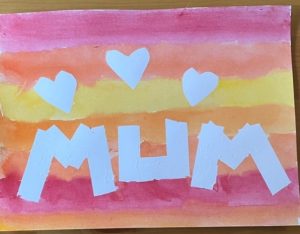 You will need:
A piece of card folded in half
Craft tape or tape that can be peeled back
Paints
Scissors
How to:
Make this card landscape to give more room for the word 'mum'.
Cut strips of tape and arrange on your card to make the word and the hearts (or whatever decorations you would like).
Leave the tape in place and paint a background with watercolours or thin poster paint.
Wait until the paint is dry and carefully peel away the tape.
4. Mosaic-style heart
You will need:
A piece of card, shaped into a heart
Pieces of craft paper, or sticky gems etc. as the mosaic pieces
A piece of ribbon
Scissors
Glue stick
How to:
This card makes a wonderful hanging decoration/memento. It does not open, but the message is written on the reverse.
Use pieces of craft paper, stickers or gems to create a mosaic pattern.
Make a hole, thread the ribbon and tie.
Top tip: Write the message on a separate piece of paper and stick to the reverse side when happy with it.
5. Cute deer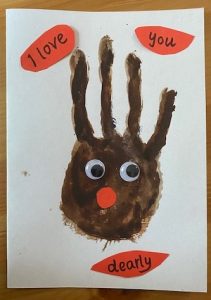 You will need:
A piece of card folded in half
Brown paint
Wiggly eyes
Paper
Pens
Scissors
Glue stick
How to:
Cover your child's palm in brown paint and print it onto the card.
Add wiggly eyes and a nose.
Write and add the caption.
Messages
Perhaps you could write an acrostic poem for the inside?
Mum, you are so wonderful,                                                    Or simply:           To my Mum,    
Only you will do,                                                                                                  I love you because:
The greatest in the world for                                                                                ____________________
Hugs and kisses too,                                                                                            _____________________
Everybody thinks their mum is best, but you                                                     From _________________ (Age __ )
Really are!