Like all great inventions, the idea for the award-winning Bee-Bot Floor Robot was born out of a need, when teachers were struggling to deliver programming lessons to young children. It's simple button functions, smiley face and inexpensive price have made him a hit in schools for over 15 years.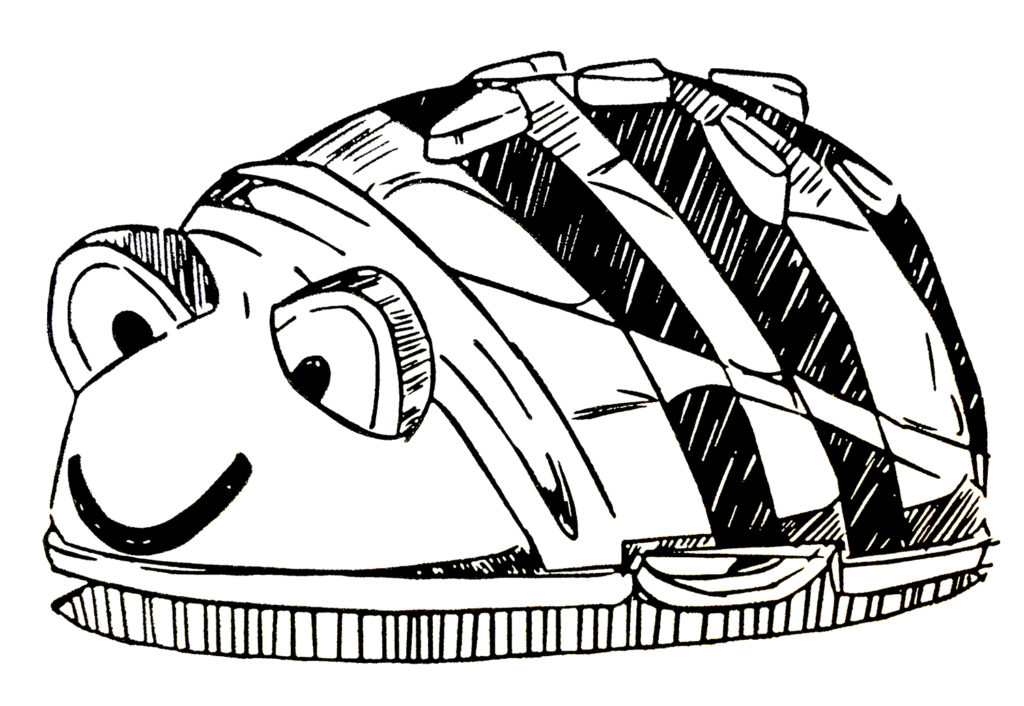 Bee-Bot is our most iconic own developed product, selling over three quarters of a million bots!
A view from the TTS Product Development team:
One of the product creators, inventors and developers for TTS talks about how Bee-Bot came about:
Bee-Bot was born through the long standing TTS tradition of good solid teacher research. From talking to scores of teaching professionals, he was eventually conceptualised one rainy afternoon in Lewisham, between TTS product creators and local authority ICT advisors in the early 00's. We knew teachers struggled teaching programming and wanted to find an innovative and engaging device for students and teachers alike that built on the curriculum requirements, but offered a sufficiently open-ended resource that it could be used across all subject areas. And so he was born!
We spent hours pouring over the mechanical function of how to program him and possibly just as long on his face! Numerous product names went into the hat until we ended up with 'Bee-Bot.'  And then it was simply a question of taking the prototype to enough schools to test and that meant there were a suite of floor mats developed for him to adventure on too. So in a nutshell; Bee-Bot is a grand example of necessity being the mother of invention…we had a curriculum to deliver and most of us were left scratching our heads so we set to task to help, as has been the TTS way ever since!
2019 sees a NEW & IMPROVED version of our Bee-Bot and Blue-Bot floor robots – with all new functionality and accessories!
What Bee-Bot does:

A perfect tool for teaching sequencing, estimation, problem-solving, and just having fun!

• New, improved & exclusive to TTS
• Now Interactive – ability to talk to other Bee-Bot's & Blue-Bots!
• Explore the curriculum with fantastic cross-curricular resources
• Up to 200 steps! That's 160 more steps!
• New, recordable messages to confirm demands
Enter up to 200 commands with directional keys to move forward, back, left, and right. Loved by teachers and children across the world, he is rechargeable and a key resource for delivering the new computing curriculum.
With all of the accessories to go alongside Bee-Bot and Blue-Bot including mats, sequence cards, tactile readers, tins with activity ideas, software and APPs you will have everything that you need for a perfect starting point for teaching control, directional language and programming in the classroom. Look out for our brand new, exciting collection of mats and resources.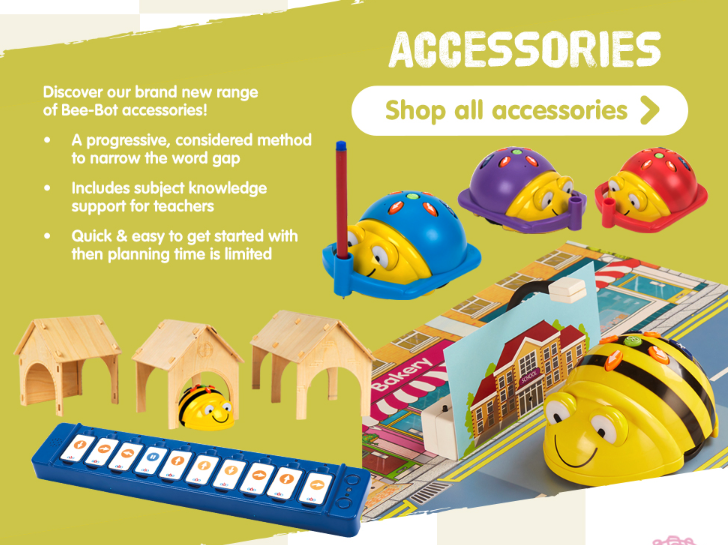 We've been amazed and delighted at the success of the Bee-Bot app. The App has been developed based on our well-loved, award-winning floor robot. The app makes use of Bee-Bot's keypad functionality and enables children to improve their skills in directional language and programming through sequences of forwards, backwards, left and right 90 degree turns.
The app has been developed with 12 levels encouraging progression. Each level is timed and the faster it is completed the more stars you get! The levels are set in an engaging garden scenario and will appeal from age 4 upwards. Also available is the Blue-Bot APP!
3 Lesson Ideas
Explore algorithms with Bee-Bot – having spent time exploring how Bee-Bot works, children should begin to solve problems through planned solutions rather than a trial and error approach. They should record the commands and the sequence in which they are needed.
Debug with Bee-Bot – children should be encouraged to solve or create ever more complex challenges using Bee-Bot. For each challenge, they should plan, test and debug their solution. As an alternative to drawing their program, children could use cards with the command symbols printed on.
Practice prediction with Bee-Bot – after writing their own Bee-Bot programmes and debugging them, children can start to read programs created by other people. These may be written by a teacher, other children or even randomly generated, using cards.
Handy links:
View the handy programming journey school guide here.
All our Bot APPs are available here.
View the Teacher's guide here and user guides here.
Bee-Bot/Blue-Bot Replacement Batteries are now available instead of replacing the robots. A replacement battery for either the Bee-Bot or Blue-Bot Rechargeable Floor Robot. Along with instructions on how to replace them.