The case itself might be of any shape or size; interesting ones can often be found in second-hand emporiums and many of the items to go inside can also be collected or salvaged from markets and charity shops. It is a similar idea to the way treasure baskets are used, but suitcases are somehow even more magical and intriguing! You might change the contents every week so that children are wondering what will be inside this time! The nature of the enclosed space is perfect for creating small world scenarios, or it might simply be filled with unusual, tantalising or curious objects to wonder at, explore and discuss.
1. Small world scenes – fairy garden or village
Create a fairy village within a suitcase like the one above by Lottie Makes, containing all the items to create a small world. Include fairies and mushrooms, furniture, bottles of fairy dust, little stepping stones and flowers. Have the case shut initially and use a key attached to a label as a provocation. Discuss what the key could be for and who might have written on the label. You could also have a bottle of fairy dust as a clue! Include recordable talking buttons to help children interact with the scene inside. Children could create their own versions and re-enact scenes, recording them on a digital camera and playing them back to the class.
2. Life as an evacuee
Imagine, see and feel what life must have been like as an evacuee during the war. Artefacts provide opportunities for your pupils to engage with kinesthetic resources that will give a "sense of period" and enhance historical understanding, enquiry and fascination. Why not turn your whole class into evacuees for the day? The items within this suitcase will encourage a range of cross-curricular activities including creative writing, location knowledge and more!
3. Loose parts – wooden bobbins and pegs, curtain hooks, wooden discs, stones, sticks, buttons
Loose parts are taking the early years by storm as their abundance of uses allow children to learn in their own unique ways. Loose parts are materials and resources that have no pre-planned use; they can be natural or synthetic, they can be moved, combined with other resources, lined up, deconstructed and constructed again. You don't need to go out and buy anything fancy, but instead allow children to use continuous provision in a flexible way, with the space and time needed for them to play, explore and be creative. Read our blog post about Loose Part Play by Little Miss Early Years here.
4. Natural elements – leaves, seeds, twigs, pine cones
Natural materials encourage children to use their imaginations and demonstrate their skills. Exploring natural materials can enhance sensory development and lead to children using their own creativity whilst learning. Our range is ideal for KS1 and the Early Years and can be used in a wide range of applications, from transient art through to measurement and sand and water play.
5. Magical dragon theme!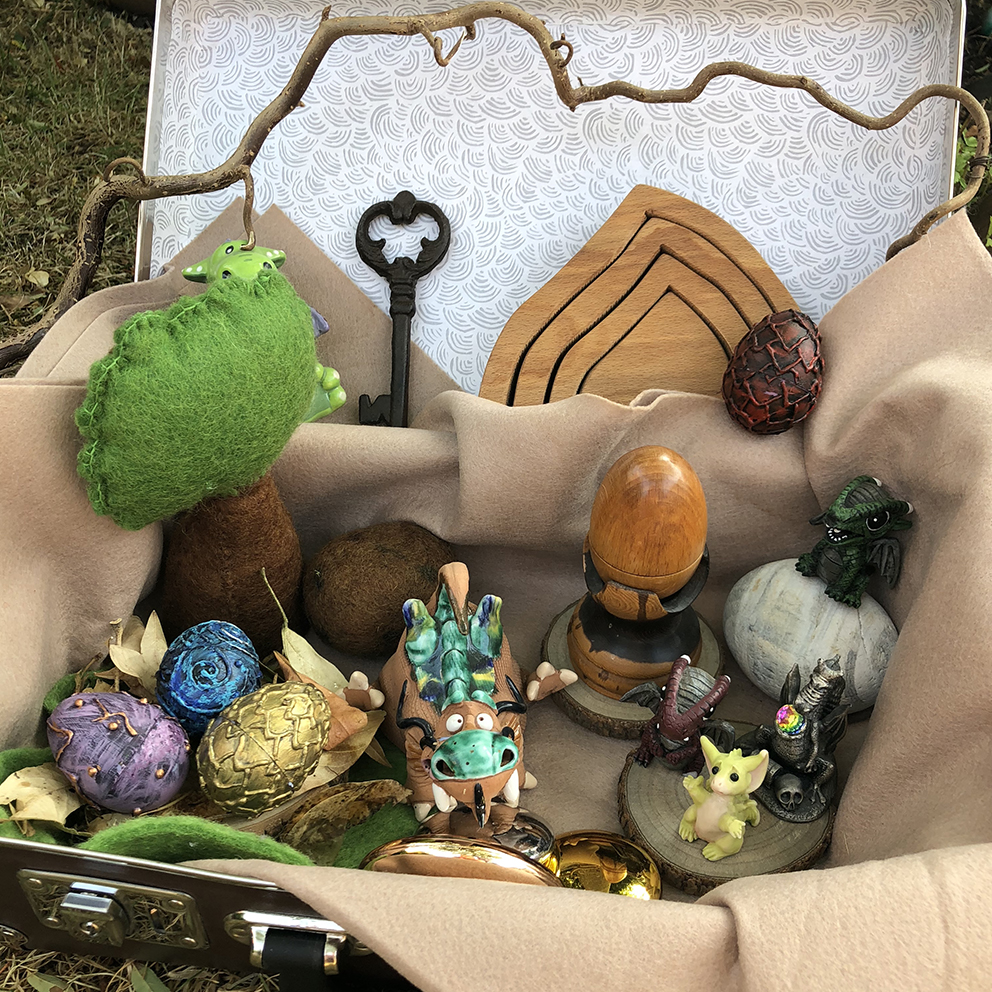 Create a magical dragon world in a suitcase like the one above by Lottie Makes. Make dragon eggs like the ones below – instructions on how to make them in the blog post here. Collect a variety of dragons, dragons teeth, pebbles and small world items to suit this theme.
6. Potions and concoctions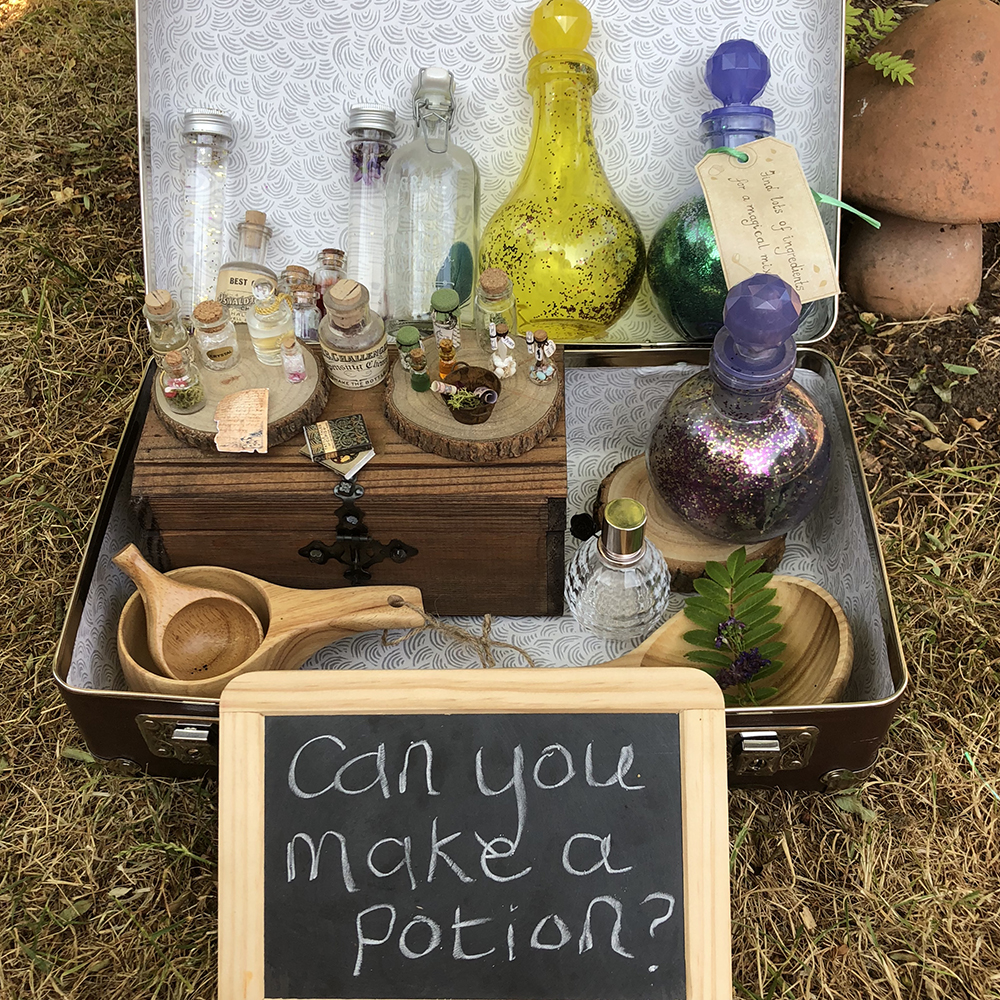 Create learning provocations and possibilities with Potion Bottles. Childhood memories of a perfume or potion mixed and swirled with a carefully chosen stick in a humble jar can be treasured. Help to create powerful memories for your children and in doing so enrich them with vital key learning experiences. Read our blog on possibilities with Potion Bottles here.
7. Icy winter theme
Create a wintry world in a suitcase using white fabrics, arctic animals, silver metallic pebbles, white and silver pom poms, metallic/iridescent shred, fake snow and anything that you can find to enhance the theme – why not add an igloo?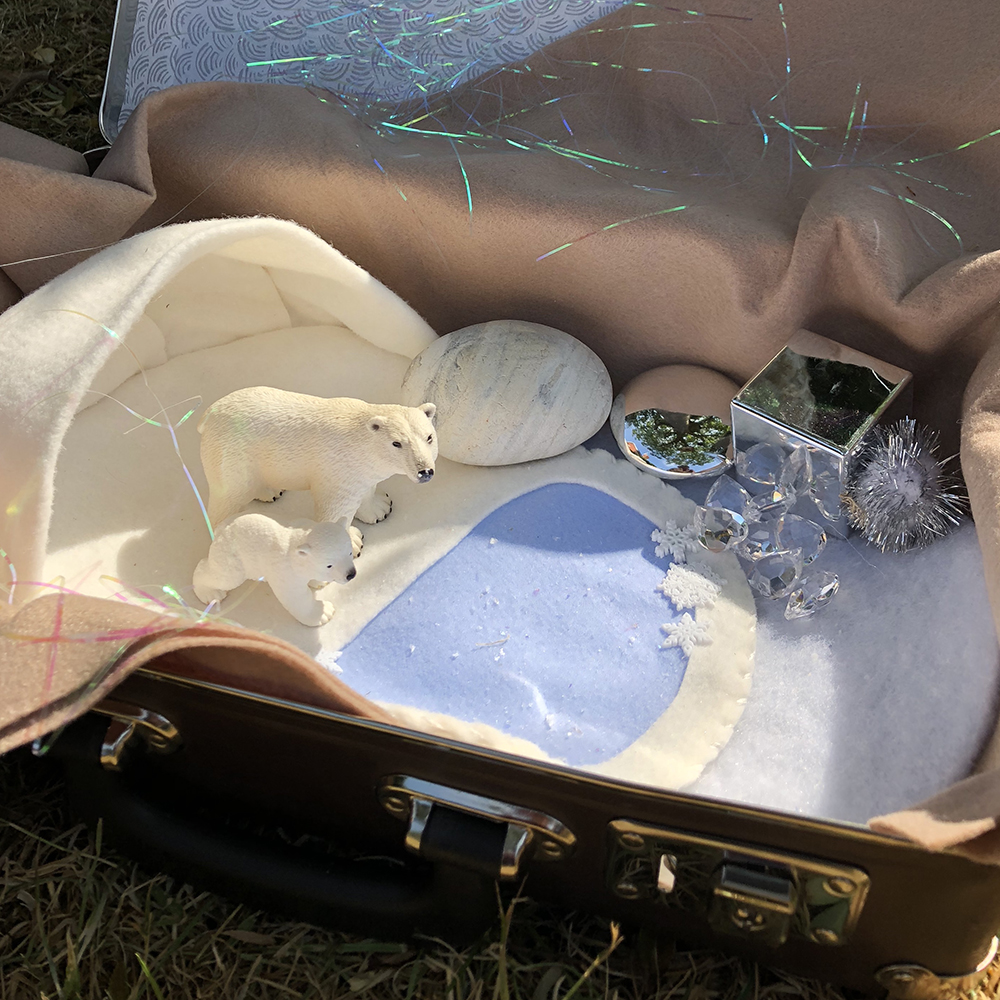 8. Focus on colour exploration
Fill a suitcase full of inviting, colourful items. You might focus on one particular colour or provide a rainbow of possibilities. Objects can be everyday items and children might discuss what they are made of and what they are used for. This wonderful collection was put together by Becky's Treasure Baskets – follow her on Instagram for more wonderful treasure basket ideas and read her inspiring blog post on the appeal of Treasure Baskets here.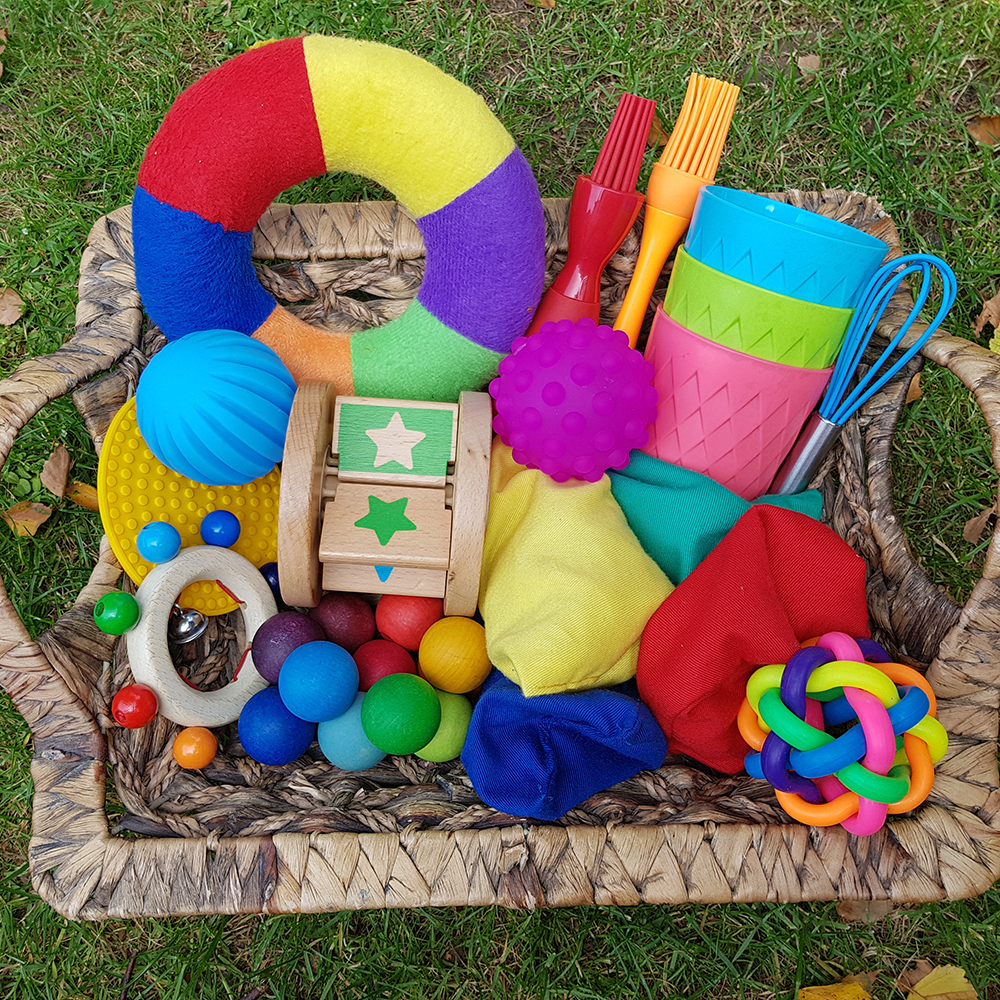 9. Provocations
Suitcases can be conversation starters – "Who does this case belong to?" You could have one for The BFG, the giant from Jack and the Beanstalk or tiny items in a suitcase for Thumbelina. Include objects a well-known character might have or simply use a selection of curious items for children to explore and discuss. A collection from a Provocations Kit such as this one may help and also underlines the fact that the learning process is just as, if not more, important than the learning outcomes. The more exciting, active and challenging the provocations are, the more each child will engage, allowing a far greater depth of understanding to be developed. These inspiring provocations will ignite a learning spark and offer breadth and depth of experience for every child.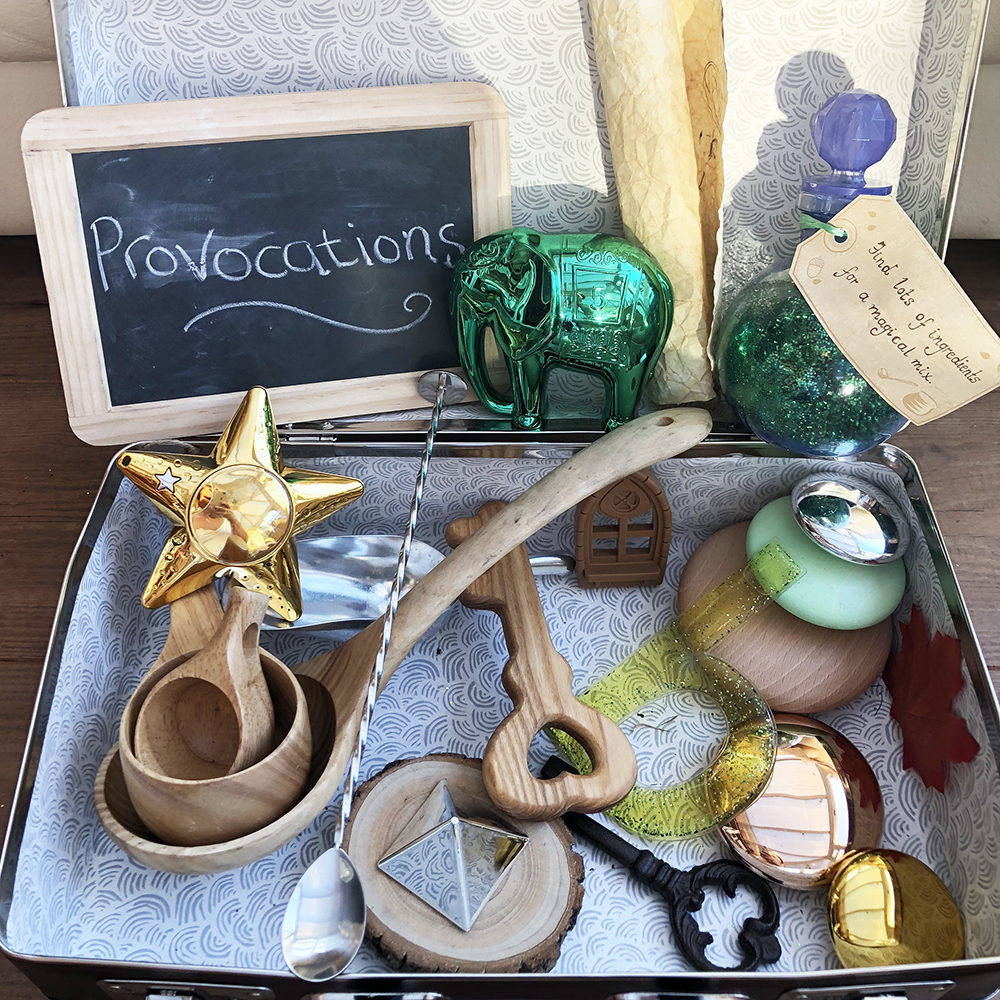 10. A story suitcase
Bring stories to life with a suitcase for a class book. Include all the items and props children will need to recreate the story. Allow them to investigate and find extra items to add. Children could then choose a different story and create their own suitcase. The photos below are by Becky's Treasure Baskets – follow her on Instagram for more wonderful treasure basket ideas and read her inspiring blog post on the appeal of Treasure Baskets here.
11. Pirate themed
Children cannot resist this theme! This one is by Lottie Makes! Tie it in with learning about oceans or an 'under the sea' topic. Include dressing up items, a treasure chest and key, pirate books, treasure, a scroll and treasure map. Include recordable devices so that you or the children can record pirate themed messages. Why not use this idea to celebrate 'International Talk Like a Pirate Day' on 19th September this year!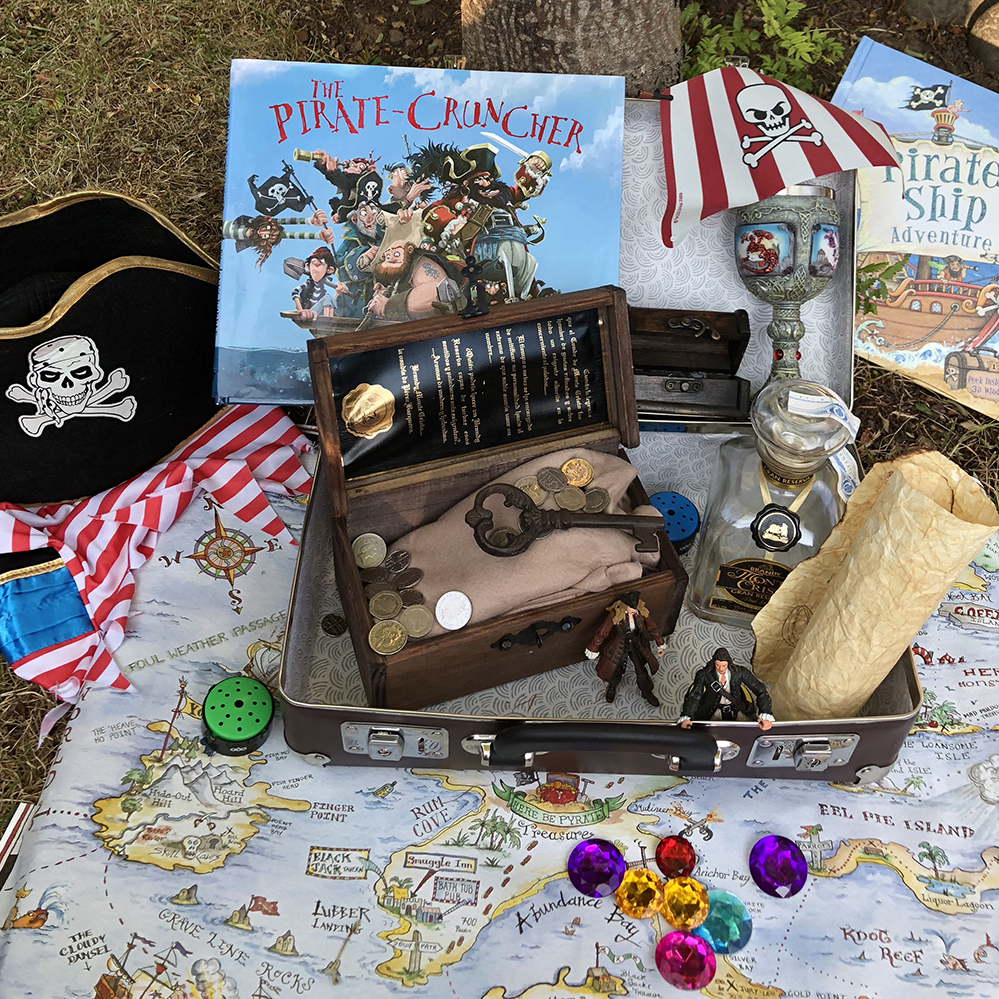 12. Sensory suitcase
Include sensory items such as ones with different textures, colours, smells/aromas and perhaps even tastes. Use light up or glow in the dark objects, metallic/shiny ones, natural resources such as pine cones, leaves, conkers, flowers, stones or seeds – the possibilities are endless!
13. Collections
Display collections of similar items in your suitcase to show variety, giving children the impetus to sort, count, compare and create stories.