Here are 5 ideas to help create your own packaway cosy corners that aren't a permanent feature. What's more they're easy to set up, change round and store away!
It's often hard to create a cosy space that's big and comfortable enough for an adult and a small group of children. Some teepees are great at providing just enough height and can be put up and taken down easily. If the weather's nice, you could even put them up outside.
There are several kinds of den frames that are portable and all the better if the poles come with a bag for easy storage when not in use. A simple frame is an open-ended, versatile resource that can be transformed into many different scenarios. Giant pegs are really handy for securing fabric to the poles to help create your different looks.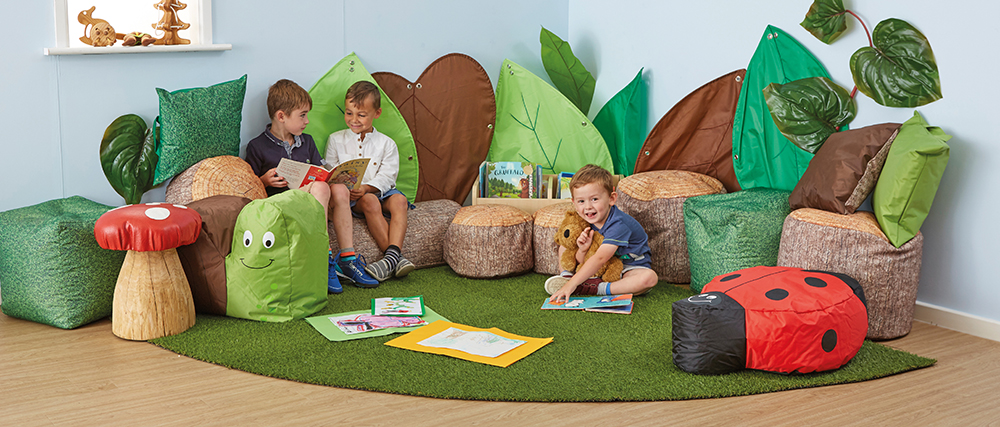 Don't let rain stop play! Bring the outdoors in, with some realistic looking leafy cushions, bark print sit upons and artificial grass. Look out for cushions with carry handles (ideal for children to take them outside) and packs that come with a handy storage bag.
A cosy space doesn't always have to be a den; you might simply section off a calm, comfortable area for children to be in. There are different kinds of room dividers, but panels that fold are so useful when it comes to putting them away, or moving them around. All the better if you can decorate the panels by hanging things on them. Try draping fabric to instantly change the look and feel of the area.
Darkened rooms and dens can provide a calming, sensory space for children to relax and unwind in, or to explore. These don't have to be a permanent feature; larger sensory pop up tents are available or simply drape dark material over tables. Engaging light up resources can really enhance the effect and will draw children in.
Shop our vast range of packaway storage solutions.
Grab & Go – packaway resource set ideas:
Children should experience the world beyond a classroom or setting as an essential part of their learning. Enabling a greater sense of enjoyment and achievement, using meaningful applications of problem solving strategies and thinking skills. Moving out of the classroom allows children to actually experience the world around them, enabling their curiosity and more effective exploration using physical resources in a creative environment. Grab & Go kits are ideal for this!