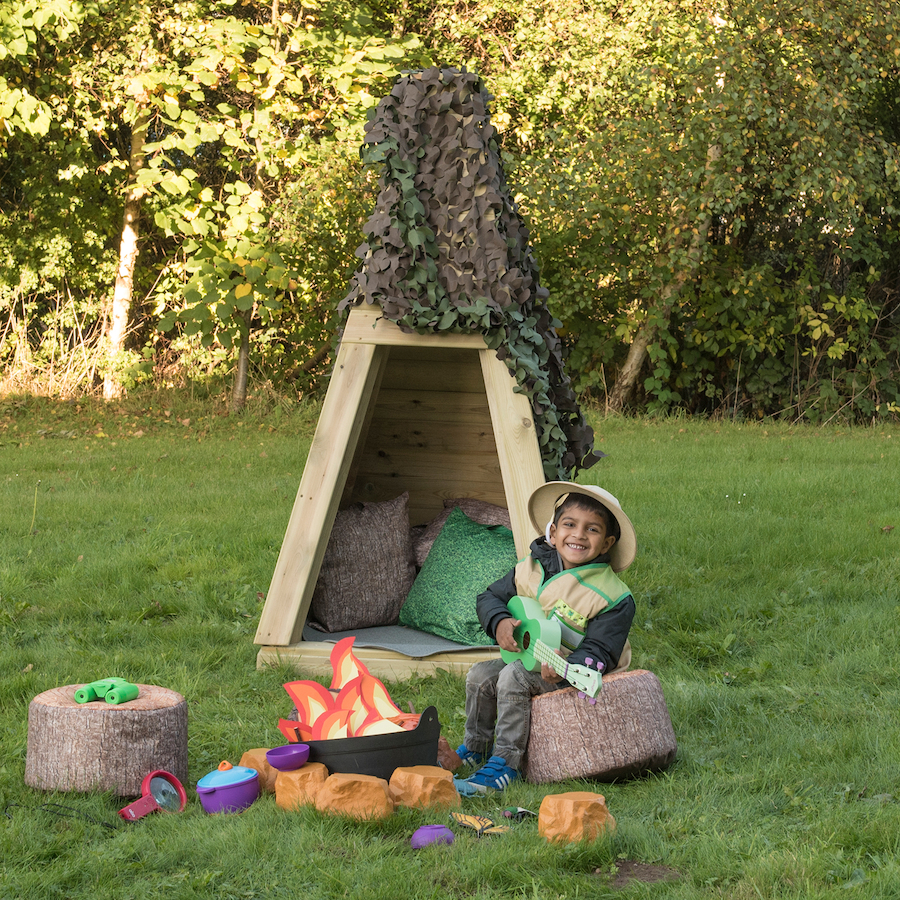 Congratulations to Donna Challinor – our lucky teepee winner!
To coincide with Nursery World in Liverpool on 5th May we are giving away one of our fabulous Outdoor Teepees worth over £750!
Children will love creating a secret hideaway as they role play and have fun conjuring up imaginary games. Set up camp and create a cosy retreat, or simply sit back and enjoy the wonders of nature from inside this rustic wooden teepee. Add lots of play value without taking up lots of space.
The tepees are beautifully made, incredibly sturdy and will be a focal point of your outdoor area for years to come.
A bit of history
Teepees (also spelled tipis) were first made by Native American Indians using very long wooden long poles covered in buffalo skin. The skins were often painted with pictures showing their achievements. Children might paint some of their achievements on 'buffalo skin' (perhaps cloth) and attach them to the outside of the tepee. The shape is very distinctive. Have children seen that sort of shape anywhere else?
America Indians made small fires in the centre of their teepees and there was a hole at the top so the smoke could escape. The fires were used for cooking and, when needed, for warmth. What do the children think they might have eaten? The entrance always had a flap. If it was open, you were welcome to enter, but if it was closed, you had to announce yourself and wait to be invited in. This would be an interesting fact to use in a role-play scenario. Do the children approve of that rule? Some teepees were large enough to hold 30 or 40 people. How many children can sit in your tepee? Native American Indians are well-known for their story-telling and passing on of legends by word of mouth. You might tell some of those legends or ask children to re-tell stories of their own!
To be in with the chance of winning the Outdoor Teepee pictured above – worth over £750 – see below for how to enter. (Please note you must have a UK address – apologies to our overseas readers.):
LIKE our facebook page here
Comment on the Outdoor Teepee giveaway post on Facebook tagging a friend who you think may also love to win this set
And/or
Follow us on Twitter @tts-group and use #TTSteepee
And that is it! Simple!
Winner to be chosen at random and  announced at 3pm on Tuesday 9th May 2017.
Very best of luck!
Please note: These Teepees are made to order. Delivery time is usually 4-6 weeks.