Is this a key time for planning in your school or setting? Come and explore inspirational ideas and resources that will help you on your new curriculum journey. You will be able to explore areas on the stand for the core curriculum, including Maths, English, Science, Computing and ICT, along with new resources for Humanities, Art, children with Special Educational Needs, Furniture and Early Years!
Look out for some of these resources on the stand….
Prepare yourself for programming with the brand new Blue-Bot
Blue-Bot is a Bluetooth controlled floor robot which means you can plan algorithms on the screen of your Tablet or PC and send it remotely for Blue-Bot to perform right in front of you! Come and have a go at building your very own program!
Take a break from the crowds in our Rainbow Den
Relax in our cosy and colourful outdoor den. With its coloured windows and comfortable seating, this is one not to be missed!

Challenge yourself and your friends with the Spelling Boxes!
Simply dive in and pull out one of the spelling cards and test your skills!

Engage younger learners with early maths concepts using the TTS Wooden Number Frames
This tactile material encourages children to pick them up and play/experiment with the shape – Come and have a go yourself!

Looking for Science equipment? You'll love our A3 RGB Light Panel
This RGB light panel is great for viewing transparent and translucent objects, as well as for use in Science investigations.  Come and make your own observations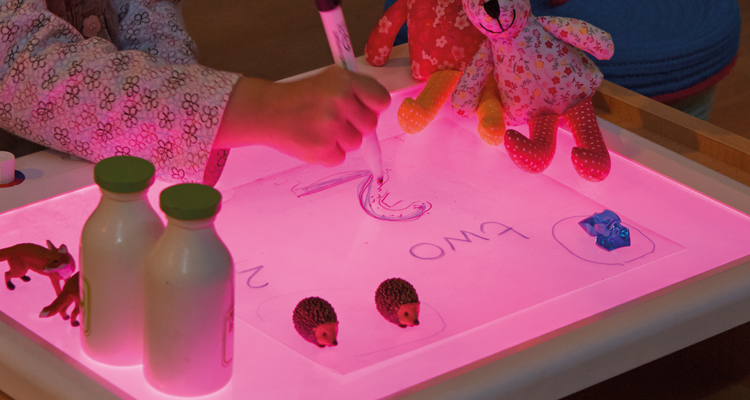 Competition…
Pop by the stand for your chance to win:
If you can't make it to the Education Show, don't worry as you'll also be able to enter the competitions online – stay tuned for more information!
Selfie!
Look out for the giant Blue-Bot (and we're not exaggerating when we say it's giant!) at the Education Show. See if you can find him, and when you do take a picture of yourselves with him and give us a mention at @TTS_Group – We'll retweet the best of your wackiest poses!
Don't attend the Education Show this year without stopping and saying hello, you will be greeted with warm smiling faces, exciting and innovative resources and will leave full of ideas for your classroom, you could even grab yourself a free goodie bag!
Hope to see you there…