Take a look at these lovely ideas for Valentine's Day crafts in your setting.
Simple but 'oh so' effective these delightful tissue paper and card hearts are easy to assemble, colourful, fun and tactile. A gorgeous Valentine's gift for friends and family.
 Valentine Scratch Heart Craft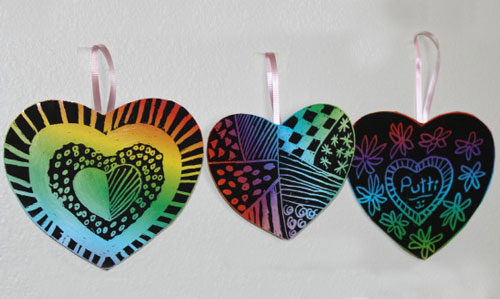 What's hiding underneath the black surface? Encourage young children's creative skills using these scratch board hearts.  As patterns and marks are scratched into the surface a beautiful rainbow of colours beneath are revealed making it a satisfying project even for young artists. When complete they can be made into a gorgeous garland  (simply string together using our lovely heart ribbons), used as a gift decoration or as a motif on a handmade card.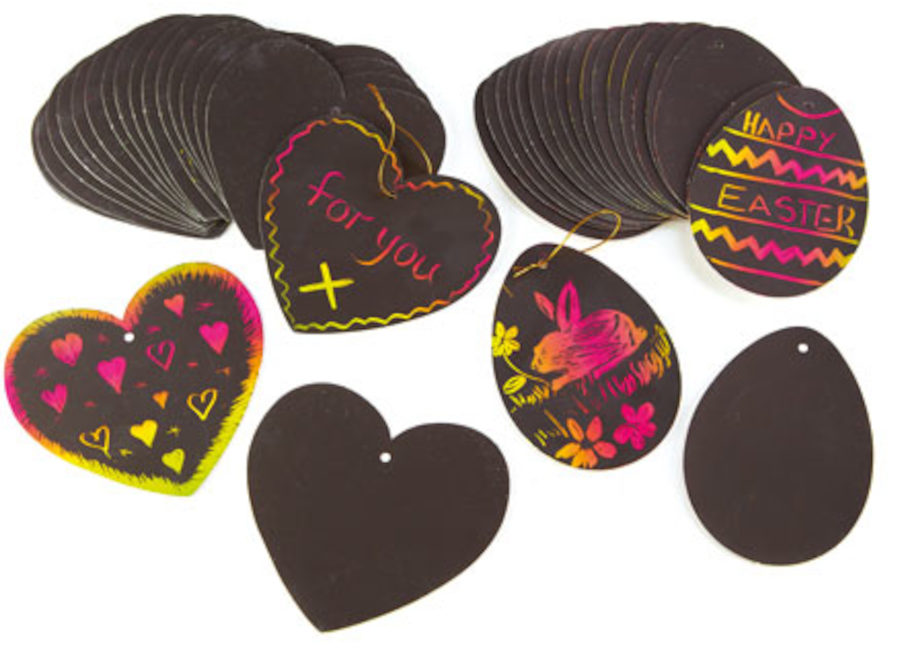 Large or small scale these sun catcher hearts will bring a little colour and fun into the classroom!  Cutting out the need for glue and ideal for little artists the self- adhesive clear cover enables children to stick tissue paper, cellophane, buttons and beads etc quickly and easily onto the surface throughout the day making a beautiful eye-catching collage!
Simple but effective, create these cute decorative hearts and make gorgeous garlands and mobiles to hang from the ceiling or drape around the classroom.  Made from colourful card, add extra sparkle using self- adhesive 3D gems, glitter gel and sequins!
'How to' Paint Spinner Hearts for cards and bunting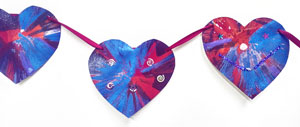 Step 1
Cut out various sized heart shapes from card making sure they are not too big and will lay flat in the bottom of the paint spinner.
Step 2
Place in the 'basket' inside of the paint spinner and add colourful drops of paint onto the top (why not try using glitter paints too to add 'sparkle!).
Step 3
Replace the lid tightly and spin with all your might!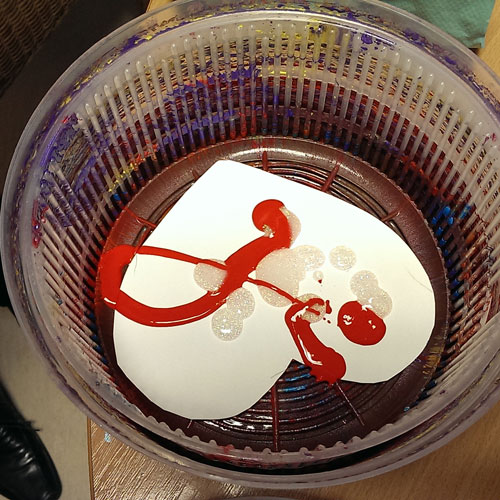 Step 4
Carefully open the lid to see what magic has taken place inside! Remove from the spinner and allow to dry over night on a drying rack or a safe area.
Step 5
Create lots of hearts and turn into beautiful Valentine's bunting or use to make a 'gift' card for friends and family