With teachers planning online home learning as well as for those attending school, there is so much to do right now and time is precious. A huge part of my own planning was spending hours online searching for suitable activities or trying to create examples myself.
In this blog, I have brought together 6 resources that can help reduce the amount of time searching around. Within each of these resources, there are 'ready-made' activities that can be easily adapted for the online learning world, as well as being great to share in the classroom using a visualiser or on the Interactive Whiteboard.
1. Can You Convince Me Cards?
For SPaG, Maths and Science
These cards are perfect for encouraging children to discuss, think and be active learners, which can be tricky when they are sitting behind a screen. Children start by reading the card and deciding whether they agree or disagree with the statement. They must then explain their answer and 'convince' someone why it is right!
They could be shared as an activity within a lesson or a few could be uploaded for children to talk about and discuss at home.
Can You Convince Me? Cards for SPaG, Maths and Science.
2. Teaching Tins
For Maths
There is a huge range of teaching tins covering many areas of maths including reasoning, calculation, place value, fractions, and multiplication and division. Each tin provides approximately 100 questions targeted at a specific year group and mathematical area, making it so much quicker to find example questions. They could be used as modelled questions within the lesson or as part of independent work.
For the full range of Maths Teaching Tins, click here.
3. Reading Comprehension Cards
Finding suitable reading comprehension texts can be tricky and can take a lot of searching. These comprehension cases contain 50 cards for each year group, covering a range of fiction and non-fiction texts. Each card has a text to read on one side and a range of comprehension questions on the other. The texts are short in length, making them more accessible so that time can be spent focussing on developing the comprehension skills.
The cards are perfect for a weekly comprehension exercise, with no extra planning or preparation needed. Simply share the card with your class, give them time to tackle the questions and then look through and discuss together.
Explore the full range of Reading Comprehension Cards.
4. Graded Problem Solving Cards
For Maths
The graded problem solving cards provide a huge collection of problems, saving hours of time trying to create your own. They are perfect to use as examples within a maths lesson, or as assessment questions. With 100 cards per year group, covering a range of maths topics, there are plenty of problems to be solved!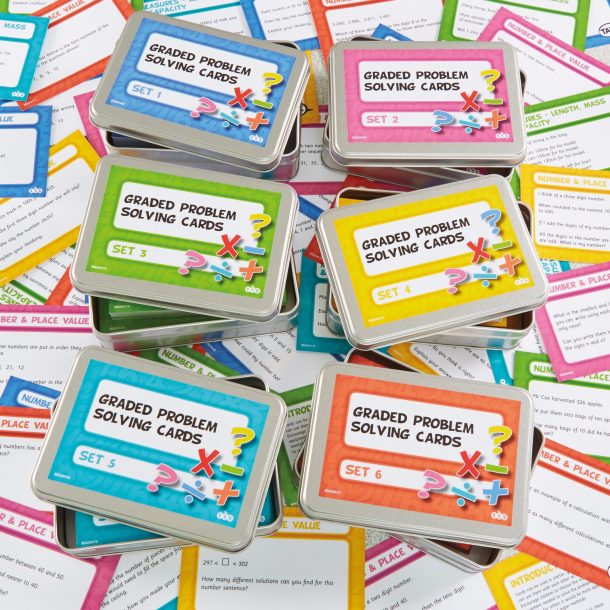 5. Lesson Openers Collections
For Science, History, Online Safety and PSHE
The lesson openers tins provide a great starting point for group conversations with either activity ideas, lesson starters and/or discussion topics. They are perfect for quick ideas to enhance your lessons, without having to create your own scenarios. They could be displayed at the start of online sessions to get children thinking and actively discussing different topics.
Explore the Lesson Openers Tins by clicking here.
6. Calming Cat and Coaching Cards
For Emotional Wellbeing
Calming Cat and the accompanying Coaching Cards were developed by Paula Williams, an Educational Psychologist, to help children learn about their feelings and emotions, and how to manage them.
There are coach cards (for the adult) and child cards that introduce and explain different activities. The cards could be used to build wellbeing activities into children's timetables. For example, introduce concepts from the 'coach' card through a pre-recorded video and then children can explore the 'child' activity at home either independently or with an adult for support. Calming Cat can then be used to support transition back into school for children.
To find out more, take a look at our 'Meet Trevor' blog, to see how Beccie Hawes, SEND expert, introduced Calming Cat to a Year 2 class.
Find out more about Calming Cat here.
TTS also have a selection of FREE downloadable activity books, including a 40 page wellbeing booklet. Click here to take a further look.