As we know from research, it is important for children to feel safe and emotionally secure in order for them to learn effectively. The mental health and wellbeing of children has always been a really important part of education and is continuing to be increasingly important over time.
Children show how they feel by how they behave and so we need to look at their behaviour as the way they are able to express themselves. Some children will cry, some children will shout, and some children will say nothing. They are all trying to tell us something.
We can support wellbeing in so many different ways. It does not have to involve adding lots of complicated elements into our already busy timetables. Making small tweaks and adjustments can create the nurturing environment that helps children to feel more confident and secure, therefore supporting their emotional wellbeing.
Here are some ideas …
Spend time talking
Making connections and building relationships with the children in your setting or classroom is the best way to support them with their wellbeing. Showing them that they are in your mind and you think about them will help them to build relationships. For example, when they leave at the end of the day remind them that you are looking forward to seeing them tomorrow, or explain that you planned an activity because you knew they would really enjoy it. You could create a display all about different emotions and spend time talking about them. Explore what happens when they feel different ways and share strategies they could use when they do.
Regular 'Check-in Time'
Dedicate time in your daily or weekly timetable to check-in with children. Asking them how they are, chatting about something that is happening in their lives or sharing your own feelings will show children that you care about them and that they are a valued member of the group.
Give children responsibilities
A lot of children love to have jobs. Giving them a job helps to give them a purpose, makes them feel part of the class community or nursery group and shows them that they are needed. We know as adults, when we feel needed it helps us to feel we have a place.
Random acts of kindness
In your setting or school, set up a day or week of random acts of kindness. Write all of the children's, and staffs, names on pieces of paper and put them into a bucket. Each child then pulls out a name. At some point in that day/week, they must do a 'random act of kindness' for that person. It could be helping them with their bags, holding the door, offering them a compliment or sitting with them at lunch. A simple thing that makes them feel happy.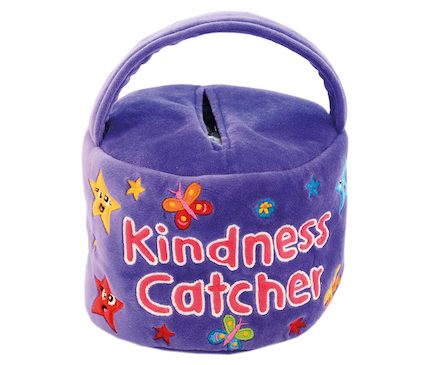 Timetable opportunities for your group to relax, enjoy and be sociable together
Try setting a creative challenge, a problem to solve together or a team activity. This gives children time to build their social and emotional skills and gives you the opportunity to model social interactions.
Brain breaks
The nursery room or classroom can be an overwhelming place for some and they need time to calm and regulate. As adults we might take 5 minutes at lunch in a quiet classroom or go to make a cup of coffee. Children need a similar opportunity to just take a quiet break throughout the day as a proactive calming strategy. They could choose a preferred activity such as 5 minutes outside, colouring, drawing, reading, etc.
Create calming spaces in your setting or classroom
Think about how to offer a safe, quiet place in your setting or classroom, such as a quiet den or sensory space. Provide a range of tactile, sensory and visual resources that children can use for calming, regulating and self-soothing. This could be used as a proactive space throughout the day or as a calming space when they feel overwhelmed. For individual children, you could use calming boxes that include relaxing resources and special things from home.
Take a look out our blog all about dark dens.
Remember to look after yourself too
Children learn to regulate their emotions from the adults that are around them. This is why if you are having a bad day, your group will often be having 'one of those days' too. Think about ways to support your own mental health and wellbeing so that you are ready and prepared to support your class.
Some useful links: