We will be providing two free webinars, which you can watch live or access at any time on the website. On top of this, we have even more great news: we have partnered with the one and only Alice Sharp to leave you inspired, excited and with a spring in your step! Alice will provide you with the opportunity to gain an insight into research and theory, reflect on your own practice and walk away equipped with practical knowledge and creative ideas.
It is particularly important to continue to grow CPD during these turbulent times. There is a lot of reform, guidance and debate within the Early Years sector right now. But what is important to remember is that the values of the Early Years should still stay the same. You are all working hard to ensure the best possible start in life for the children in your care, with play being at the heart of this.
We hope that you find our FREE CPD gift to you valuable and inspirational!
What's on offer
Monday 28th September – 3:30pm – Light up your Literacy
Provocations, invitations, and catalysts for play. This session will explore linguistically rich opportunities that will support the development of the four foundation stones of literacy.
Literacy is all about a child's ability to identify, understand, interpret, create, communicate, and compute, using a wide range of printed and written materials.
Research shows that children learn more effectively when there are explicit links and connections in their learning. Children don't learn in boxes – they learn most effectively when they themselves can make links in their learning. They learn most effectively when their learning is motivating, exciting and connected.
Join us on this luscious linguistic journey sharing ideas, thinking and theory.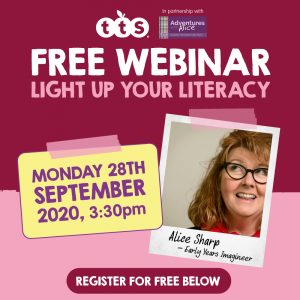 Monday 12th October – 3:30pm – Involving Parents in Playfulness and Provocations
Adventures, escapades, and happenings: every day in the life of babies, toddlers and young children should be full of them!
Working with parents to ensure every moment shared is full of playfulness, laughter and happiness is one of the most important part of our jobs.
As children grow, we know that the home learning environment is critical to their educational outcomes, a bigger factor than pre-school or school education. We also know that children's values and behaviour are deeply rooted in their relationship with their parents.
This session will explore a wealth of practical ideas, strategies and thinking around involving parents in the wonderful world of play.