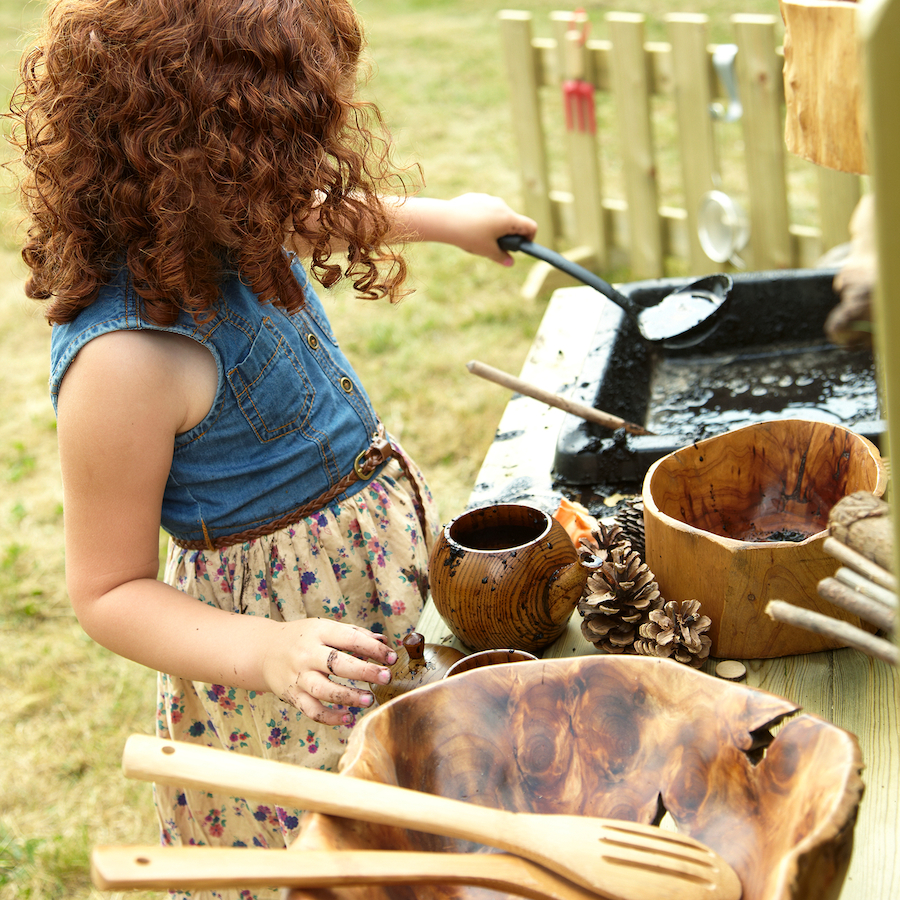 Mud Kitchens come in a huge variety of shapes and sizes; they can be sturdy, quality made and built to last, or constructed from second-hand hand wooden palettes, perhaps by a keen parent or caretaker. We've seen several creative practitioners make them from stacked milk bottle crates. It is safe to say that however they are acquired or built, mud kitchens have become an essential and valuable piece of outdoor equipment.
TTS mud kitchens are robust, designed for permanent outdoor use, and are the perfect height for small children. We have a wide range of different sized, versatile kitchens and various exciting accessories, so you're sure to find the ideal items for your needs.
Here are some of our best mud kitchens and inspirational ideas to help in your setting
The benefits of a mud kitchen
Outdoor investigation brings endless, rich learning opportunities in a way that cannot be recreated indoors. Encourage children to pound, splash, squish, squelch, mash and mix their way through all the ingredients nature has to offer. Children will be developing mathematical literacy, enhancing communication skills and be provided with all kinds of collaborative opportunities. High-quality mud kitchens don't have to cost the earth; we have a range of smaller, budget friendly kitchens that are also ideal for small spaces.
Making the most of your mud kitchen
Include an array of ingredients and tools to facilitate investigation and scientific exploration.
Get children outdoors whatever the weather – rain, snow or sun – just ensure they are dressed appropriately.
Winter is a wonderful season and snow and ice make perfect ingredients to explore. Don't worry if you don't have real snow – Instant Snow along with frozen ice cubes make excellent substitutes.
Ice cream tubs make great containers for freezing small world figures, such as Arctic animals, or natural items, such as pine cones, leaves and shells. Turn out the frozen ice blocks for children to explore and chip away at, discovering elements frozen in time! You could freeze bones or fossils – an ice age discovery! Or why not freeze numbers and letters.
Fill rubber gloves with water, tie the ends and freeze. Add food colouring and bio-glitter for added colour and sparkle! Children could explore cause and effect by squirting them with warm water. Do they melt quicker if the water is warm?
Mud kitchen accessories
Let the investigations begin by providing a range of resources such as:
Mud kitchen ingredients
Encourage children to find and collect their own ingredients. Some of our favourites include:
leaves – dead leaves are great for smashing in the pestle and mortar
mud!
food colouring
flowers/petals
fruit
herbs and spices such as lavender, mint. Ginger and cinnamon are great at Christmas time!
pine cones, conkers and acorns
water – frozen or liquid (have a self-dispensing water kettle or butt or jugs for children to help themselves)
jelly
rice and grains
dried pasta shapes
vegetables