Weighted Lap Buddy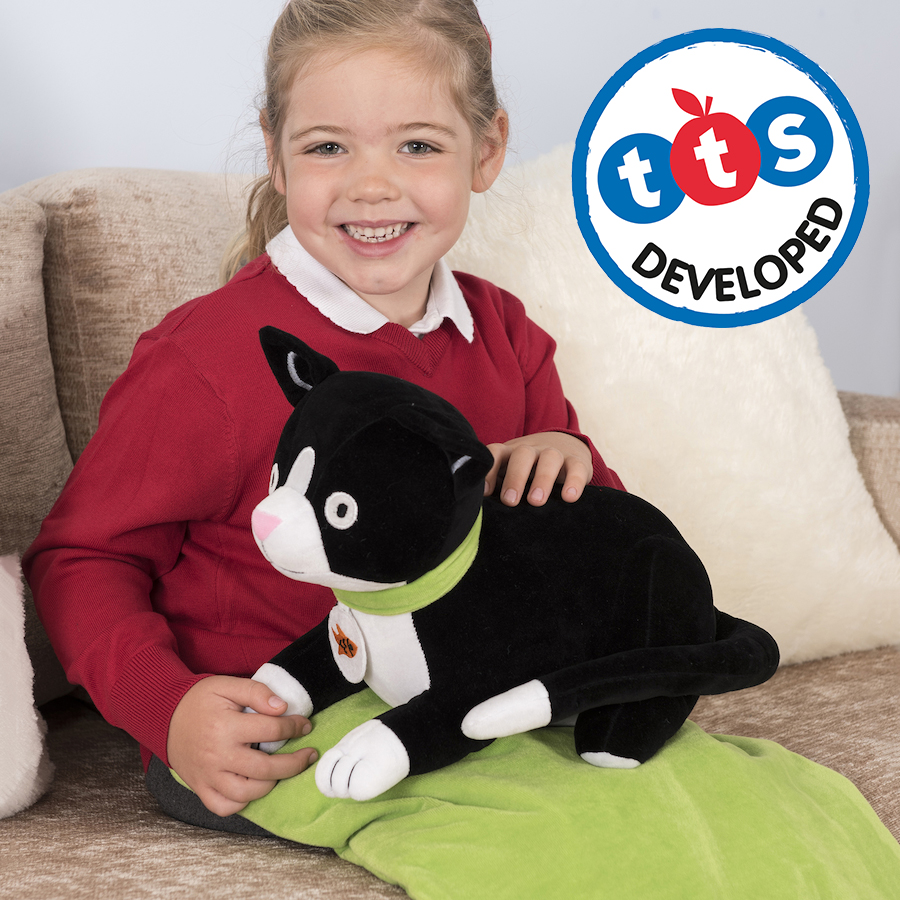 Available as a cat, Schnauzer or Beagle, these friendly lap buddies make it easy to introduce the concept of weighted equipment for calming without the focus being on the therapeutic benefits.
Children will enjoy holding, stroking and carrying the pet. It comes with a small weighted blanket to provide additional deep pressure input for the child to have on their lap.
Outdoor Wooden Messy Concoction Bench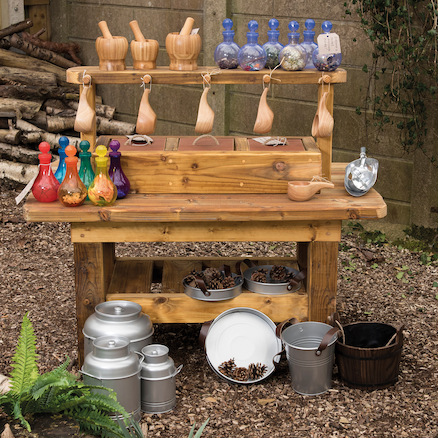 Let imaginations soar as concoctions are mixed and stirred using this inspiring centre. There are handy hooks for your utensils and three concealed containers with lids for that extra reveal factor. With a top ledge, wooden hooks and a lower shelf, you can store leaves, petals, gems, sand, soil or anything you like for all of your messy experiments. This Wooden Messy Concoction Bench is an ideal unit for creating weird and wonderful aromas, magical potions and mud mixtures. Scientific inquiry and investigation skills will be encouraged as children experience a variety of materials in a multi-sensory way. Add tubes, beakers and funnels to create a laboratory. Our wooden pestle and mortars are a real favourite. Imagine the centre in winter as the children experiment with snow and ice – it could become the Jack Frost Factory! A wonderful addition to your setting.
We have also developed the hugely popular Potion Bottles, Giant Wooden Spoons and Metal Churns.
Flip-It
Flip-It® is an exciting way to develop key skills across the curriculum. Simply pick a card, place it on the device, decide on your answer and then 'flip-it' to see if you're right! Tried out with children from 5 to 15, and without exception, they have found it an engaging and highly motivating way to learn. Young children think it is magic, older children think it's fun, but all children love it! Flip-It can be customised and decorated, which means children can make it personal and unique to them. With cards covering many areas of the curriculum, including times tables, SPaG, punctuation, fractions, place value, addition and subtraction, verbs and adjectives, number frames, algebra, music, history, geography, science and languages – there is a set for every lesson!
Light up Learning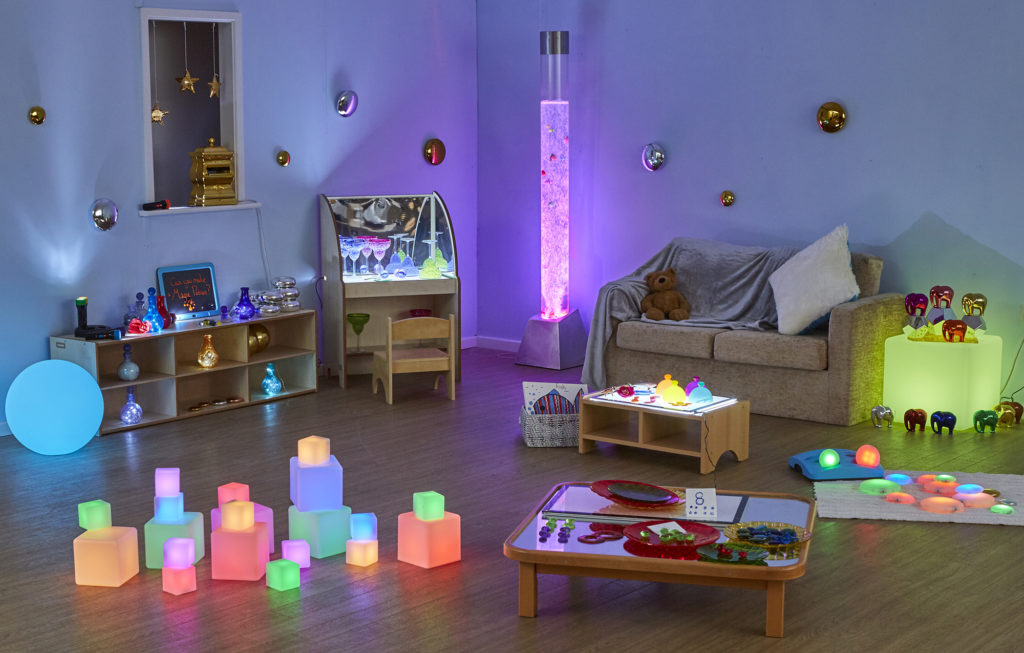 We have a beautiful collection of light up learning resources ideal for sensory play. As adults, we use light to create a mood, a sense of comfort and a cosy atmosphere, so is it any wonder that light is so appealing and calming for young children too? Consider adding colourful Glow Construction cubes, a range of light panels and accessories, Illuminated Writing Boards,  Glow Pebbles, fibre optics and light tubes and Dark Dens to your setting. Combine your light up resources with mirrors and projectors to create a truly sensory experience.
Top Tip – For a budget-friendly light up learning experience, why not use clear plastic boxes with lids – add fairy lights as well as perspex jewels and gems, beads, buttons and the colourful plastic shot glasses you can buy from the supermarket for £1 (Tesco sell nice ones!). You could even try a sheet of perspex on top of the lid of the box and use chalk pens to write on it.
Bee-Bot® and Blue-Bot – Rechargeable Floor Robots
Our award-winning Bee-Bot is simple to use and its child-friendly layout is a perfect starting point for teaching control, directional language and programming.
With a wide range of cross-curricular mats and fun accessories to personalise, Bee-Bot is the must-have programming resource for any KS1 classroom. Bee-Bot can accurately move in steps of 15cm, make 90° turns and remembers up to 40 steps!
Blue-Bot® Bluetooth Programmable Floor Robot is our first ever Bluetooth enabled floor robot, which means you can wirelessly control it with your tablet or PC. Blue-Bot has a clear shell so children can see the components inside. It is also rechargeable so you don't need to worry about replacing costly batteries. You can use Blue-Bot in the same way as Bee-Bot and program it using the buttons on the robot. However, Blue-Bot is also capable of connecting to tablets, PCs and Macs, allowing you to take the programming much further. Download the free iOS/Android app to connect to tablets, or download the Windows and Mac software to connect to your desktop. The app does not require any personal information from the user. For another fun way to program Blue-Bot, please see our Blue-Bot Tactile reader. Also, see our wide range of mats which link to different topics and make an ideal base for programming both Bots.
Active World, Tuff Spot Range – Mats, Trays, Stands and Covers
These versatile trays have so many uses. You might set up a jungle with real plant cuttings and animals or perhaps create some super outdoor art using messy materials!
The trays store easily; you can carry them, attach canopies to the top holes, and they are extremely durable. Why not fill one with sand and hunt for squidgy sparkle letters? Or fill a tray with water and sail a boat you have made? Or make a giant inspection tray for minibeasts? The possibilities are endless! Eight-sided to encourage group play. Our adjustable stands can be used at 3 different heights and the handy tray cover can be used to keep setups and items safe from the elements overnight. Our robust outdoor wooden stands are ideal for a whole host of outdoor learning opportunities, complete with integral storage underneath or handy seats. With over 25 specially designed and illustrated mats, the tray can be set up to help build a small world or theme. Mats also include mirrored mats and artificial grass mats.
Marvellous Metallics range
A treasure trove of curiosity and wonder, our Marvellous Metallics range provide catalysts for engagement and powerful provocations for learning. Resources that excite, stimulate and enthral.
So many possibilities: Construction, language enrichment, mathematical understanding, small world scenarios.
Tip of the Tongue Language Development Box
Develop vocabulary and enhance language through fun, practical and self-checking activities. Covering a range of oral language activities, from funny tongue twisters to challenging debates, the cards can be used in many different ways, for group or paired work.
Tip of the Tongue will help children at all levels, including those with additional learning needs, EAL and high achievers. Ensure every child gains confidence by focusing on vocabulary and oral work before writing.
Mark Making Chalkboard Daisies (and animals!)
Bright, attractive and weather resistant, these colourful chalkboard daisies will transform dull playground fencing into an exciting, fun area. Attach to fencing through pre-punched holes using the cable ties supplied or mount on playground walls. Why not use these engaging daisies to create themed/zoned/role play areas, explore maths or literacy outdoors, create signs around your outdoor area, write important notices for the day to parents – they can't miss them if they are on a brightly coloured daisy!
Do you have an idea you think would make a great solution to a problem or would just go down well in a classroom? If so, why not get in contact with us to discuss the possibilities? Who knows, maybe your idea could be one of our new products for next year!