Here are some of the activities that have resulted in magical moments for us: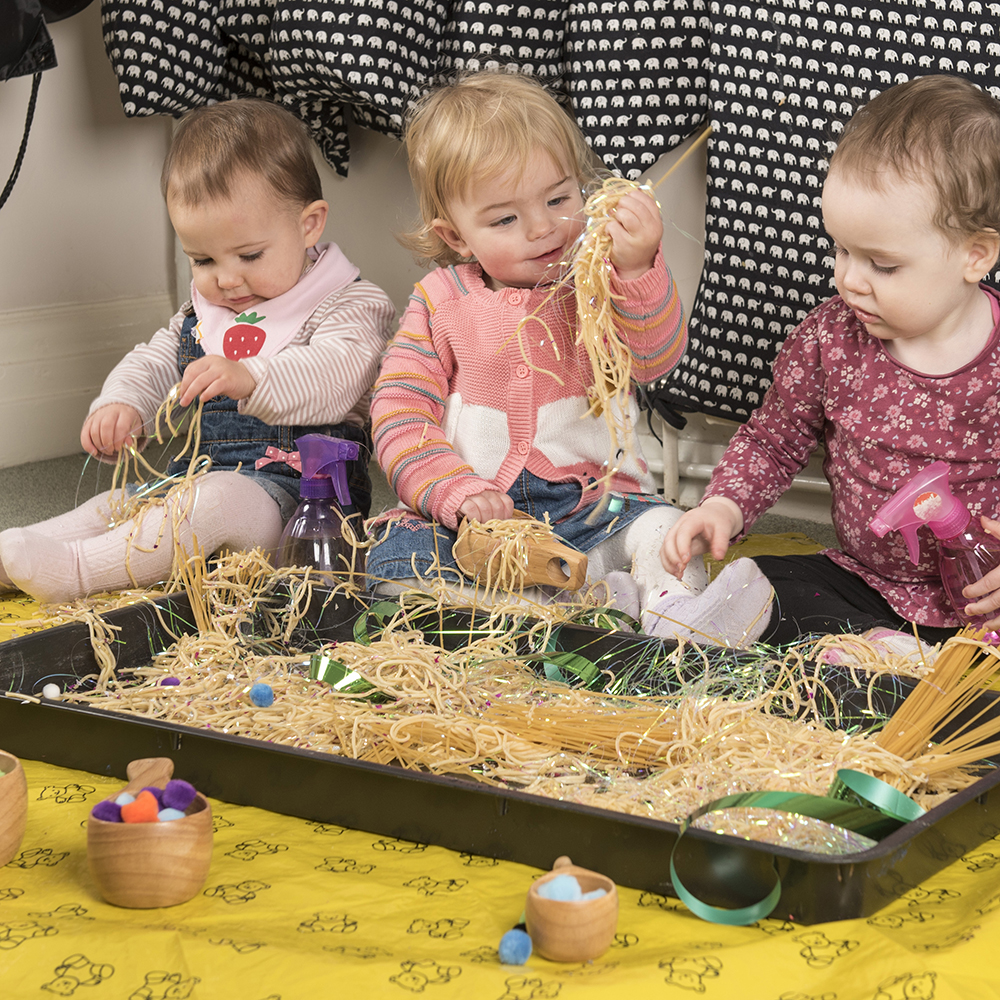 Here, noodles and spaghetti support the development of fine motor control. Sensory play stimulates babies' senses, facilitating exploration and encouraging children to touch, taste, smell, see and hear as they play, create, investigate and explore.
Sensory learning opportunities are a regular part of our outdoor play too, and this was one of the most memorable. Ashleigh created a beach for our toddlers last summer and they loved it! It's been recreated here and even the cold didn't put them off.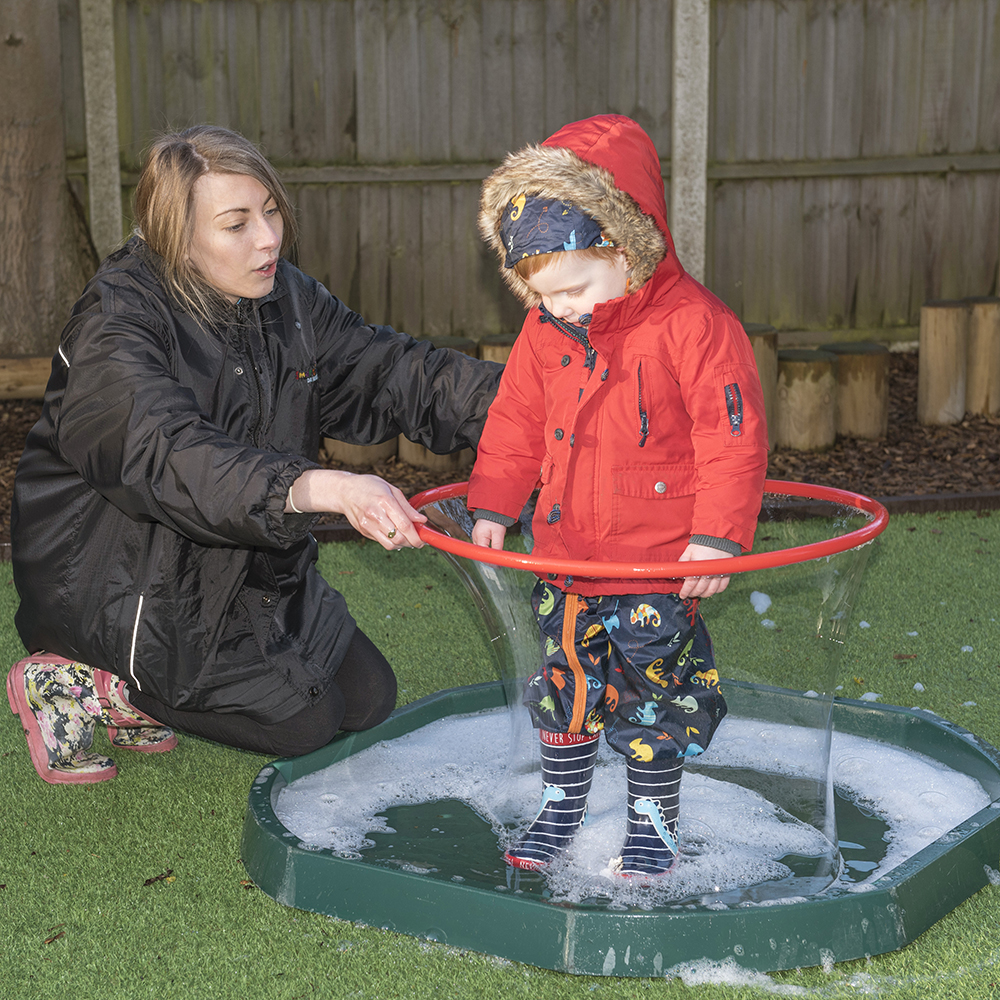 Another favourite last summer was this opportunity Sophie provided to cool down and create giant bubbles whilst enjoying water play; recreated here in the winter wearing waterproof all-in-ones and wellies!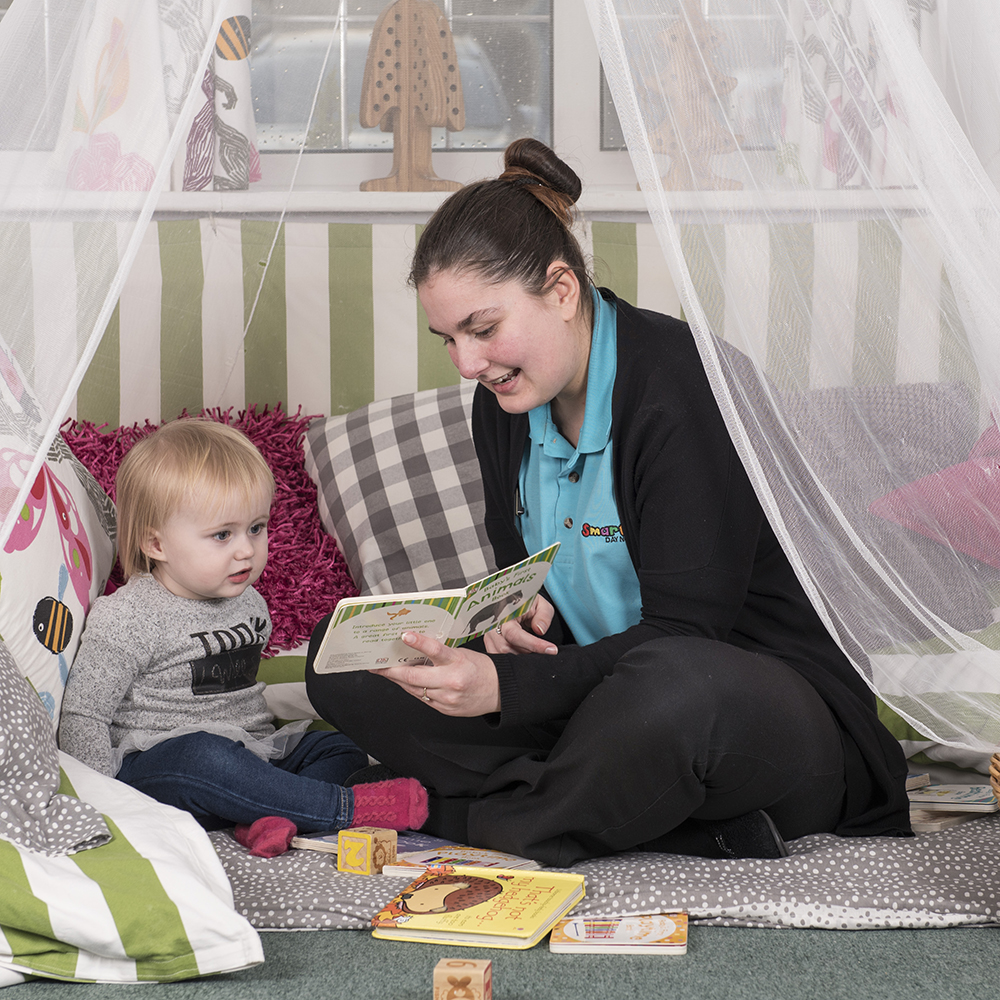 Story time is an integral part of every day and a cosy area provides the perfect space for some one-to-one time.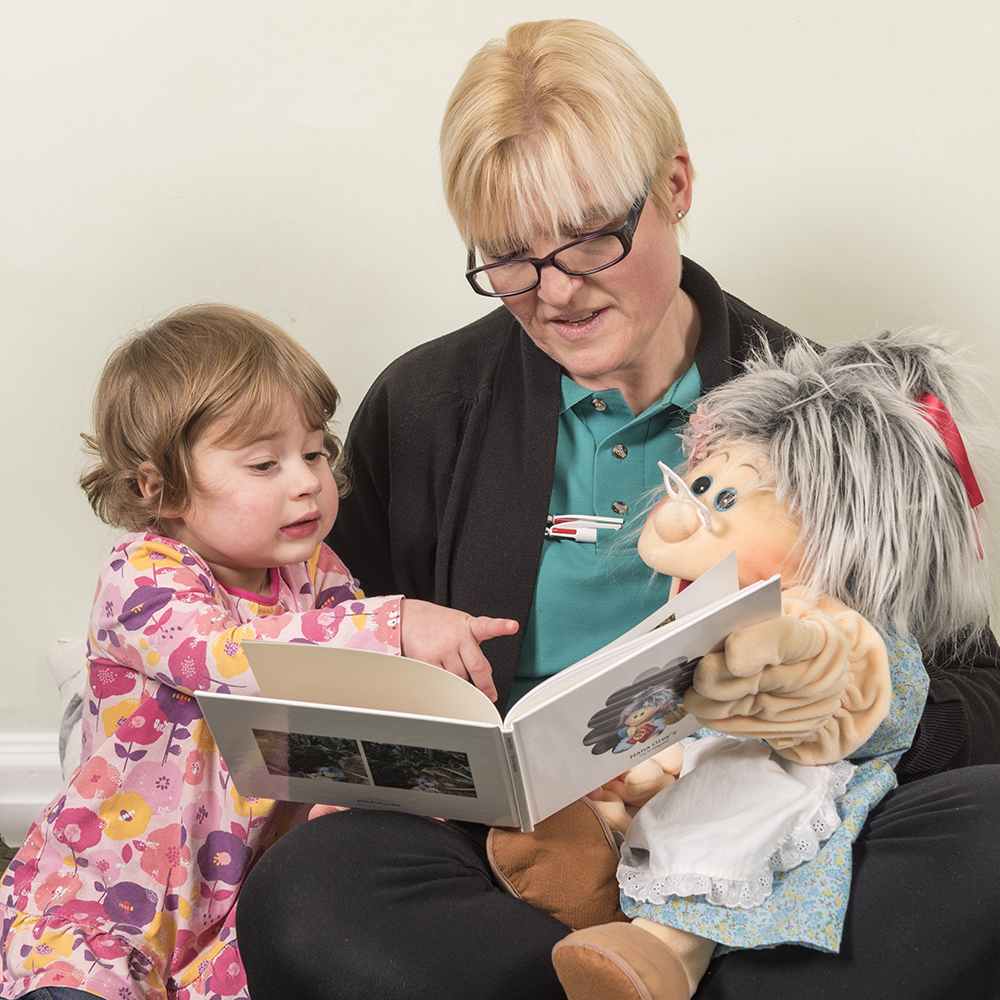 Heather is sharing a book about Nana Grey's adventures with one of the Toddlers. Nana Grey regularly visits to share her adventures with the Toddlers. This book is a collection of photos showing Nana Grey at the seaside: eating ice creams, riding a donkey and building sandcastles, prompting wonderful language opportunities.
Stories regularly inspire outdoor learning opportunities too. Reading the book 'Have you seen the Crocodile?' by Colin West, pre-empts a crocodile hunt in our woodland play area. (The crocodile, a huge decoupage papier mache model created by the TTS team, provides a wonderful storytelling prompt.)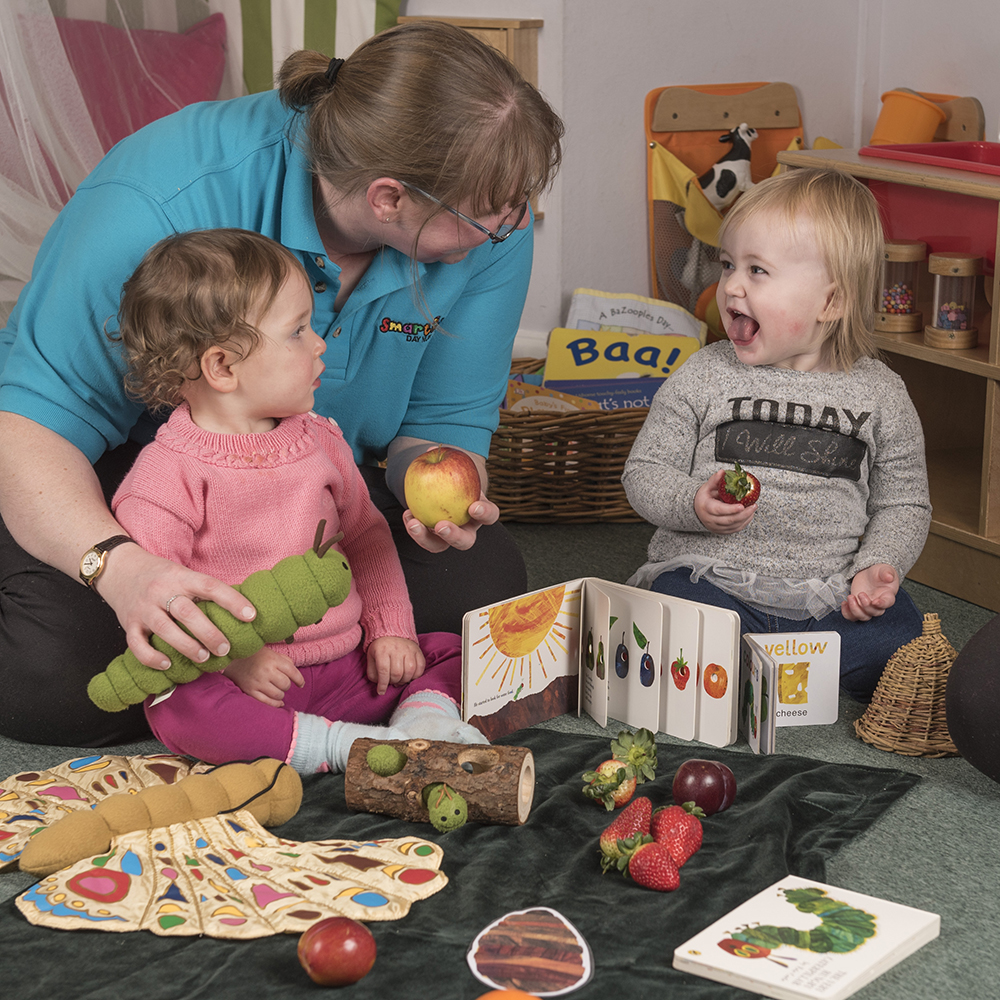 Indoors, 'The Hungry Caterpillar' by Eric Carle provides the inspiration for a food tasting activity with babies. "Not sure about that strawberry?"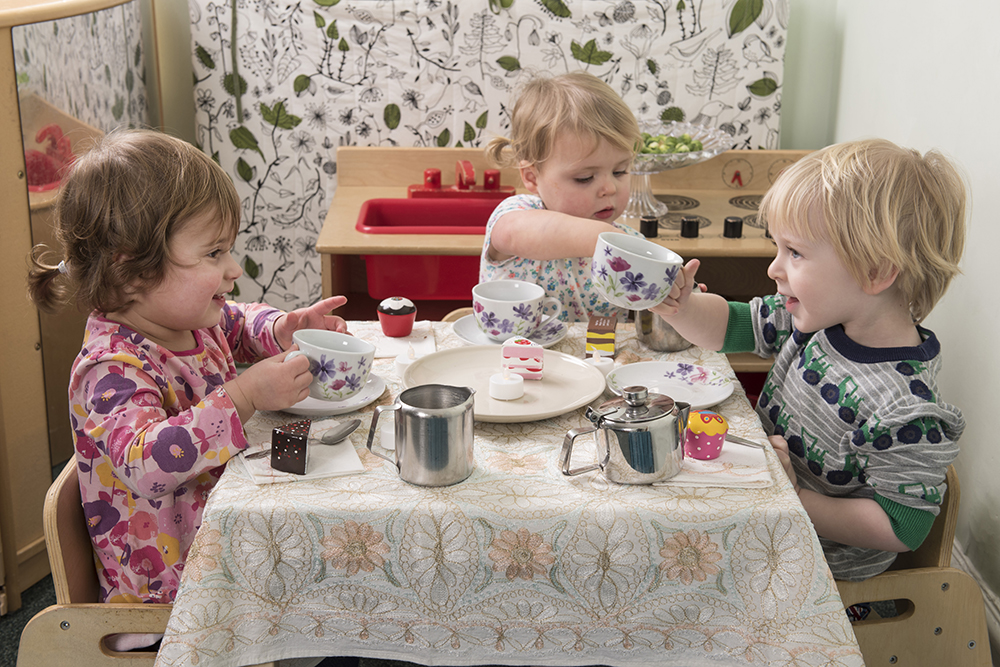 An important way for young children to learn about their world, role play enables young children to rehearse real life situations, recreating things they've experienced to understand them better. Nothing facilitates high quality imaginative play better than the use of real resources in the role play area. Try using herbal tea-bags, water and sugar lumps to heighten curiosity.
We extend these play opportunities outdoors in our mud kitchens. Many children are drawn to mud and messy play and here children can get busy mixing, blending and creating concoctions to their heart's content!
Open-ended play using loose parts are our favourite creative activities for young children. Loose parts are a collection of sensory, captivating materials that young children can move, manipulate, position, line up, combine, redesign and put back together in endless ways as they play. Look at our Toddlers demonstrating their creative thinking whilst exploring the Tinker Trays.
With thanks to Christine Doubtfire from Cedar House Nursery for writing this post. Christine is a director of Smarties and Cedar House Day Nursery in Mansfield. A qualified teacher with extensive experience in education.