Chetwynd Primary Academy is a fair-sized primary school in Toton, Nottingham with an extremely committed staff who always put the children at the heart of everything they do.  However, we know there are always ways that we can improve and more that can be done. So, I began to research.
It soon became clear that some schools, institutions of higher education and even businesses all over the world were reaping the benefits of having a dog around. Reading dogs are proving beneficial in schools for reluctant readers; children who previously felt the pressures of reading aloud and the fear of making mistakes were happily reading to a dog as there was no fear of being corrected in front of peers. The dog provides a safe environment in which mistakes are allowed. Results in these schools have shown that such readers have made progress beyond expectations.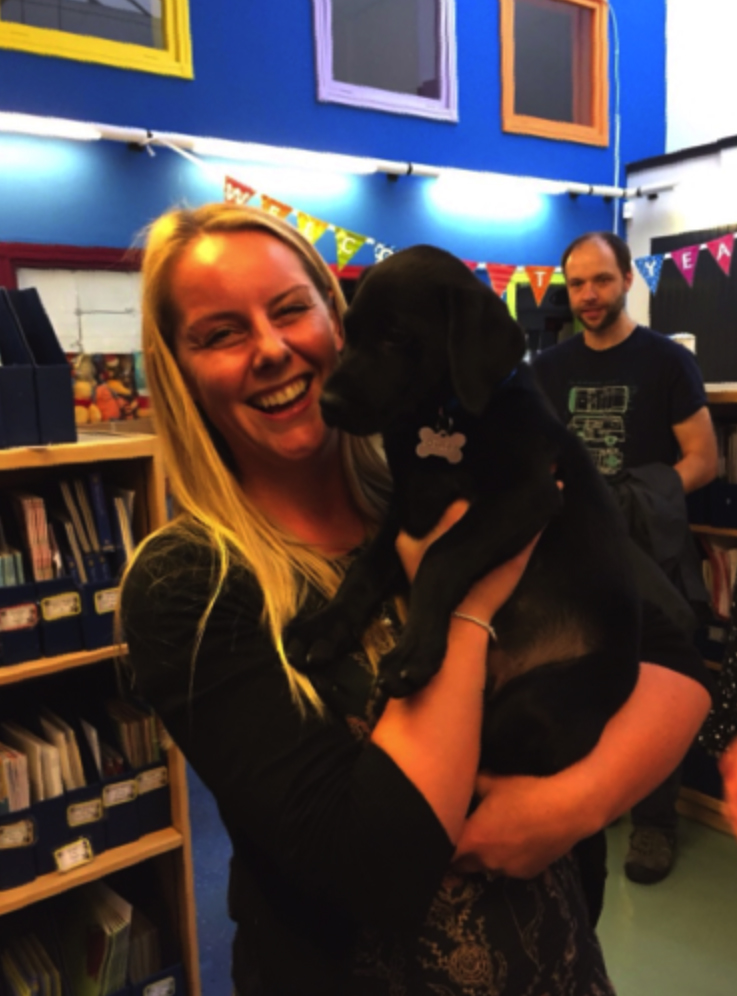 Some colleges have used dogs during exam periods to calm stressed students who are experiencing overwhelming pressure.  Simply taking time out to sit and stroke a dog can provide the calming effect necessary.  Some businesses are introducing 'bring your dog to work' days with staff stating that it changed the atmosphere of the office; people were more relaxed and seemed to come together over a cuddle with a furry friend.
With evidence gathered, breeds researched and logistics worked out, I presented the idea to staff officially, providing an opportunity for objections.  Our staff were unanimous – they wanted to go ahead. The principal at Chetwynd, Lorraine Tonks, is hugely supportive and welcomes new ideas from her team, therefore, my next step was to persuade our governing body.  Armed with a presentation adorned with adorable pictures of Labradors and an extensive list of reasons why, as a school, we couldn't survive without a dog, I was overjoyed when again the vote was unanimous in favour.  Parents were given the opportunity to state whether they did not wish their child to work with the school dog: with approximately 380 children on role, we received only 6 letters containing reservations, largely due to allergies or anxiety, with 3 of these asking that we introduce the dog gradually to their child.  With such a positive response, it was time to search for the newest member of our Chetwynd family.
Sherlock Bones, our 8-week old black Labrador puppy, came home to live with us in September.  As a family, my husband and I, along with our two young sons, worked extremely hard to socialize him, carrying him around in a baby sling in order for him to experience every sound, every vehicle, adults, babies, dogs, squirrels etc.  The result was a very calm dog who responds brilliantly to his environment.
Sherlock has quickly become a celebrity at school. As he greets children and parents on the school gate each morning, he sits calmly as 10 mittened hands stroke him simultaneously.  Sherlock is greeted and cuddled, with the rest of us, for the most part, being ignored!  Children who previously were reluctant to come to school have become hugely motivated to attend as Sherlock trots happily with them to their class and gives them a high five as they enter.  Children who have had difficulties during breaks and are in no state emotionally to return to the classroom, have benefitted greatly from Sherlock cuddles and a little walk to bring them back round to a calm state.
In this Spring term, he will begin his reading groups in the afternoons as well as his visits with the children to our local care homes.  At around 10 months of age, we can put him forward for assessment as a 'Pets As Therapy' dog, which we hope will help to expand his work in our local community.  Sherlock writes a regular 'dog blog' describing his activities that day as well as his general perspectives on life as a school dog.  We are already seeing a positive impact from this, with some of our more reluctant readers logging on via our school website, to see if they get a mention.  He also has his own Twitter account to keep parents informed of all his hard work with their children.
Having Sherlock in school is a dream come true for staff and children alike.  The response from parents has been overwhelmingly positive and we have seen a startling increase in the number of our families getting puppies!  This really is the year of the dog for us and we can't wait to see what the future holds for our pup!
With thanks to Gemma Whiley, Assistant Head at Chetwynd Primary Academy for writing this post. Check out Sherlock's Twitter page here: @CPASherlock