Eden Learning Spaces and their panel of educational experts have teamed up with Ross Pearson (Abbeyfields Forest School leader and horticulturalist) to come up with fantastic ways to combine the development of social, emotional and physical skills with the curriculum in immersive lessons brimming with imagination.
Ideas and inspiration for getting outdoors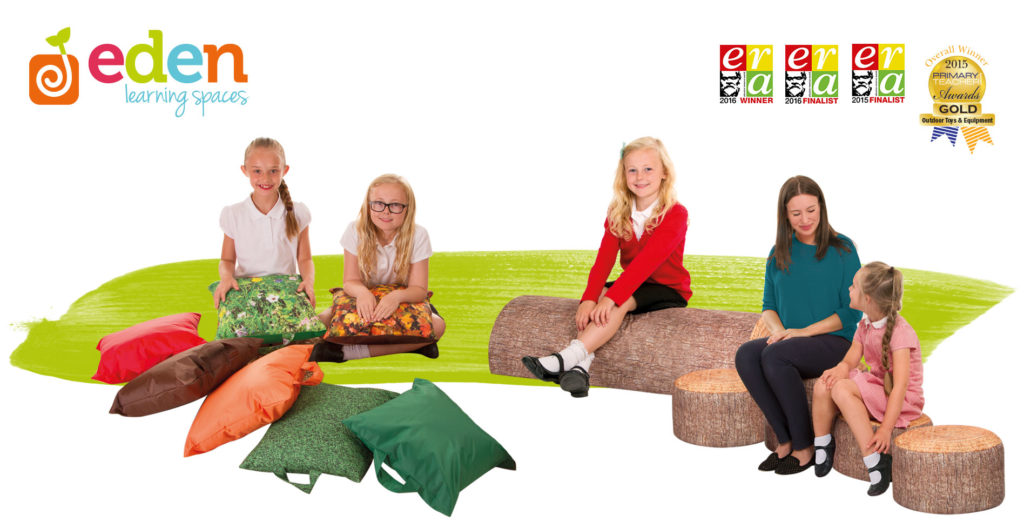 Take learning outdoors to feed inquisitive imaginations
It is important to vary learning environments to keep inquisitive minds fresh and alert. The outdoor environment is particularly engaging for little ones. Why not spontaneously create an outdoor classroom?
"The outdoors offers a rich, multi-sensory environment that is meaningful, stimulating and motivating for all young children."

Barbara Slatter – 'My Space: Creating Enabling Environments for Young Children'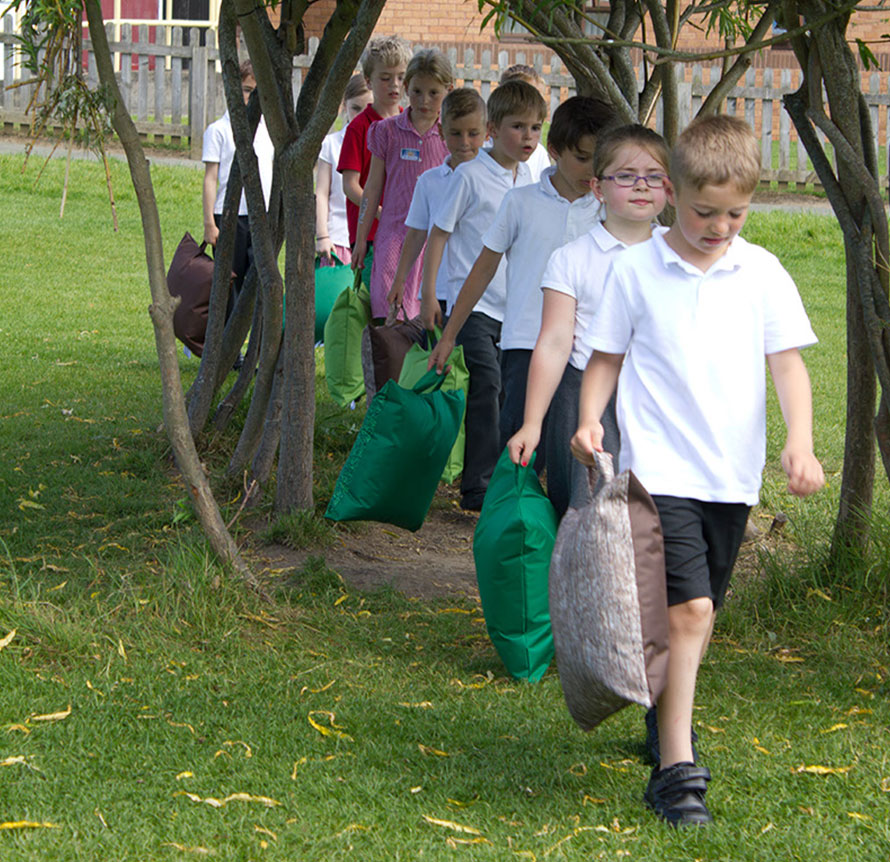 Finding the right resources for your outdoor space is important. Water-resistant nature themed outdoor soft seating makes sure children can learn in comfort whilst being immersed in nature. The realistic detailing, such as bark and flowers, fits in well with a natural environment and links to different topics to inspire conversations.
"At this age children's imaginations are fabulous if you can give something to link their ideas to. I know if I was to take the Learn about Nature collection into my class now they would just be so excited."

Charlotte Kerr: Croftway Primary Academy Deputy Head Teacher
Magnifying glasses and clipboards are great for aspiring explorers, and individual carry cushions give little ones a sense of ownership, empowering them to make their own decisions and building their confidence.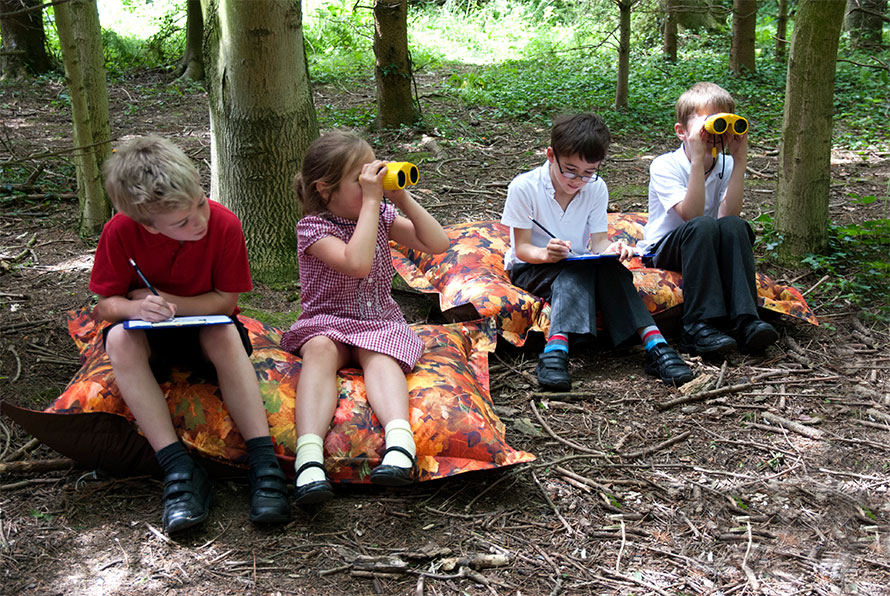 "Our children at Abbeyfields love the responsibility of carrying around their own lightweight outdoor cushions, which are thick enough to kneel on to get a closer look at life on the forest floor when inspecting under logs with their magnifying glasses."

Ross Pearson – Abbeyfields Forest School Leader and Horticulturalist
Choose curriculum specific activities to encourage interaction and physical exertion.
Whether it be 'understanding the world' through observing nature, creating an allotment or developing fine motor skills through carving a magic wand from wood, Ross Pearson has been working with researchers at Eden Learning Spaces to create some wonderful lesson ideas in a free forest school resource which you can download here.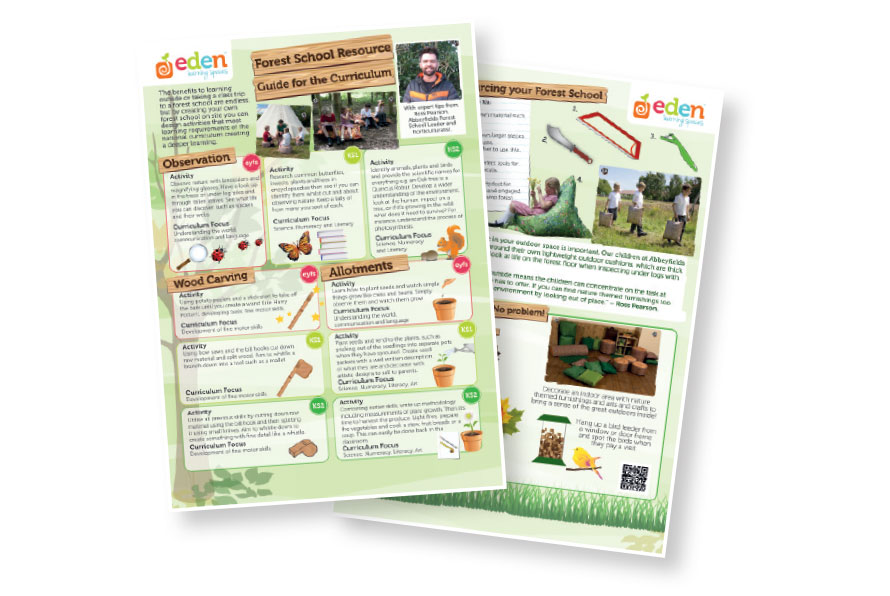 Also, check out the Woodland Trust's 'Nature Detectives' Minibeast hunt and Ladybird ID sheets.
Download the minibeast hunt resource sheet here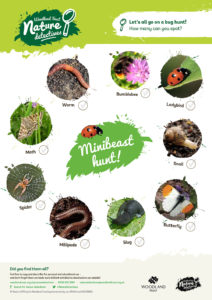 Download the ladybird ID sheet here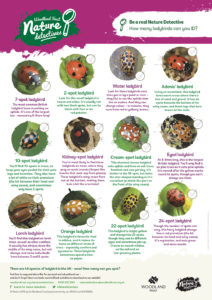 Show, act out and reflect to cement learning whilst developing social and emotional skills.
Gather together in small groups to discuss findings. Show and tell about creations or pretend to be any of the animals you have discovered.
Small world play develops an awareness of the feelings and needs of others, as well as the consequences of their actions, leading to natural, healthy group relationships.

Early Years Interboard Panel – 'Learning through play in the early years: A resource book'
Older children might link their nature findings back to science and environmental ecosystems. The interactive lesson will help make learning memorable. Children might also enjoy using their newly-found objects and creations as inspiration for a story.
The Competition:

GIVEAWAY NOW CLOSED
The lucky winner will receive:
To be in with the chance of winning this selection of Eden Learning Spaces' award winning resources – worth £360 – simply follow the instructions below.
How to enter:
Take children on a trail to collect natural materials, then create a nature-themed display area either inside the classroom or in the great outdoors!
Upload pictures of your display to the giveaway post over on our @TTSGroup Facebook page before Monday 3rd July 2017.  Your photos will be added to an album on our page. The most imaginative display will win!
UK residents only. A winner will be selected and announced on Tuesday 4th July 2017.
Good Luck!

 

GIVEAWAY NOW CLOSED
//blog.tts-group.co.uk/2016/03/29/how-to-do-outdoor-play-well-by-alistair-bryce-clegg/