All you'll need are some corks (befriend a local publican to save their stash if you don't drink – or if you fear for your liver), some art essentials (like paint and glue), some friends (to help you craft or drink the wine – or both!) and your own creative juices. Have fun, and please remember to share your creations with us!

To make these characters you will need:
Corks (we recommend prosecco/champagne corks as they are shaped better)
Strong glue or low-melt glue gun
Felt in various colours
A little creativity!
1. Spring farm animals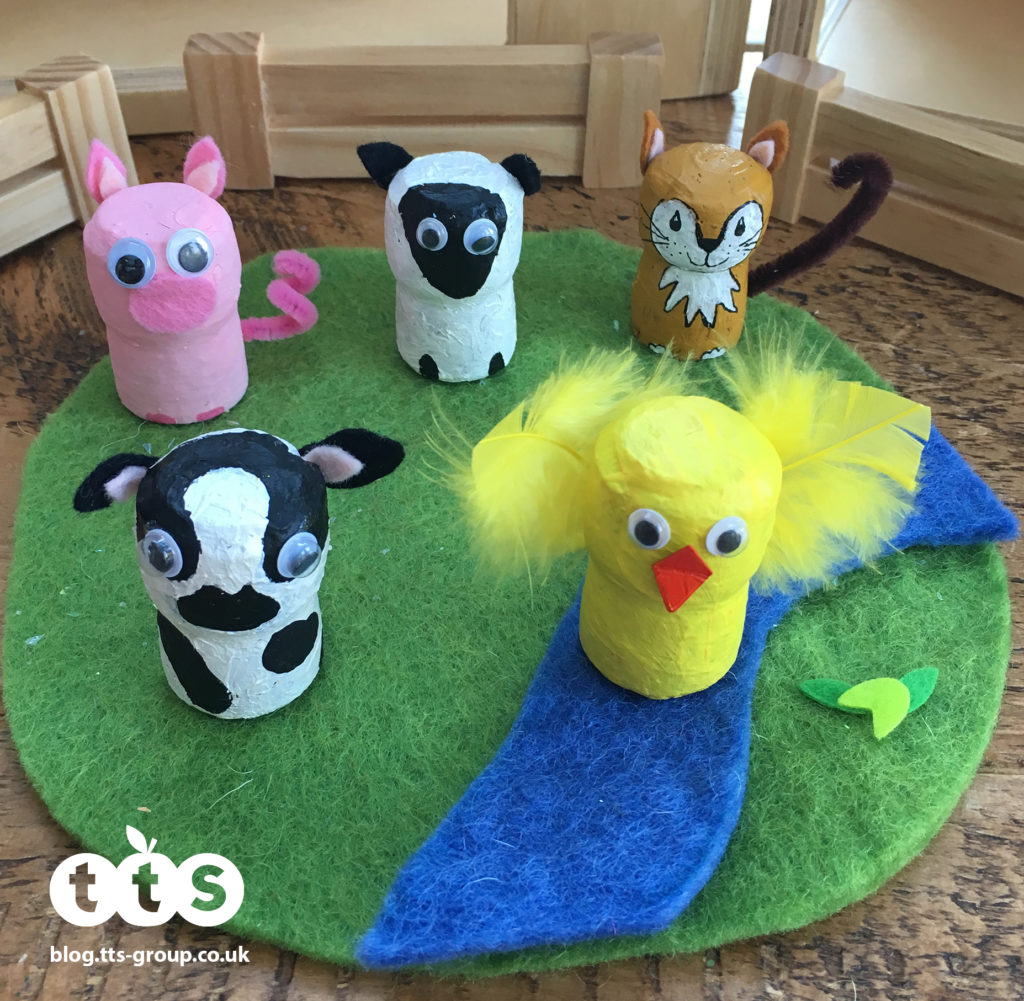 Children will love creating small world scenes with these cute farm animals. Why not use them while singing 'Old MacDonald had a Farm'? Here we have made a pig, sheep, cow, chicken and cat. We painted the corks and used felt and wobbly eyes to create the detail.
2. Easter chick
Isn't this just adorable? Recently broken out of his shell! Simply paint the cork yellow, add an orange beak, wobbly eyes and feather wings.
3. The 3 Little Pigs
Re-tell this classic tale with these little cork characters. Each pig has a set of hay, sticks and bricks to make their homes and the wolf is ready to blow them all down!
4. Aliens
Re-create characters from the wonderful book 'Aliens Love Underpants' by Claire Freedman and Ben Cort by making these super fun aliens! A great class project! We could have gone crazy here and made all kinds of alien creatures using a variety of colours and resources . Why not add underpants either by sticking material or painting them on?!
5. The Owl and the Pussycat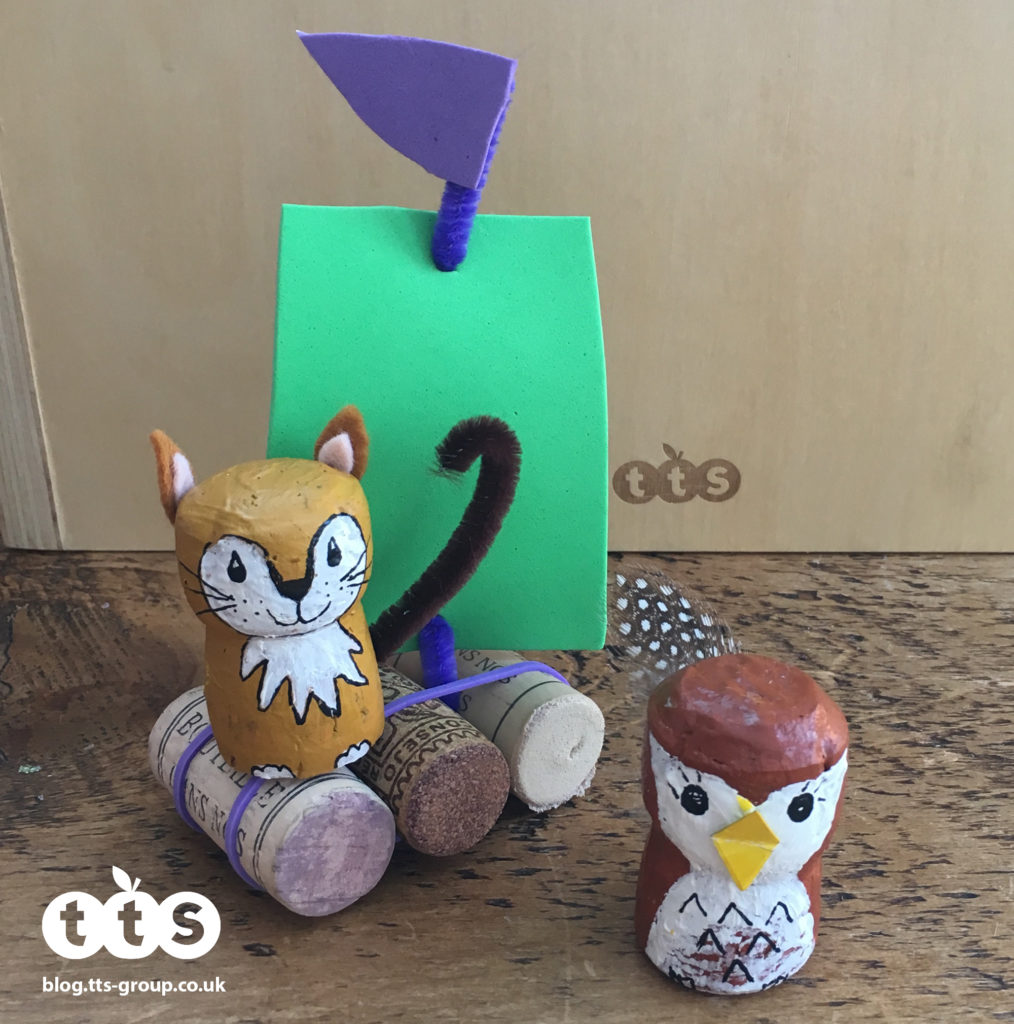 This classic rhyme by Edward Lear is great to re-enact with this floating boat, owl and pussy cat all made from corks. (Boat instructions below – number 15).
The Owl and the Pussycat went to sea
In a beautiful pea-green boat,
They took some honey, and plenty of money,
Wrapped up in a five pound note.
6. Nativity scene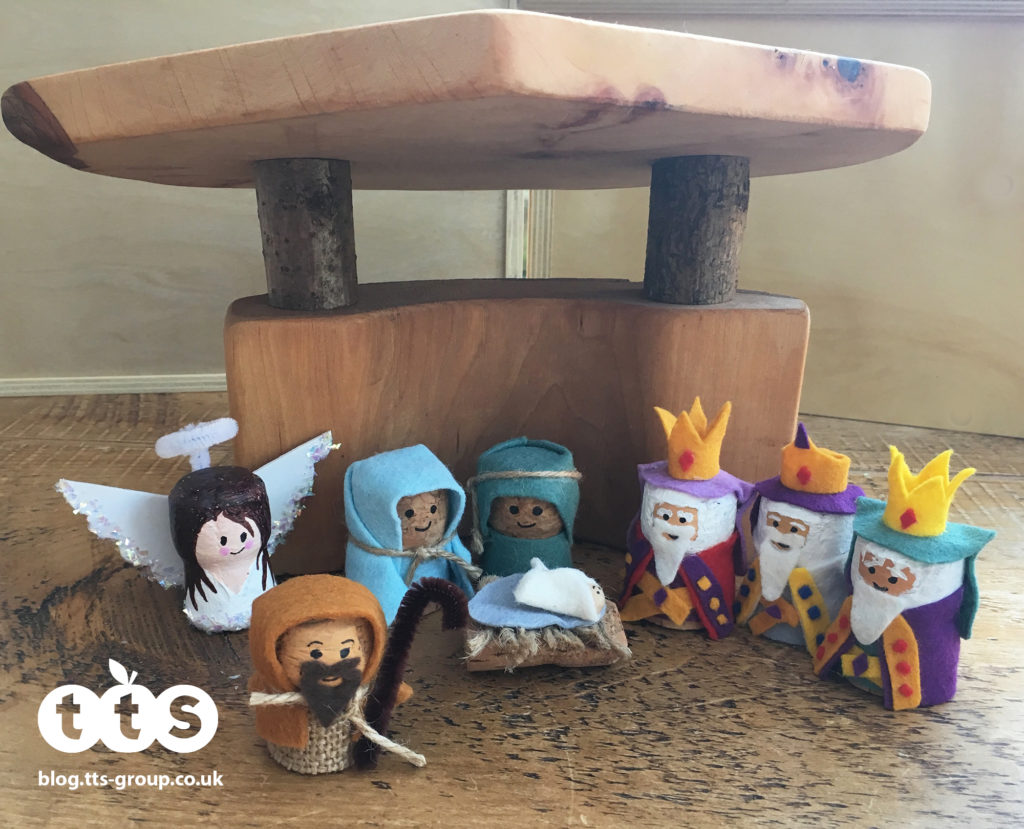 A great class project for a Christmas nativity scene. We think Jesus is just the cutest! We used a small wooden bead wrapped in white felt and went to town with the 3 wise men, using beautiful coloured felt and giving each of them a beard and a crown.
7. Christmas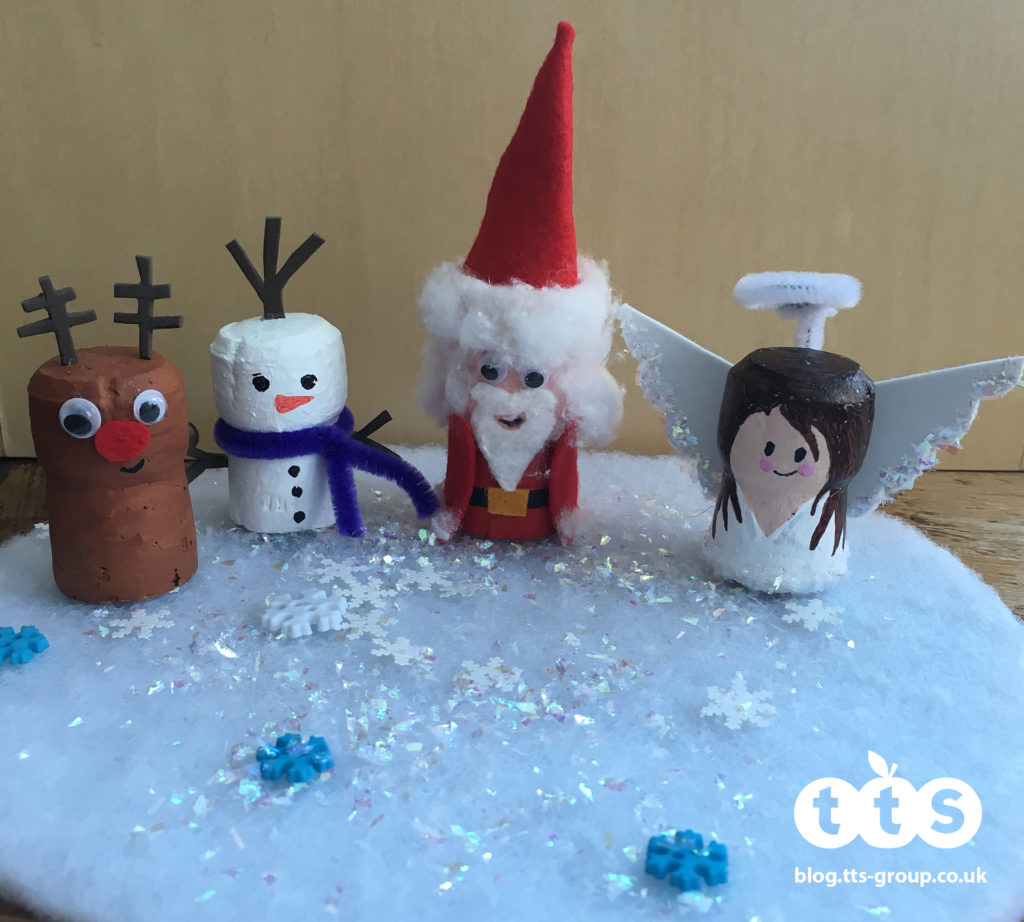 These cork snowmen are a lovely Christmas craft idea for the whole class. You might also make a Rudolf the Red-Nosed Reindeer and possibly add a cork Santa with all the trimmings! By screwing a small metal loop to the head and adding some ribbon, these Christmas characters will also make unique tree-hanging decorations!
8. Ninja turtles
Engage the boys (and girls!) with these turtles. Simply paint 4 corks green. Ensure you vary the tone of the green by adding more yellow for Michaelangelo, a blue to darken it for Raphael and Donatello and perhaps just plain green for Leonardo. Each turtle has a felt eye mask glued to the head and fastened at the side with added wiggly eyes. The shells are made from egg-shaped brown felt with lines drawn using a Sharpie.
9. Superheroes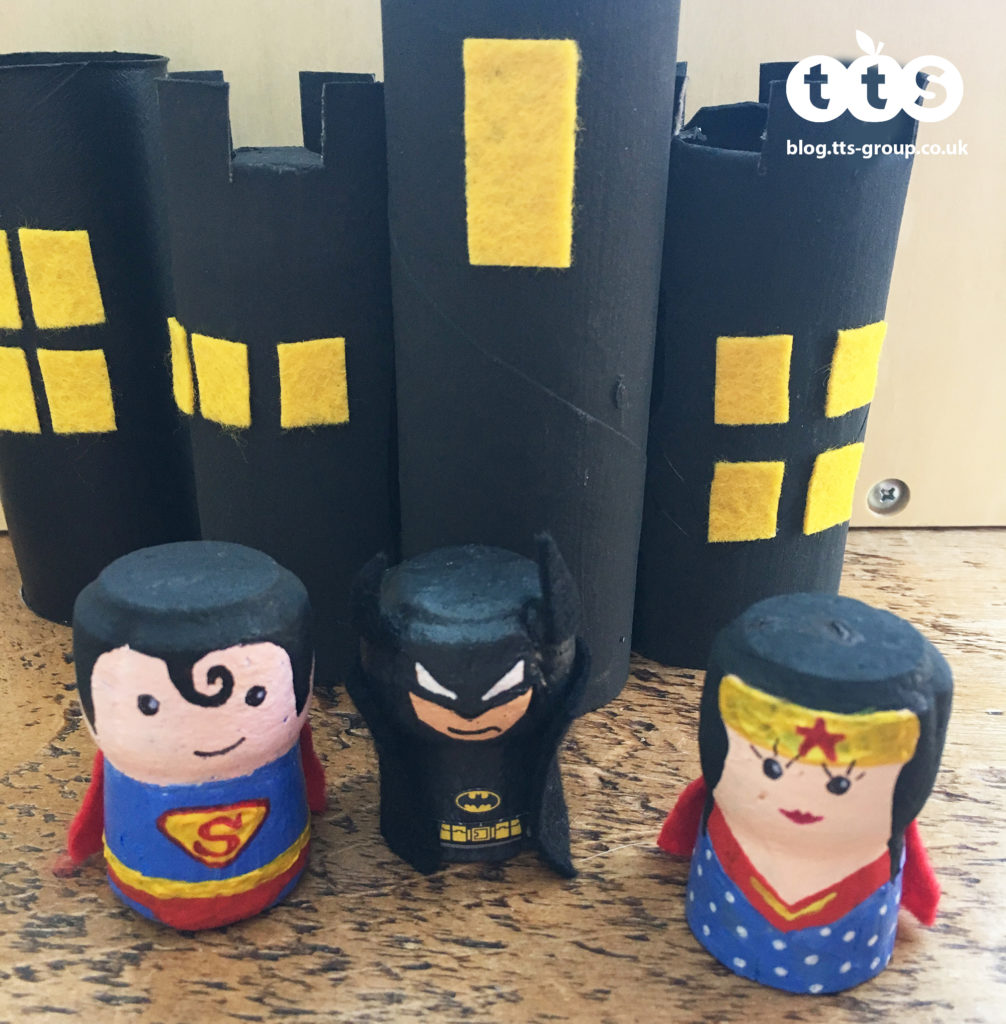 Create a small world superhero scene with these mini heroes!  We made Superman, Batman and Wonder Woman. Next on our list are Hulk, Robin and Spiderman! We also created a black town background for our heroes using cardboard toilet roll tubes or craft rolls. We painted them black and added yellow felt squares as lit-up windows. Great for any superhero scenario!
10. Princess and castle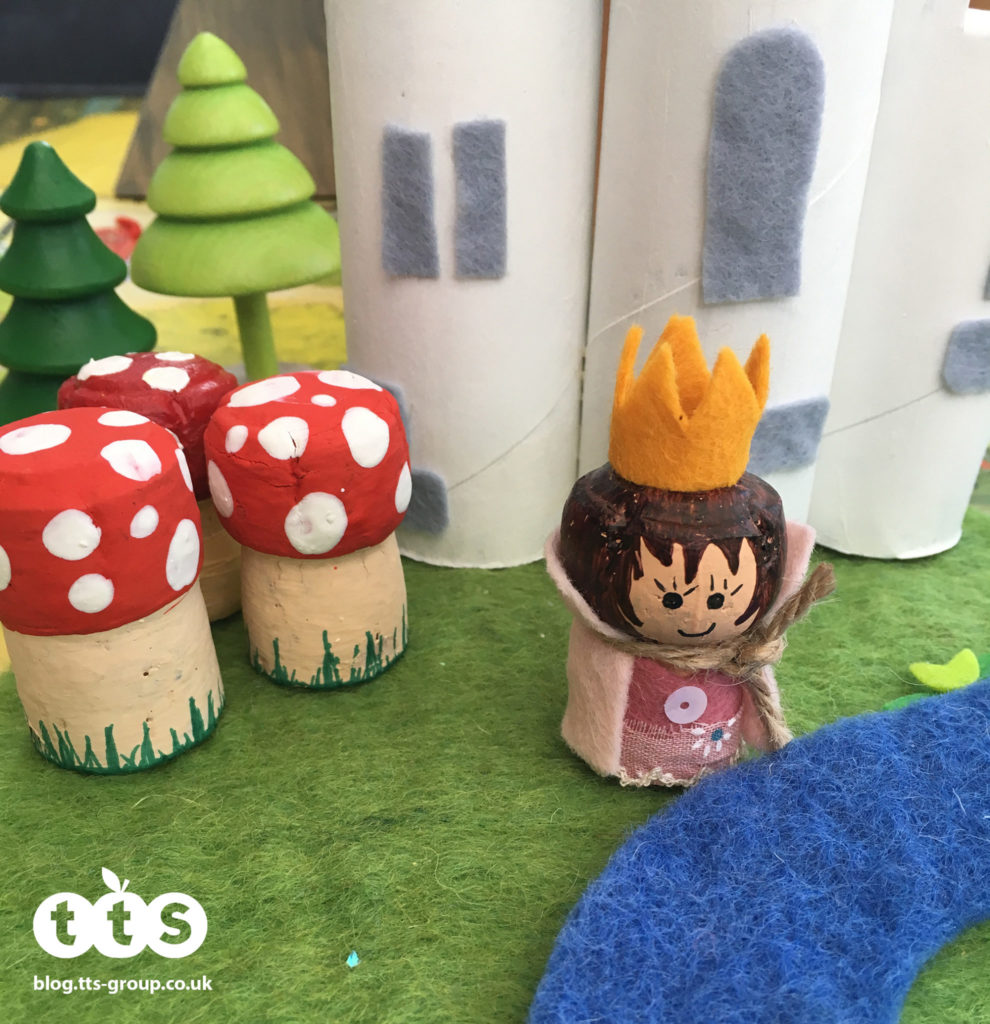 These princesses are bound to be a hit! Create them in various colours – adding sequins to their dresses. Ours wears a pretty pink felt dress with ribbon trimming, a pale pink cape and a beautiful gold crown. We teamed her with her very own castle made from toilet roll tubes or craft rolls painted white, with pale blue window and brick highlights. The tubes were stuck together using strong glue and we cut turrets into the two end tubes. Highlight with glitter glue to add some sparkle! We also painted  a set of fairy toadstools (see below) and cut a piece of green felt to stand her castle on complete with a blue stream! She would look equally cute on the Active World Tuff Tray Fairytale Mat.
11. Fairy toadstools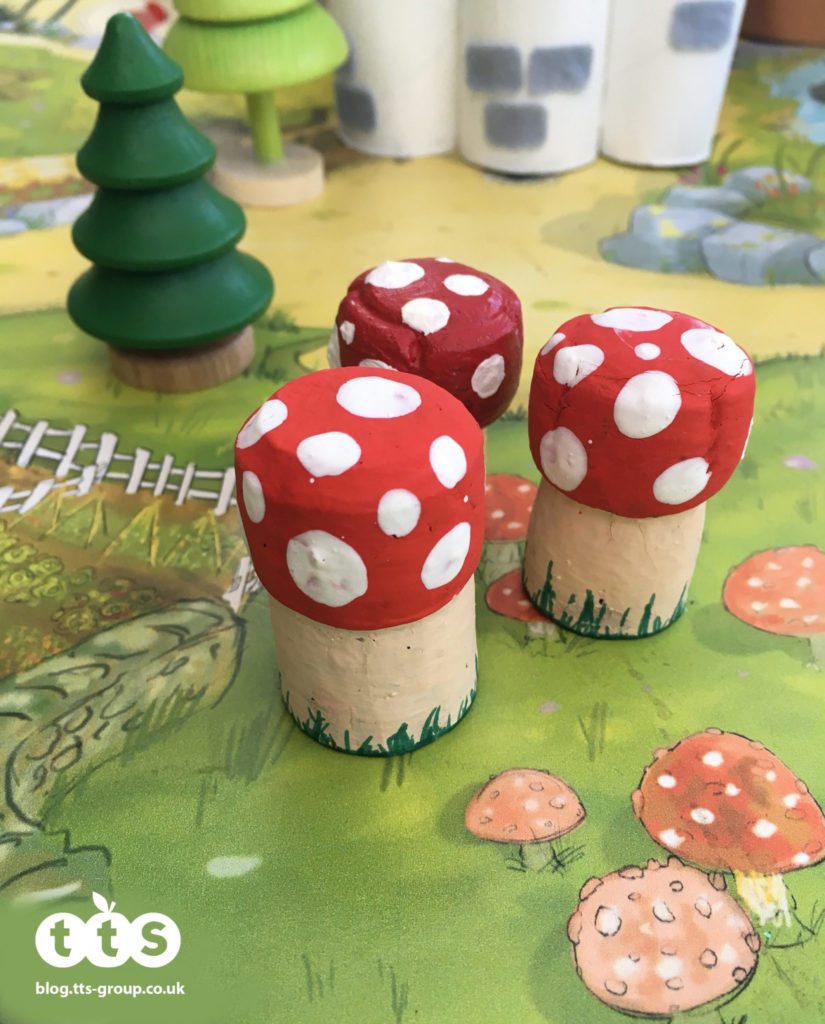 The corks are a perfect shape for fairy toadstools! They look lovely in a small world fairytale scene. Simply paint the body a cream/flesh tone, then paint the top a rich red. Once dry, paint white spots or cut tiny white felt circles and stick them on. We added grass around the base of the toadstools using a green Sharpie. Add glitter glue for a hint of fairy dust sparkle!
12. Butterfly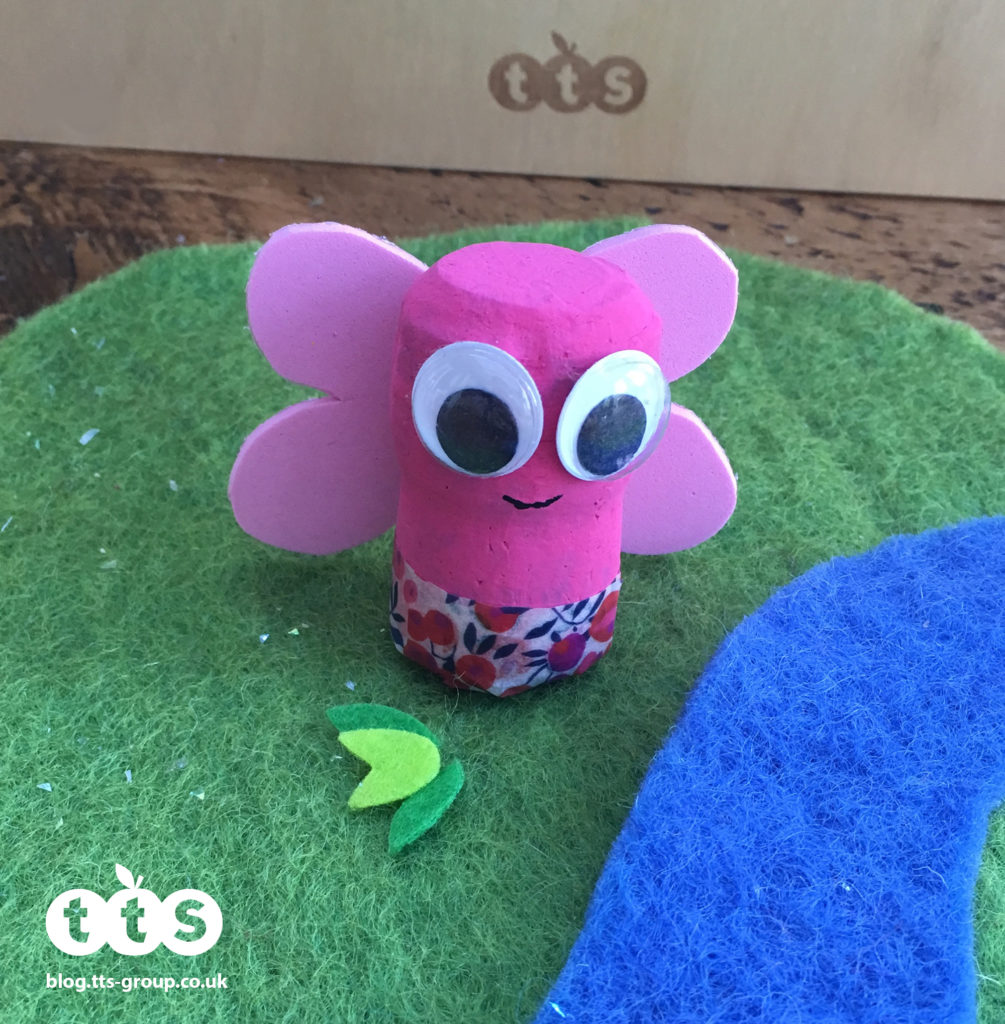 These butterflies make lovely hanging decorations – simply screw a small metal loop hook to the head and add some ribbon. Perfect for Mother's day or for selling at school crafts fairs. Paint any colour you like, add foam wings and decorate with washi-tape, glitter glue and sequins. Finally, add wobbly eyes and a big smile!
13. Ninja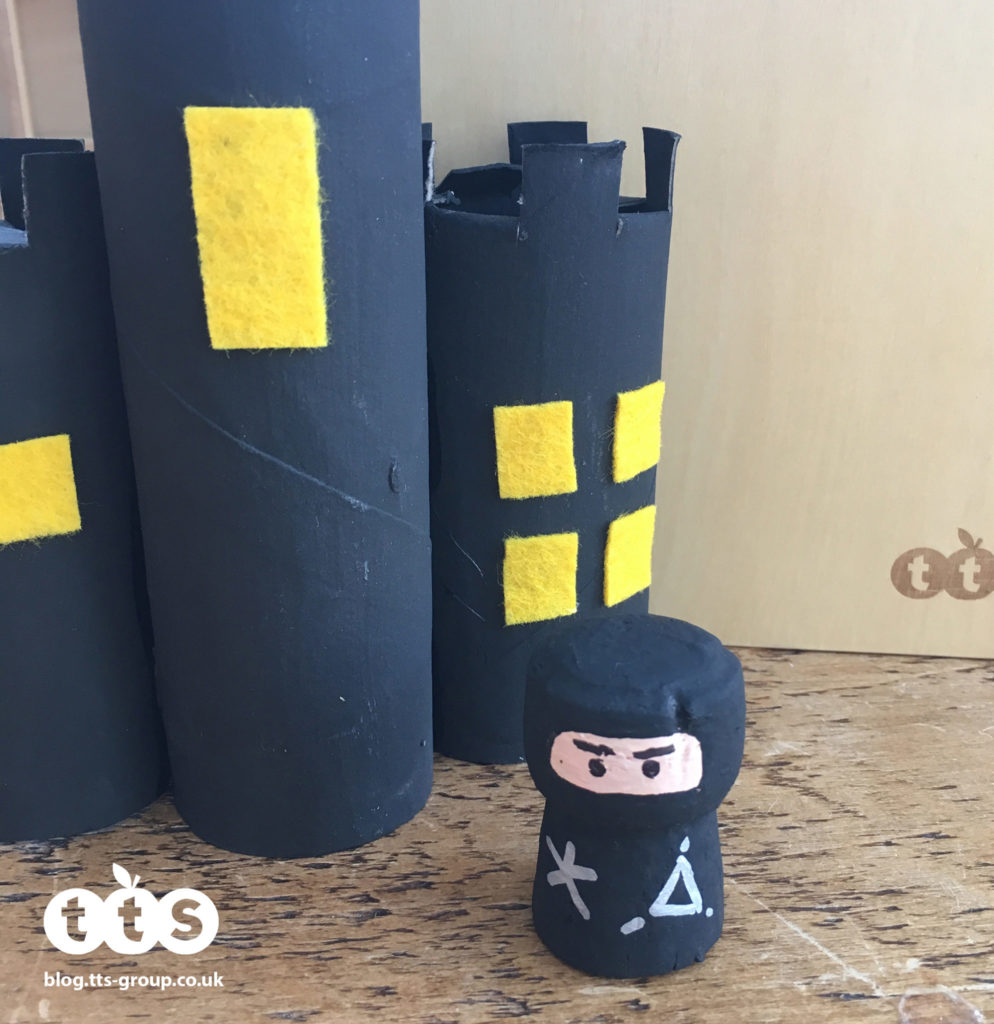 These mysterious Ninjas make great small world characters! Simply paint black, leaving a space for the eyes and eyebrows, then when dry, add secret symbols to the body.
14. Bee and honeycomb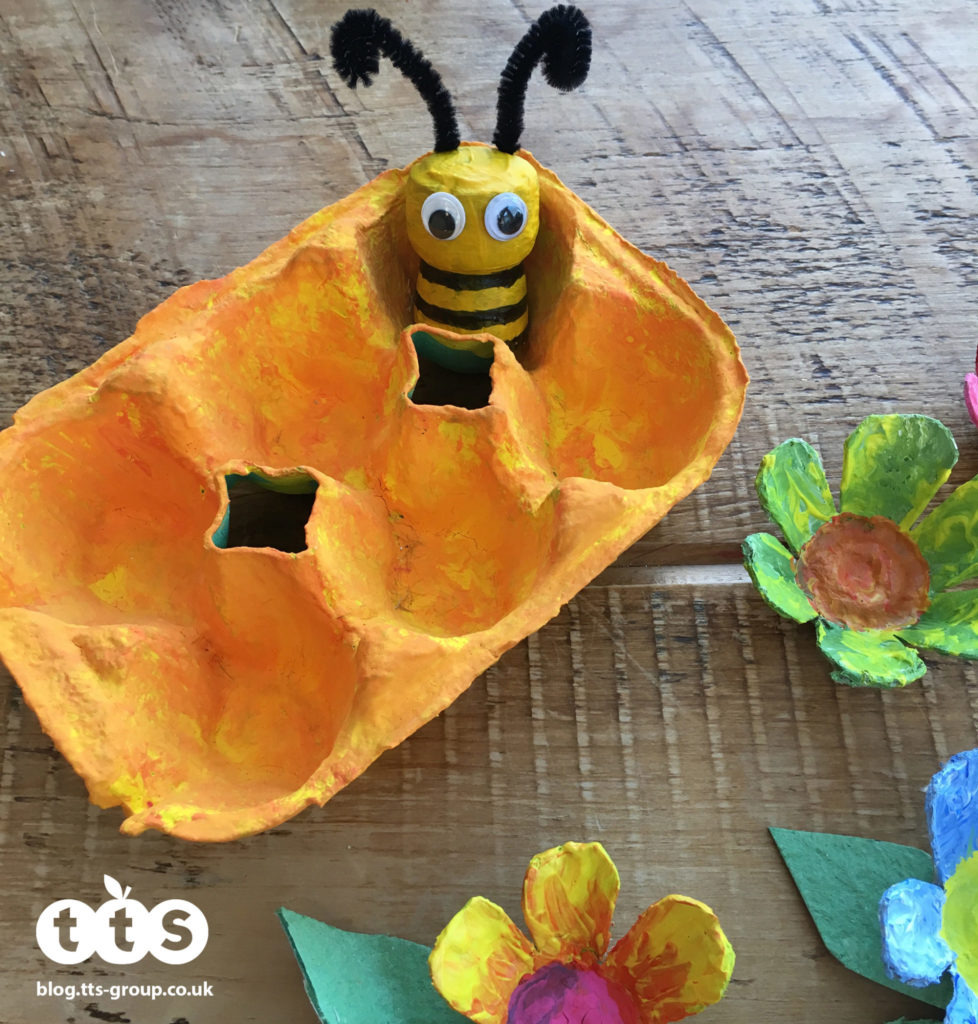 Look at this adorable honey bee! Simply paint your cork yellow, then add black stripes to the body using a black Sharpie. Add black pipe cleaner antennae by using sharp scissors to create two small holes in the head, then add a blob of strong glue to each one and push into the holes. Finally, stick on the wobbly eyes! The honeycomb is an empty egg box painted yellow and orange. The flowers are made from egg boxes – see our Egg box flowers blog here for more instructions.
15. Floating pirate boat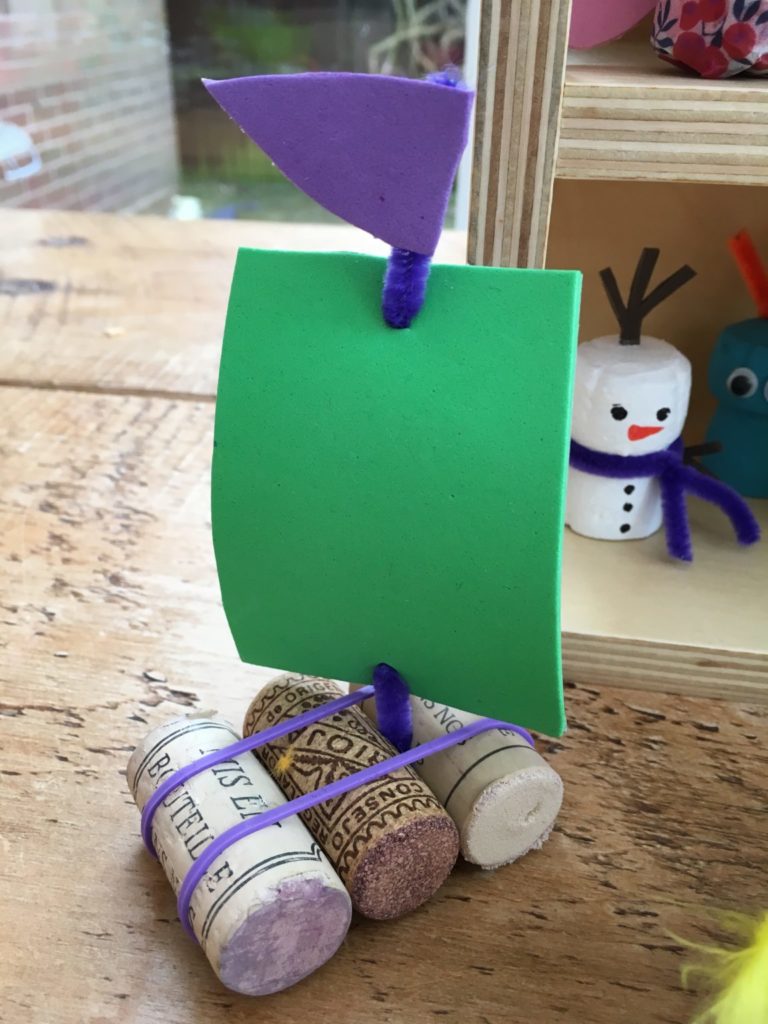 We used regular wine corks for this boat. Fasten the corks together using two elastic bands. Glue a pipe cleaner in between for the mast, then add a foam sail and flag as shown. Try it out in water – it really floats! Get the children into teams to make their own boats, then have a race to see whose boat goes the quickest or which boat sails the best.
We used over 40 corks in the making of these cork characters, but we could have gone on and on thinking of all kinds of ideas – such as painting with rainbow colours and adding numbers or letters of the alphabet. The possibilities are endless! Maybe you have been inspired to think of some of your own?
Show us your cork crafts in the comments of the cork crafts facebook post and you could be in with the chance of winning a bumper collage pack! A winner will be chosen at random on 25th April 2017.