I recently had the challenge of sitting on an interview panel to find a new, shiny and sparkly teacher. In order to identify the 'sparkly' chosen one I had developed a special test of 'sparkliness' that involved presenting the interviewee with five stones (carefully selected from my drive on the way to the car that morning). I posed the million dollar question, "How might these ordinary stones be used in the classroom?"
In what can only be described as an X Factor judge moment, anyone who said, "To teach rocks and soils", was not what I was looking for on that day! The chosen 'sparkly one' was a teacher who leaned forward, took the stones in her hand and used them to transport us to other worlds. Each stone become a magical wish that took us to enchanted lands containing mythical creatures. Just the sparkle I was looking for!
Let's face it, teaching is hard work, but it's the best kind of hard work there is. There is nothing like having thirty little faces looking up at you in awe and wonder as you inspire them to learn. There are wobbly days when you can be sitting at the back of your classroom drowning in data and at the same time, marking a million books; but these days can all be overcome with just a tiny bit of glitter and the belief that magic in teaching does still exist.
It was on one of my 'wobbly' days that I just so happened to meet a Tricky Word Troll and a fairy who helped me remember that magic could still happen in the classroom…even in phonics!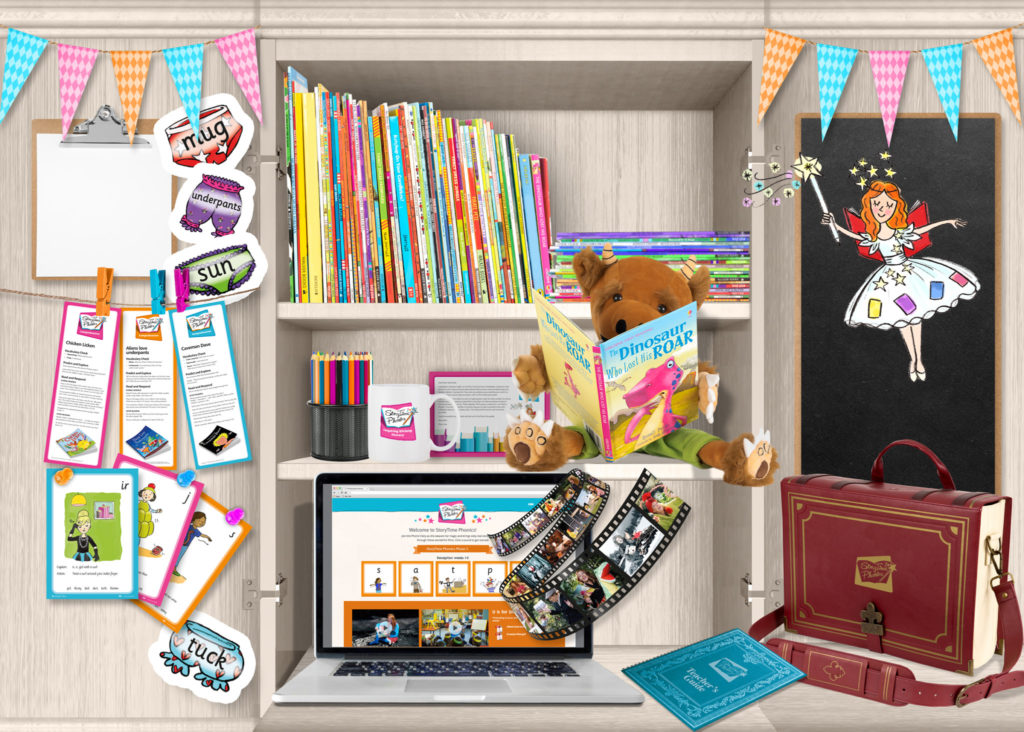 TTS had sent Storytime Phonics to my house. (It was the summer holidays so the school building was shut.) The arrival of the parcel was announced by my son Alfie, who screeched, "Mum, why is there a coffin in the porch?" To be fair to him it was a big box! Alfie and I unpacked the box and rummaged through the 60 books. I watched his eyes light up as he recalled books that we had loved sharing when he was a little person. I couldn't help but remember snuggling up on the sofa as we immersed ourselves in worlds far away from ours through the pages of a book.
When we took the scheme into school (admittedly it did take some wrestling to get the Tricky Troll away from Alfie!) one of our teachers dived straight in to use it. She was instantly sold on the whole fairy magic aspect and the fact that she had a scheme of work that could easily be personalised to match her children's pace of learning and needs.
At our school, the children currently benefitting from Storytime Phonics are those that our usual approach hasn't worked for. They are amazing children who happen to have some kind of additional special educational need and despite their best endeavours, find it more challenging than anyone else to learn. They are the ones who tend to have more 'wobbly' days and for whom a little bit of extra sparkle is needed. This is exactly what Storytime Phonics gives them – a brilliantly structured approach steeped in real, meaningful books which engages and inspires them to learn.
To implement the scheme, so that it exactly matches our children's needs, we have made some adaptions; but this hasn't been at all onerous. One of the strengths of Storytime Phonics is that it isn't too prescriptive. The 'Lesson Highlight' films really support and guide our planning as we have a tangible 'what it looks like in practice' to work from. The planning provided is very detailed but easy to make sense of and select from. This is great for members of staff who are perhaps less experienced or confident. We currently work on one book and one sound per week as our children need to revisit them several times to embed their learning. Consequently, because the programme is so flexible, we are able to teach focussed Storytime Phonics twice per day – morning and afternoon. We choose to spend three days focussing upon reading and two days writing. The real books naturally lend themselves to real experiences to bring learning to life. We have just completed the book 'Foggy Foggy Forest' by Nick Sharratt, which involved a visit to our own forest school to look for words and sounds linked to our focus. This was then backed up with multi-sensory writing activities to bring it all together. These memorable activities really ensure that learning 'sticks' and is then transferred to a range of other situations.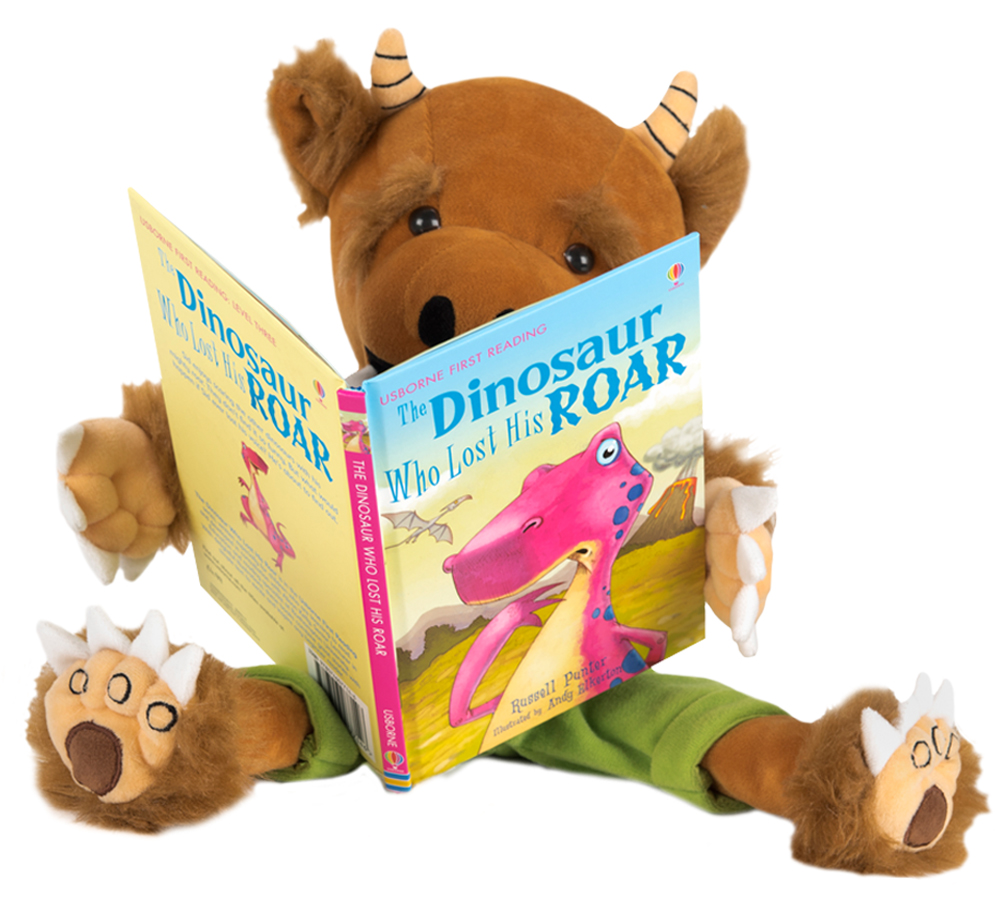 Our children especially love the concrete nature of the characters. The Tricky Word Troll has been a massive hit as the children can really relate to him. He gives them something 'real' which they use to help identify words that should be recognised on sight and helps them develop a range of reading strategies. Although phonics is important, previously our children had been locked into segmenting and blending everything. All our children adore the Phonic Fairy videos and we find that all of the elements together really support language development too.
It is a privilege to watch them anticipate which story will be coming up and what magical learning adventure they will be transported into next.
Using Storytime Phonics, our children manage to escape the daunting reality of how challenging learning can be and immerse themselves in the Phonic Fairy's sparkly world. It is a privilege to watch them anticipate which story will be coming up and what magical learning adventure they will be transported into next. Our children are now reading real books, and not just reading, but loving the wonderful worlds their new found literacy skills have opened up to them. It's amazing what a tiny bit of sparkle can do!
For more information on Storytime Phonics click here
With thanks to Beccie Hawes for writing this blog. Beccie is the Head of Service at Rushall Inclusion Advisory Team – a unique service which supports schools to ensure that their pupils with special educational needs exceed their potential across four different local authorities: Walsall, Birmingham, North Warwickshire and Staffordshire. The service offers support for individual pupils, bespoke INSET session, coaching, mentoring, SENCo support and a busy calendar of training and conference events. Beccie set the service up in partnership with Rushall Primary School and continues to enjoy seeing the service grow. The service prides itself on putting the needs of the pupils that they work with at the heart of everything that they do.
Beccie remains very 'hands on' in the classroom, and likes to be at the chalk face with teachers and children so she can practice what she preaches. She has over 14 years of experience of teaching children and young people with special educational needs and is a qualified specialist dyslexia teacher having gained a Post Graduate Certificate in Specific Learning Difficulties – dyslexia, and Masters degree in Equality and Diversity in Education. She has written 'The Complete Dyslexia Toolkit' and co-authored 'Getting it Right with SEND: A Toolkit for All Primary Schools'.