Angels, rays of light and stars are all of great significance in the stories about the birth of Jesus and around Christmas celebrations.
As a child, reading my bedtime stories by the light of the Advent Candle was a real treat as the illustrations flickered and shimmered in the golden glow of the flame. Even more magical were the shadows darting giddily across the walls of the December-darkened living room created by the Scandinavian angel chimes.
During the festive season, many homes are decorated with Christmas trees festooned with lights, and there is a growing trend for lighting up the exterior of houses too, sometimes in a bid to raise money for charity. In some neighbourhoods, walking tours are organised to visit the different illuminations. In 2020 many people opted to put up decorations and lights earlier in the season and left them up for longer. We recognised that even the littlest LED lights could help provide a ray of hope and raise spirits during these troubled times.
Why not try this light inspired Christmas craft idea …
Edible Stained Glass Window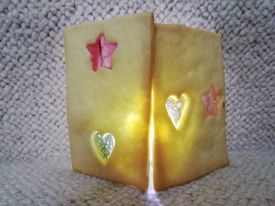 You will need:
Boiled sweets
Rolling Pin
Shortcrust pastry – ready
Baking paper
String/ribbon
Optional – thick icing/buttercream and a battery tealight
An adult – Please ensure children are supervised and helped throughout this activity.
Instructions:
Place the boiled sweets into small plastic bags – either separate the colours or mix together.
Crush them using a rolling pin – be careful as the pieces can be sharp.
Unroll the shortcrust pastry and cut into a shape, e.g. a diamond.
Use shape cutters to remove some of the pastry from inside – not too close to the edges though. Also cut out a small hole towards the top of the shape (ready for hanging later).
Place the pastry onto a baking sheet covered with baking paper.
Bake the pastry for 10 minutes at 180C fan oven (if it puffs slightly, cover with a clean tea towel and gently press it down).
Spoon the crushed sweets into the spaces – heap them up.
Bake for a further 5-7 minutes. If there are gaps, top up with more sweet pieces and bake for a couple more minutes (be careful as the sweets will getvery hot in the oven).
Leave to cool before carefully peeling off the paper.
Hang with string or ribbon as a beautiful decoration.
Or…
Make 4 rectangular pieces the same size as per the above instructions.
When cool, "cement" them together using icing into an upright cuboid
Place a battery tealight/LED lights inside.
Or … You can just eat them!
While in the festive spirit, why not also share a book together. Here are three different recommendations:
An Angel Just Like Me – Mary Hoffman, Cornelius van Wright, Ying-Hwa hu, Hing Hwa Hu
Christmas – Jan Pieńkowski
Why The Reindeer Were Chosen – Moe Price, Atsuko Morozumi