If ye break faith with us who die We shall not sleep, though poppies grow In Flanders fields.

John McCrae, Canadian surgeon and soldier serving in WW1
Remembrance Day – 11th November
Remembrance Sunday – 14th November 2021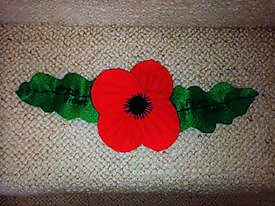 The 11th hour of the 11th day of the 11th month
Armistice Day marks the end of hostilities during World War One in 1918. Remembrance Sunday is also observed on the second Sunday in November. On each day, many people stop what they are doing and stay still and silent for two minutes to honour those who have given their lives in battle. The end of the silence is broken by the incredibly haunting bugle notes of The Last Post.
Poppies
Poppies, with their simple but strikingly recognisable appearance, are symbolic of this time of remembrance. They were the only flowers which managed to grow on the battlefields after all the mud and destruction, devastation and despair. Since ancient times, poppies have been seen as a symbol of sleep, peace and death.
This year marks the centenary of the Royal British Legion (RBL), which was formed on 15th May 1921. Originally, its objective was to unite the four national organisations of ex-service personnel that had been established after the First World War. Today, the Legion embraces diversity and vows to represent all those who have "lost their lives on active service in all conflicts; from the beginning of the First World War right up to present day". They also honour civilian and uniformed services who contribute to national peace and security, along with civilians who have lost their lives in times of conflict and through acts of terrorism. Volunteers sell traditional poppies and other related merchandise on the run-up to Remembrance Day, and the RBL website offers information, services and products throughout the year.
In recent times, poppies in a variety of colours have also been introduced by different organisations to represent a myriad of causes, such as a purple remembrance poppy issued by the charity Animal Aid, commemorating the animal victims of war. "War Horse" by Michael Morpurgo, and "War Animals: The Unsung Heroes of World War II" by Robin Hutton both give an insight into the life of animals involved in times of war.
More recently, unexpected animals have hit the headlines for heroism in the aftermath of historical conflict. Magawa, an African pouched rat, who was awarded a gold medal for heroism, has retired from his 5-year-long job detecting landmines in Cambodia. These miniature mine-detectors are capable of clearing areas much more quickly than their human counterparts. In his 5-year career, Magawa was able to sniff out 71 landmines and many other unexploded items, and he worked as a mentor to his fellow rodent colleagues before stepping down from active duty.
In the UK, the chill of November mirrors the goosebumps felt by observers of the silence held in recognition of those brave souls who did their best to protect their friends, family and others unknown to them.
Book recommendations
In Flanders Fields: The Story of the Poem by John McCrae – Linda Granfield, Janet Wilson
What is Peace? – Wallace Edwards
A Bear in War – Stephanie Innes, Harry Endrulat, Brian Deines
Art and Craft Idea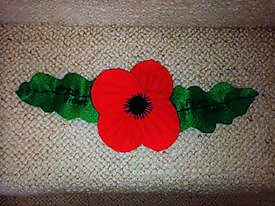 Try creating your own handmade poppies from either felt or with crepe paper and card.
Write names, thoughts of rememberance or symbolic words on the leaves.
What you will need:
For felt poppies – Red and green felt, needle, embroidery threads, a button or pom pom for the poppy centre. Optional pipe cleaners and glue.
For crepe paper poppies – Red and green crepe paper or card, black marker pen, glue.
How to make a poppy …
For felt poppies
Draw and create a template for the poppy flower and leaves. Alternatively, you could provide a template for children.
Draw around the template and cut out the shapes form your red and green felt.
Use your sewing skills to sew the poppy leaves to the flower.
Sew a button or pom pom to the centre of the poppy.
You could stick a pipe cleaner to the back of your leaves, so that you can bend and position the leaves.
For an extra challenge … why not create a 3D poppy flower by sewing two flower pieces together and filling with stuffing.
For crepe paper poppies
Create a template for the poppy flower and leaves.
Draw around the template onto crepe paper or card and cut out the shapes.
Glue the flower and leaves together to create your poppy.
With your finished poppies, you could create a large display of rememberance. Adding some plain, static LED fairy lights woven through can look very powerful.