The ability to deal with sensory information is a neurological process which occurs in our brains and usually happens automatically. It allows us to respond to sensory stimuli in a purposeful manner and forms the foundations for learning and behaviour. Although for a child with sensory processing difficulties their sensory systems such as their eyes and ears work as expected, they won't be able to process the information from their environment correctly in their brain. This means they can over or under respond to sensory stimuli resulting in their brain adapting their behaviour in response to the stimuli they are getting from the immediate environment. This can result in sensory seeking or avoiding behaviours.
For anybody to be available to learn, the environment both how they feel in it and how it is set up has to be conducive to learning. Maslow's hierarchy of needs also play a big part as if children haven't got their basic needs met, they won't be able to learn. For children with sensory processing difficulties, ensuring the sensory environment is 'just right' is a basic need that has to be met for them.
A sensory space …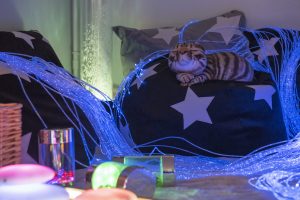 Having a sensory space within your classroom provides a safe place where children can go if the classroom environment gets too much. It doesn't need to be a separate room, and many schools don't have the budget for this. It's actually more inclusive to keep the child within the classroom but provide the additional tools and space they need to stay regulated and ready to learn. For some children, this could even be something simple such as having a sensory muff to hand with sensory items inside, dependent upon their individual needs.
As with anything, you could have the best all singing and all dancing sensory space in the world, but there's no point in having this if the adult in the room doesn't understand the 'why' behind it. It's crucially important for the adult to understand the benefit and use of the sensory space to be able to support the child using it appropriately and see impact. It shouldn't be used as a 'baby sitting area', it shouldn't be a space where an adult is directing what the child should do in it and it shouldn't be a corner with nothing in it. So, what should it be?
Let's break it down and explore sensory spaces further…
Why should I have a sensory space?
A sensory space enables you to create a safe space where a child can explore the sensory environment to suit their individual needs. They may be sensory seeking or sensory avoiding and the resources in the space will help them to self-regulate, relax and develop skills through sensory exploration. A child with sensory difficulties in the classroom may struggle to focus, be fidgety and display impulsive behaviours which can impact on their learning process. Equally, a child could withdraw from the environment as it all becomes too much.
A sensory space in their classroom can help these children feel focussed, comfortable and ready to learn by addressing their sensory needs.
Things to consider
If your sensory space is to be used by more than one child, then make sure the elements within it are accessible for all children.
You want this space to have impact on the child's well-being and motivation to learn. Therefore, the environment you create within the space should be flexible to allow you to adapt to the different needs of the child over time. Consider how are you going to be able to adapt it to meet the changing needs? This may be as simple as rotating or changing the resources in the space as required. It's important to not view it as something fixed and be aware that changes may be needed.
Does the child understand what the sensory space is for? Do they know how to access it? Do they know where to discover sensory items in the space? Does the child know what to do if they are struggling to self-regulate? All of these questions need to be rehearsed when the child is in a calm and regulated state, so that they then have a process to follow when / if they are in fight or flight mode and struggling to regulate.
How will you monitor the length of time that a child spends in the sensory space? Sand timers can be a great way to monitor this, but again it will vary each time dependent upon why the child is currently using the sensory space.
What are the triggers from the main learning environment that causes the child to need their sensory space?
Always come back to your why – think what the purpose of this sensory space is for the individual child.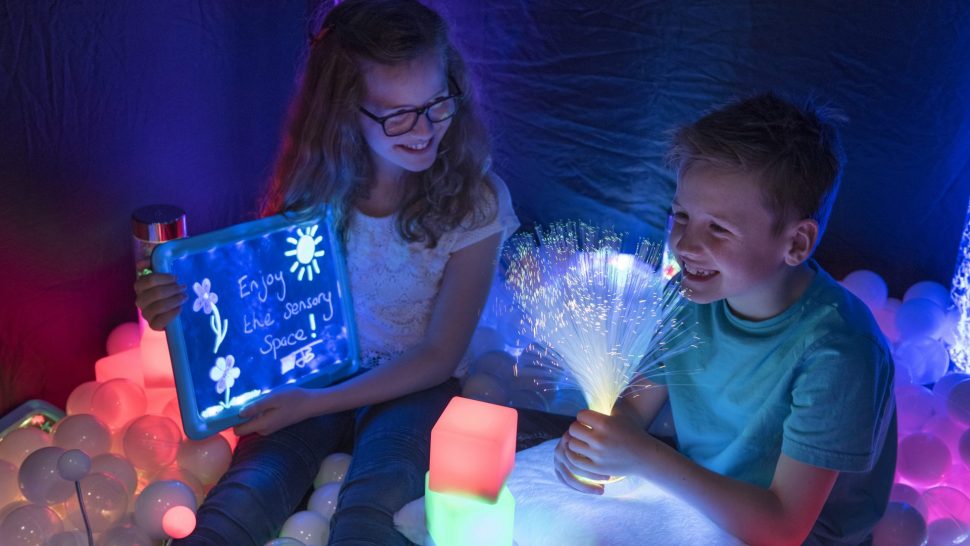 Step by step guide to setting up a sensory space
1. First of all, consider the location within your classroom. A sensory space would typically be in a quiet area, a corner of the classroom may work well, ensuring the teacher can always see the child and that the area is free from clutter.
2. Think about the 5 main senses and source products, furniture and resources that will appeal to these.
Furniture
You want the space to be relaxing and calming so soft furnishings will help. This doesn't have to cost a lot of money. Blankets, rugs, cushions and bean bags will make it cosy, for example a tactile vibrating cushion. I love the large bean bag from TTS as it can be used both indoors and outdoors.  If you have a larger space then soft play type furniture works really well too and is also great for physical development and children who have difficulties with their proprioception and vestibular senses.
Lighting and sound
Ideally, a sensory space would be in a quiet area but this is not always possible in a classroom. However, you can provide noise cancelling headphones to help children block out sounds while they are in the sensory space, if this suits the needs of your unique child. The lighting would also be dim and calming, if not dark. Again this is not possible in a classroom, however a TTS pop up sensory den is the perfect solution to this as you can have it in your sensory area for children to use if they need a space with minimal light. You could also provide sunglasses or dark den making material to create a darker space. The sensory den from TTS is also portable so can be used indoors or outdoors and even taken on school trips if your child needs a sensory space when out of the classroom environment.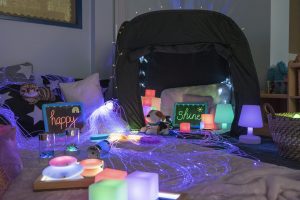 Mirrors add an excellent dimension to any sensory space. I love the TTS circular coloured mirrors as again they can be used indoor or outdoor. Your children will love exploring the reflections and looking at themselves in them. Remember to always position items at the correct eye level for a child rather than the adult fitting them.
You could also use peg lights to turn on in your sensory space. They are fabulous because they have a peg on where you could clip sensory bits of material for your child to touch, visual cues, or photos that mean something to the child and make them feel happy. The materials you clip on could be fragranced to smells that appeal to their sensory memory – for example a familiar perfume of someone special.
Resources
Within your sensory space you need resources suitable for the sensory needs of your child to freely explore in the space. Some of my favourite TTS items in addition to the ones above are:
You could also include a range of sensory items such as fidget toys, lights, playdough and squeeze balls.
Visual cues
Provide prompts and visual cues to support children whilst in the sensory space. You may have self-regulation strategies or prompt cards to help them to independently calm themselves or develop skills and explore the sensory space.
3. Once you have set up your sensory space, make sure you talk through how children can use it. Discuss a personalised plan in order to help them maintain an appropriate level of alertness. This is important so that both the child and the adult knows exactly what is expected of them within the sensory space.
Creating a sensory space provides a safe and accessible space in the classroom for children to regulate, help maintain an appropriate level of alertness and be ready to learn!
With many thanks to Ruth Lue-Quee for writing this blog and sharing her insights into creating the perfect sensory space.
Ruth Lue-Quee is the founder of My Mummy Teacher, an Educational brand that whole-heartedly believes in the power of play. My Mummy Teacher empowers parents and professionals to help their children learn through play, through their best-selling Learning Through Play Cards and a range of additional products and services, that are uniquely adaptable for a wide range of abilities. Ruth is a highly qualified, former Deputy Headteacher of a primary school. She has also worked in many aspects of Special Educational Needs including mainstream and additional resourced provision settings. She has considerable experience as a Senior Leader and is passionate about teaching, learning and inclusion within KS1 and EYFS. As well as running My Mummy Teacher, she proudly works in partnership with Cadmus Inclusive as an Inclusion Consultant and regularly writes as an expert for businesses, companies and in the press on Educational and Parenting matters.