Be prepared and get ready for Father's Day 2021. Everybody loves a homemade card or gift with a heartfelt message to show our loved ones just how much we care.
Here are 5 simple craft ideas to use, adapt or add to as you like.
1. Rosette
Let dad know he is the best on Father's day with this handmade rosette.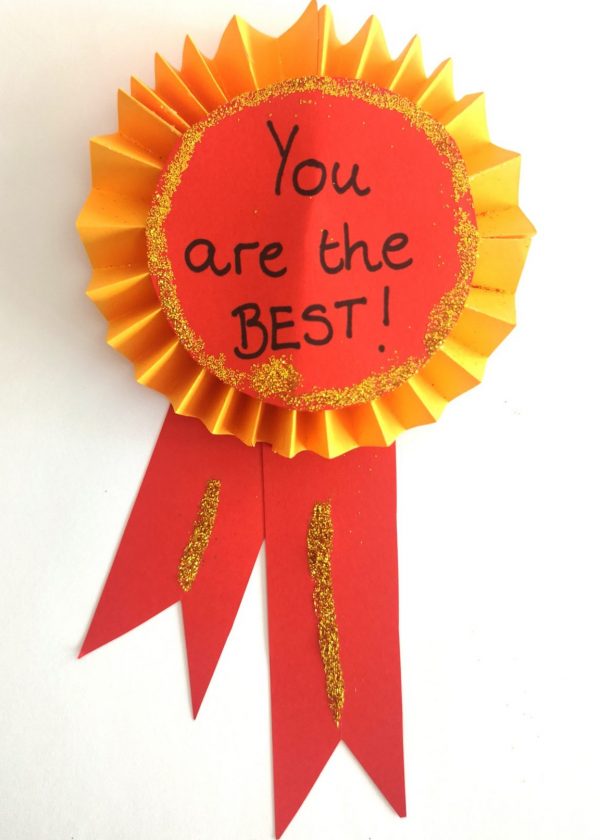 Fold a piece of A4 paper in half lengthways to find the middle and cut it into two strips.
Concertina both strips, starting from the shorter edge.
Fold each of your concertina strips in half and stick the edges together to make two fans.
You may need to put a bit of glue in some of the folds on the other side of the fan to stop it from opening.
Stick the two fans together to make one circle.
Cut a circle from a piece of different coloured paper, write your message and then stick it on.
Cut out and add two 'ribbons' to your rosette either from ribbon or card.
2. Paper Plate Medal
Make a medal for a special person to celebrate them being the best!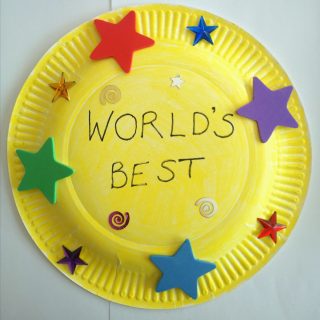 Take a paper plate and then colour or paint it yellow or gold.
Choose some bright decorations to finish off your medal.
You could add stickers, sequins, glitter, or draw some added decorations. Why not choose a theme for decorating such as their favourite sports team or a favourite hobby?
3. Rocket Card
I love you to the moon and back …
Start with a piece of black card.
Cut out the 3 triangles to make the nose and wings of the rocket. We have used red card, but you could choose any colour you like.
Create the main body of the rocket by cutting a piece of card, folding it in half and sticking it to your black paper.
Add some windows to your rocket, any decorations and even some flames if you like!
Create a starry sky background for your rocket to fly through.
Open up your rocket and write your message to someone special. Try and think of an out of this world saying, such as …
I love you to the moon and back.
4. Dad Card
Create a colourful, artistic card to send this Father's Day.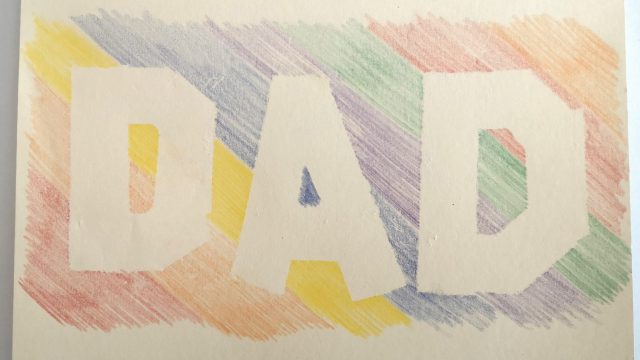 Choose a piece of coloured card.
Using masking tape or similar tape, mark out the DAD lettering.
Shade or paint over the top of the letters in whatever pattern or style you feel like. You could create swirls, patterns, a rainbow or use different shades of dad's favourite colour.
When the paint is dry, or you have finished colouring, carefully peel off the tape to reveal the DAD letters in the original card underneath.
Alternatively, rather than using tape, create your design on the front of the card and then cut out and stick on DAD lettering over the top of the design to create blank space.
5. Photo Frame or Craft Photo Frame Ornament
Create a photo gift to remember.
Use paints, felt tips or stick on accessories to decorate your photo frame or ornament in your chosen style and design.
Pop in a favourite picture to create a special keepsake for a loved one!