The story tells of a Stick Man who goes out for a jog and is chased and carried away by a dog. A whole series of mishaps take him further and further from his home and family. Will he ever be able to get back to them? A surprising and magical meeting with Father Christmas eventually turns his fate around.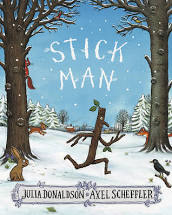 Here are a few creative ideas and suggestions you might like to try!
Make a shoe box diorama!
Here, we have re-created the final scene of the book, where Stick Man is finally reunited with his family in time for Christmas. You might choose this scene (detailed below) or perhaps create a series of different scenes from the book – a great 3D way to display and retell the story!
If possible, go on a discovery walk to find your own sticks, leaves and other natural materials for children to use. Tell children they must look for the most special, magical sticks!
As well as sticks you will need a selection of the following:
A small stump
Play dough or Blu-tack (to stand the sticks up)
To make the scene:
Use tissue paper to cover or paint your shoebox in a tree-brown colour and allow to dry.
Cut out a semi-circle of kraft paper to create the floor. Use a brown pencil crayon to lightly draw the effect of tree rings.
Cut a shape for the window out of paper, then draw the snowy scene. (Alternatively, use an old Christmas card with a suitable picture.)
Use card to make the picture frame and draw your stick family. Glue the window and picture frames onto the back of the box.
Children might want to add real holly or fir leaves as decorations to hang up or make paper ones as we have done.
Once the background is prepared, the loose parts can be added.
Place a suitably sized stump to the right of the shoe box.
To create the gifts, cut a square of firm card and cover in material such as felt. Make a backwards fold and glue the fold to the stump so that the presents stand up
Egg carton mushrooms
Cut out the individual egg holders from a box and cover in tissue paper or paint white.
Make the tops by cutting a circle from red felt. Snip a line to the centre of the circle so the material can be pulled into shape.
Use a glue gun to glue the material together then glue to the egg holders.
Add some white felt spots.
Finally, add your stick family!
Find suitably sized sticks.
Cut out two small circles as eyes (or use small 'googly eyes' if you have them) and attach using a glue gun.
You might like to add leaves too!
Use brown play doh, or similar, to stand the stick people up in their new home.
Create a Stick Girl or Stick Boy adventure
Ask children to create their own stick person and work together to create a story. They might make backgrounds or scenes for their adventure or perhaps devise a puppet show. They might choose to name their stick people – perhaps Tanya Twig or Steven Stick!
Make edible Stick Men
You will need:
Chocolate rolls
Matchmakers, or similar chocolate sticks
Icing sugar (if you want to add a touch of snow)
Leaves (for decoration)
These are so easy to make and lovely to have as a special treat! We made the eyes from paper and stuck them on with icing sugar and water. These would obviously need to be removed before eating, but you might think of an edible alternative!
Watch the Stick Man film
An animated version of the book is available on BBC iPlayer and would make a wonderful end of term treat to watch together!
More Stick Man activity suggestions
After reading the book:
Talk about the different seasons Stick Man experiences. How do you know which season he is in?
There are so many different animals depicted throughout the book. How many can children spot and name?
Draw a story map of the stick man's journey
Stick Man has several different adventures throughout the story. When do you think he was the most…excited…sad…frightened…happy…worried?
Make a list of rhyming words and match them up.
twirl                            girl
face                             race
throw                          go
best                            nest
Use the collected sticks to:
Make a line of sticks from shortest to longest.
Estimate lengths of individual sticks then measure them in centimetres
Put all the sticks from end to end. How far might they reach? Will they go all the way across the playground?
Make a nest for a large bird.
Refer to the Pooh-Stick game in the book and race sticks in a large water container. How can children get them from one end to the other without touching them?
With thanks to Beverley Smalley for writing this blog. Beverley is an education specialist, writer and former primary school teacher.