Have a go at these creative Halloween activities!
Flying Bats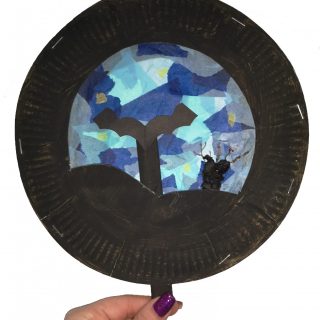 You will need:
Craft materials to decorate such as paint and tissue paper
Instructions:
Paint one paper plate black and cut out a night time scene.
Decorate the second paper plate to create a spooky sky. You could use a range of materials including paint, tissue paper for collage or colouring pencils.
Paint your lolly sticks black and cut out a bat shape from a piece of black card.
Stick your bat to the end of your lolly stick. If your lolly stick isn't long enough, you may need to stick two together.
Place your spooky sky plate on the table and put your bat stick on top. Make sure some of the stick is over the bottom edge of the plate. Lay your cut out paper plate on top and staple around the edge. Be sure to leave a slight hole at the bottom so you can move the lolly stick around.
You could change your cut-out to have a flying witch or ghost instead!
Pumpkin Suncatcher
You will need:
Instructions:
Draw a pumpkin shape outline on your black card.
Cut out your pumpkin and then cut out the middle to leave just an outline (see picture below).
Use the leftover black card to cut out a mouth and eyes or you can use black tissue paper to collage them.
Cut a piece of book covering film slightly bigger than your pumpkin.
Peel the paper off the film and stick on your pumpkin outline, mouth and eyes.
Tear and stick shades of orange and yellow tissue paper to fill in your pumpkin.
Trim the edges of the sticky film and hang it pride of place in your window.
You could use this technique to create other spooky suncatchers such as a witch, ghost or Frankenstein!
Halloween Pom Poms

You will need:
Instructions:
Choose the right yarn colour to make your choosen Halloween pom pom (see video below).
Wrap yarn around your fingers about 40-50 times. The more yarn you wrap, the bigger the pom pom.
When you are happy with the size, cut another piece of yarn about 30cm long, thread it between your fingers and tie a knot to hold it in place. For the ghost, tie nearer to one end, to create one smaller section.
Carefully slide scissors through the loops of yarn on both sides and snip. For the ghost, only trim the bigger side and leave the smaller side to create the head.
You may need to trim your pom poms into shape.
Add any eyes or accessories to your character.
Make Halloween bunting by creating several different pom pom characters and attaching them together.
Room on the Broom
Read 'Room on the Broom' written by Julia Donaldson and illustrated by Axel Scheffler.
Use the events of the book to set special challenges, such as:
The witch is running out of space on her broomstick. Can you design a new, bigger broom that will have space for all of her friends?
The witch doesn't want to travel on a broomstick anymore and is looking for something different. Can you design her some new transport?
Spider Web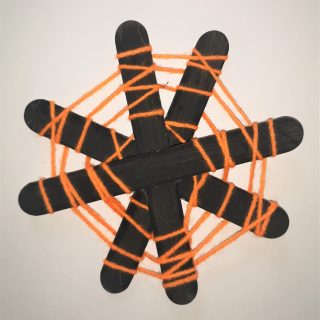 You will need:
Instructions:
Paint your lolly sticks black and then stick them together when they are dry.
Tie a piece of yarn around one of the lolly sticks.
Weave the yarn around the sticks to create a web. This is great for developing fine motor skills.
When finished, tie the end of the yarn leaving an extra bit to be able to hang your spider web.
Halloween Mask
You will need:
Use a mask template or a card mask
Instructions:
Download and cut out one of our FREE mask templates or use our 'Decorate Your Own' card masks.
Choose a Halloween character such as a cat, a witch, a bat, or a ghost.
Collect a range of craft materials, look online for inspiration and get creating your mask!
We would love to see your creations, so share all of your Halloween crafts and masks with us on Facebook!