If you've ever been lucky enough to attend a training session or visit her in Scotland, you'll see and learn so many lessons and teachings from Alice, and you'll come home a happier, more inspired individual.
But what if you can't make it to Glasgow? What if you can't take the time out for the journey? Even if Alice was local, can you spare the time and staff to go? In these turbulent times, the power of technology has never been a more obvious necessity in our lives, which is why we've partnered with Alice to deliver Webinars. Alice's training from the comfort of your own chair!
We're absolutely delighted to be sponsoring Alice with these webinars and supporting the/our Early Years community together. The webinars will last approximately an hour, although if the chit chat ball keeps rolling then it's very easy to overrun and spend a little longer talking to other industry professionals on what we're most passionate about!
What's on offer
Wednesday 26th August – 7pm – Numeracy across Learning
The enjoyment of number games and using number skills is an important factor in developing confidence and excitement about maths. This session will look at a wide range of examples of how we the adult can shape and scaffold thinking around number and mathematics for every child.
Book now
Wednesday 9th September – 7pm – How Children Develop and Learn
Childhood looks very different today. Our children have never lived without access to the internet, screens that allow access to experiences, places knowledge that we could never have imaged. Join us in considering the developmental expectation and milestones of children under Five, as we focus on the 'whole child'.
Book now
Wednesday 23rd September – 10am – Let's Get Physical
From our head to our toes and from the core to the finger tips every child will activate, use, exercise and build their fine and gross motor skills. We will consider the importance of processes, capabilities and skills nurtured through playful interactions and environments.
Book now
 Wednesday 7th October – 10am – Noticing and Responding to Schematic Play
We will explore a range of research, thinking and theory around Schematic Play, some of which we may find challenging and contradictory. Through reflective tasks and practical examples we will consider Schema and how our awareness, support and promotion of this thinking and theory can help nurture a sense of well-being in our children.
Book now
Wednesday 21st October – 7pm – The Wonderful World of Books
We will investigate four books as a catalyst for play, promoting literacy rich experiences and building the foundations for early reading skills. A range of experiences that enrich a story, the characters and plot fully immersing children in books will be shared and considered from a learning perspective.
Book now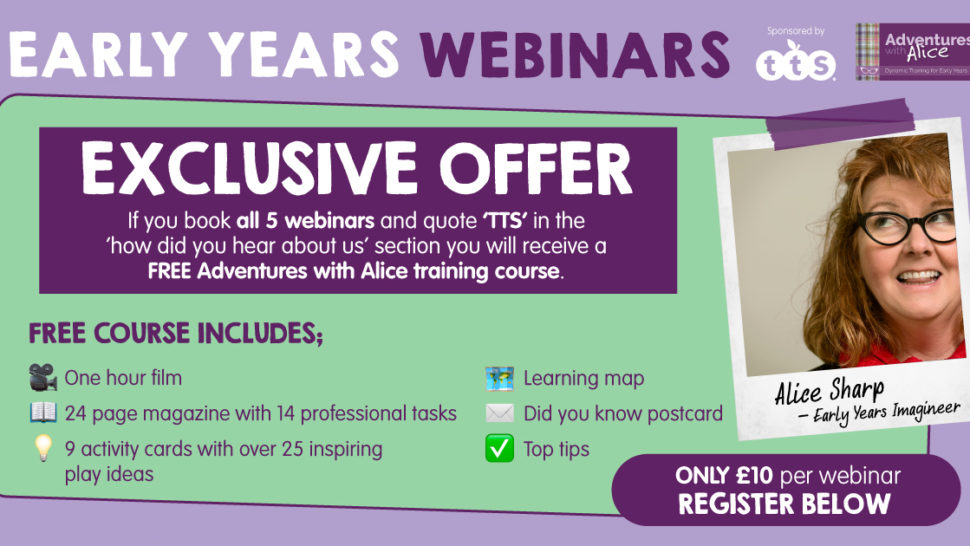 Learn More
Book for any of the above webinars, Alice's team will send you a set of instructions via email, then all that's left to do is grab a cuppa, a biscuit and settle down for an hour of inspiration and ideas!