Unfortunately, the number of pupils with a limited vocabulary is increasing. The Oxford Language Report from 2018 found that 49% of year 1 pupils had a level of vocab that impacted on their ability to access the curriculum. So, in a nutshell, acquiring vocabulary is a hugely important key to unlocking future potential for ALL children, especially those from deprived backgrounds. This being the case it should be a top priority to find as many ways as possible to make this a reality.
Cheryl Lawrence has over 19 experience working in the education sector with a particular passion for teaching literacy and has drawn on her own experiences as a teacher, often in under resourced schools. She develops and champions products to help teachers overcome challenges faced in the class room and take some of the stress away caused by having so little time. Here she has considered a few practical solutions that might help.
READ, READ, READ
Read books to your class as often as you dare. Can you manage 5 times a day?!
Read them together, read them with gusto! Change a word here or there. Who noticed?
Once they are very familiar, tell the stories, getting children to recite parts as you go.
Create a level of enthusiasm for books that cannot help but be infectious.
Books are the key to children hearing wonderful new and unfamiliar vocabulary. Most of us talk in a very standard way, drawing from the same 2000-ish words over and over again, but in books, children come across hundreds and hundreds of new words they wouldn't otherwise hear. There are so many fantastic examples, but here are just a couple of my favourites that sprung to mind:
"There was once a velveteen rabbit, and in the beginning he was really splendid…..Generally, by the time you are Real, most of your hair has been loved off, and your eyes drop out and you get loose in the joints and very shabby. But these things don't matter at all, because once you are Real you can't be ugly, except to people who don't understand."
From 'The Velveteen Rabbit' by Margery Williams.
"Only the sound of the sea, chewing away at the edge of the rocky beach, where the bits and pieces of the Iron Man lay scattered far and wide, silent and unmoving.
Only one of the iron hands, lying beside an old, sand-logged washed-up seaman's boot, waved its fingers for a minute, like a crab on its back. Then it lay still. While the stars went on wheeling through the sky and the wind went on tugging at the grass on the cliff top and the sea went on boiling and booming."
From 'The Iron Man' by Ted Hughes.
Model rich vocabulary
In her big book 'Enriching Language Through Fun with Sounds', Catherine Clark emphasises the importance of modelling rich vocabulary.
"Think about how you can describe things. Use a wide palette of colour terms; for example, instead of just saying red, try crimson or ruby. Consider how you describe texture, pattern, shape, aroma, taste and size. Is it small, or is it tiny, minute, teeny or miniature? Remember, many children know all the complicated dinosaur names so they can easily learn to incorporate wonderful adjectives, such as opaque, gloopy, velvety, emerald, etc. into their vocabulary."
Another excellent and thought provoking activity to encourage thinking about the variety of language available to us is to make and order lists of synonyms. For example, how would children order these synonyms from least to most happy?
gleeful, merry, joyous, sunny, exhilarated, cheery, elated, upbeat, light-hearted
Become Word Collectors
Read the book 'The Word Collector' by Peter H. Reynolds. This is a story about a boy called Jerome who collects words in the same way other children collect comics, stamps or Pokemon cards. He writes them down in different categories and make scrapbooks from them, until one day an accident happens and all his words get jumbled up. This story is a great way to inspire children to become word collectors themselves! There is also a website with lots more ideas and inspiration.
Language for Living
For a ready-made, whole school solution designed to help children of all abilities develop their vocabulary, you might take a look at the Language for Living programme. The interactive resources are suitable for group work and whole class activities. The product comes in three boxes KS1, LKS2 and UKS2. Each box is then split into two sections of vocabulary based activities; vocabulary enhancement and oral language development. There are over 1000 cards covering 18 different categories of activities such homonyms, story starters, idioms, debate cards and tongue twisters, more than 250 topic based word of the day vocabulary cards as well as picture cards and a variety of barrier games. A detailed teacher's guide gives full details on how to get the best out of the materials and includes examples of the writing outcomes that can be achieved using the product. Each area stretches learners and ensures engagement from the entire class. Language for living has been designed as a 'grab and go' solution so it can be used by used by TAs, NQTs and experienced teachers alike, with everything you need to get started included in the box.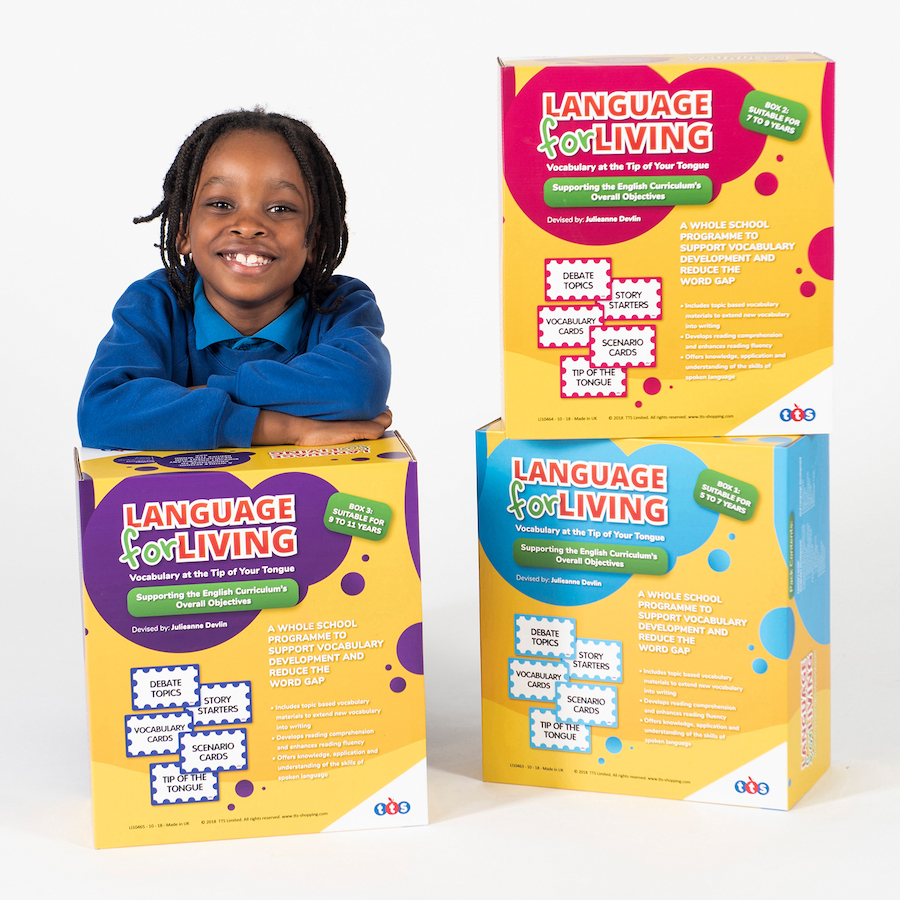 Talking Topics
Cheryl developed Talking Topics to help children acquire vocabulary and enable teachers to adequately assess comprehension skills. Cheryl says, "The tins are available in two topics, Food and Transport. Each set includes 9 activities that progress from basic vocabulary acquisition to simple oral comprehension through active questioning and response. The resource include 6 identical sets of 10 topic pictures. These can be used in group work or, if desired, as a whole class lesson by placing a set of the items on each table. Pupils will have opportunities for multiple encounters with basic vocabulary, move on to considering alternative vocabulary, develop simple oral composition, build grammatical language and understanding and conclude with basic oral comprehension through active questioning and response. The resources come in a sturdy case with A5 teacher's notes."
Talking Topics are only £17.99 which makes them a really affordable resource for the classroom.
With thanks to Beverley Smalley for writing this blog. Beverley is an education specialist, writer and former primary school teacher.