For a long time here at Little Pips, our Nursery in sleepy Somerset, we have used loose parts and open-ended resources to extend our continuous provision. As a teacher I have always watched in awe as our Nursery children, aged 6 months to 4 years use them in many different ways.
Recently, the outside area of our Nursery and how it's utilised has been a development focus for the team and I. Like the entire Early Years sector our budgets have been squeezed and now, more than ever, it's a priority that we invest in resources that are hard wearing, creative, engaging and most of all, long lasting.
In an effort to engage staff we always encourage their involvement in how we should equip the Nursery, and this is where we first discovered the TTS Creative Crates. Initially, I was quite apprehensive as four of the Crates would set us back £38.96, however, I was guaranteed by my Nursery team that they could use them daily in many ways to engage children across the entire Early Years Foundation Stage Curriculum. I trust them 100%, so we placed our order.
When the Crates arrived, it was like Christmas at the Nursery! There was a real buzz amongst the staff and we all got together and began collaborating our ideas. The Crates themselves have smooth edges, perfect in our day and age as I complete risk-assessments weekly. They also stack together firmly and are robust enough to be climbed on or into.
Top Ideas for use:
Weaving
Den making
Outdoor kitchen area
Vehicles and transport
Obstacle course
Water channelling
Role play
Construction – stacking and building
Mark making – using the chalkboard topper
Kitchen/messy/water play – using the sink topper
Within our baby room, Anne our Senior Nursery Nurse is always looking for creative ways to support her babies in pulling up and developing muscle strength, to get them ready for walking. Mabel, pictured above, spent time herself working out how to clamber into the crate which Anne had filled full of metallic construction (Mabel's favourite!). Anne observed Mabel's persistent efforts and how she watched her peers and finally giggled with glee as she made it into the Crate. Later the babies were filled with excitement as they were pulled around the room inside the Crates on a make-believe train ride.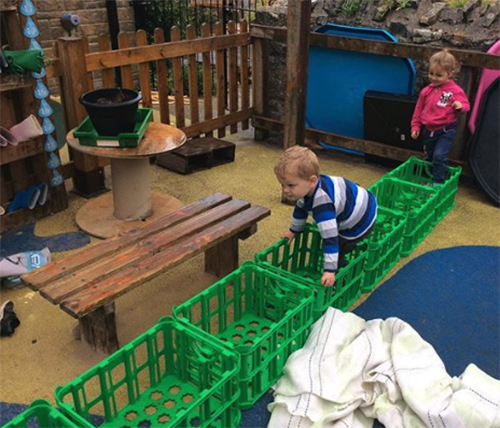 Children in the main Nursery have been developing their fine motor skills this term and the Crates have been designed with different shaped holes and slats perfect for weaving, developing their control and manipulation. Two-year-old Penny, pictured here, spent a lot of time watching our pre-school children weave, before getting stuck in. Evie, sat next to her, was encouraging Penny along the way "That's it push and pull". Collaborative learning at its best!
Over the coming days we will be building dens, posting, stacking towers, printing, making a mud kitchen, an obstacle course and so much more.
You can find our creative Crate adventures on our social media channels so make sure you're following us on Instagram (@littlepips_nursery) and Twitter (@littlepips1)
Until next time…
With thanks to Hollie Westlake, Nursery Teacher at Little Pips, for writing this blog post.
For more information about Little Pips please contact hwestlake@educ.somerset.gov.uk