Get children involved in creating a collaborative masterpiece to be proud of; whether it be in your reception area, hall, stairwells or corridors. Impress parents and visitors with one of these vibrant, colourful and emotive collaborative projects that everyone helps achieve together.
1. Feathered wings
Every child at this school decorated a feather to create one piece of inspirational, collaborative artwork – a great photo opportunity for new starters and class portrait shots. It would also make a wonderful end of year gift/photo for children to take home as a memory of their time in that class/year. Credit to beeinthebookends.blogspot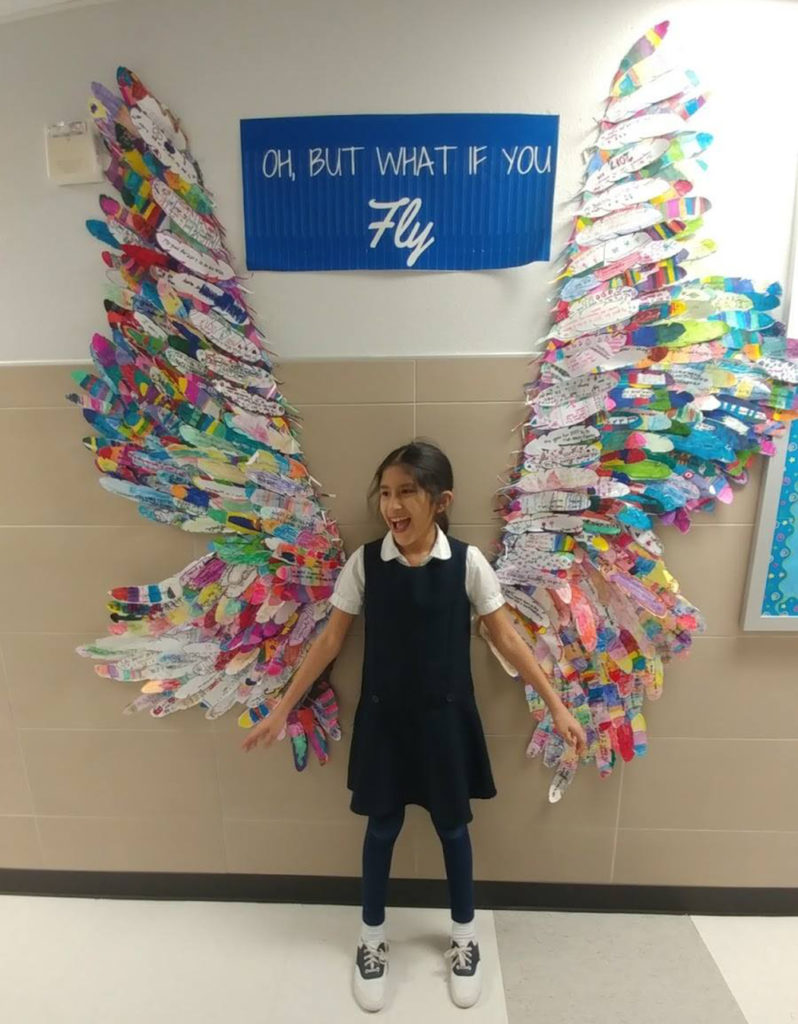 2. Butterflies – 'Until you spread your wings, you'll have no idea how far you can fly'
This idea makes for a very impressive school entrance or hall project. Every child and teacher makes or decorates a butterfly to add to the display, along with the inspiring quote 'Until you spread your wings, you'll have no idea how far you can fly'. (Images sourced from No Added Sugar.)
3. Bottle and container lid art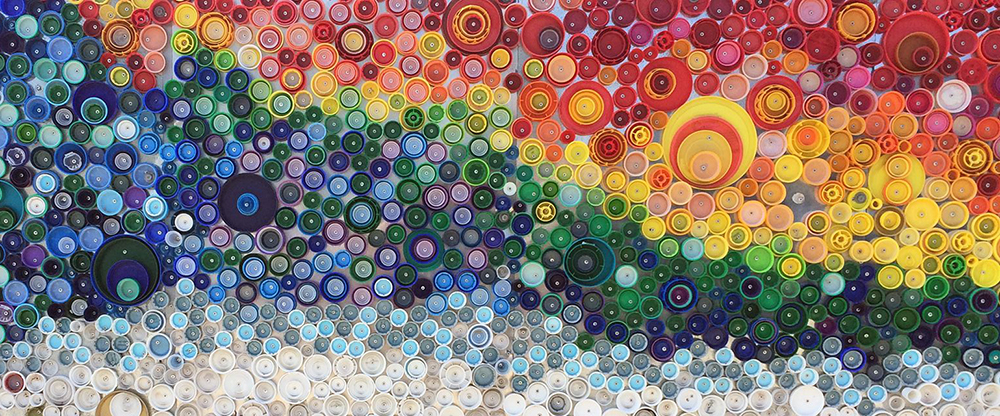 Ask children to collect colourful bottle and container lids of all shapes and sizes. You might run a competition for a suitable design and then create the winning one. Use a large piece of MDF as a base, paint it white or black and then attach the tops using a hammer and nails or a low melt glue gun. Image Source Link.
4. Rock painting entrance pathway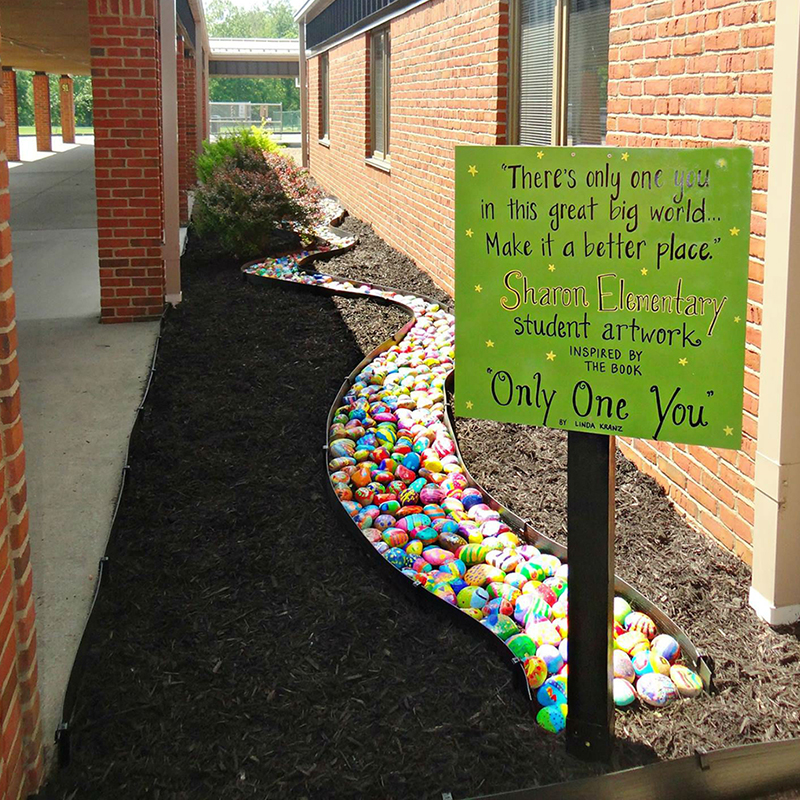 Ask children to paint vibrant designs on large pebbles/rocks then use them to create a pathway leading to the school entrance or an outdoor area. Children might work in teams with each class depicting a different story or theme, or simply paint whatever they like. Use acrylics or Sharpie markers to paint/draw on the pebbles then seal with outdoor use Mod Podge to protect them from the great British weather! Find out how the children made this one here.
5. Classroom door decorating
At the start of the new school year (or each term if you are feeling brave!) each class could decorate their door. You might have a competition for the most imaginative, with the head teacher or a panel of parents selecting the winner. The door could be linked to a theme or topic, or in the case of the new school year, could include children's portraits and names to show who is in the class – a great idea for getting to know everyone quickly. Image credits from Pinterest.
6. Fence and railing artwork
The first idea above includes flowers made from brightly coloured plastic plates, bowls and platter trays from bargain stores with hosepipe stems. The second photo shows bottle tops and container lids fastened to the fence in a patterned design and in the third, each child has been given a post to paint in whichever way they choose. Other outdoor ideas include using old wellies as planters and decorating railings too. Image credits from Pinterest. Find more ideas in this blog post.
7. School garden creations for sale!
Anything children plant, cultivate and grow in their school gardens and allotments could potentially be potted up and sold at an enterprise week or summer fair – all funds raised could go back into a school garden or forest school pot to spend on outdoor equipment – a great way to save up for that mud kitchen or shelter you have your eye on!
8. Palette bug hotels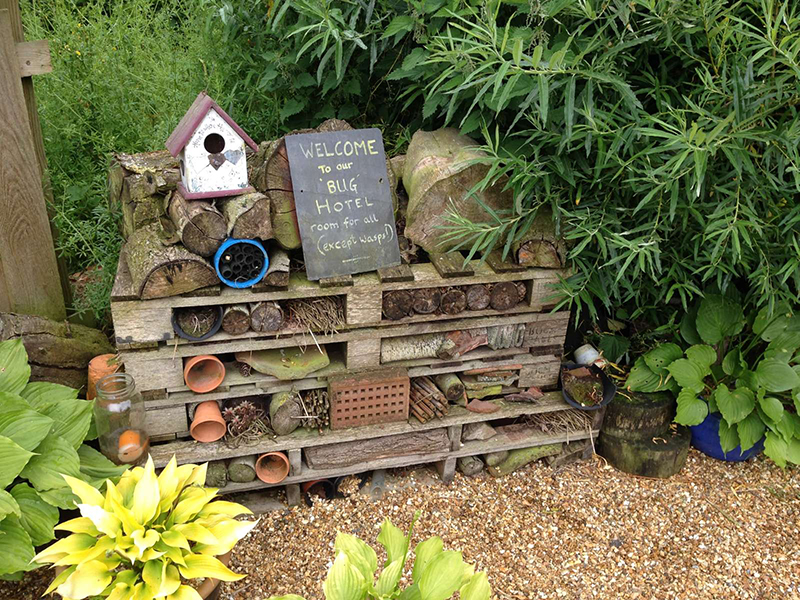 Get the children to create a bug hotel on the school grounds – a wonderful way to attract all kinds of mini-beasts to investigate. All children can get involved and could even make a few if space allows. Use old palettes (ensuring there are no loose or sticking out nails), terracotta pots, old wood fencing panels, guttering tubes stuffed with sticks and bamboo canes on their sides to create all manner of hidey holes and areas for bugs to live. This one is credited to Ling's Meadow.
9. School newsletter by the children
Create a new year newsletter to which the whole school contributes. Make it a real welcome pack for new starters and get their input too. Perhaps have one every term or once at the start of the year and then one towards the end, looking back at favourite memories and triumphs. Try to include information from all classes so that everyone gets the chance to have input. This could inspire lots of budding reporters!
10. Chalk art on the playground
On a recent school visit, we were pleasantly surprised to see a whole playground decorated with chalk! It was a beautifully colourful sight to behold and it took a while to cast our eyes across the whole collaboration. Each child had created their own little part of the artwork which then formed part of one huge piece. Lovely that the parents and visitors got to admire it as they dropped off and picked up their children and then, as the head teacher said, it would all be washed away next time it rained.
11. Ceiling panel decorating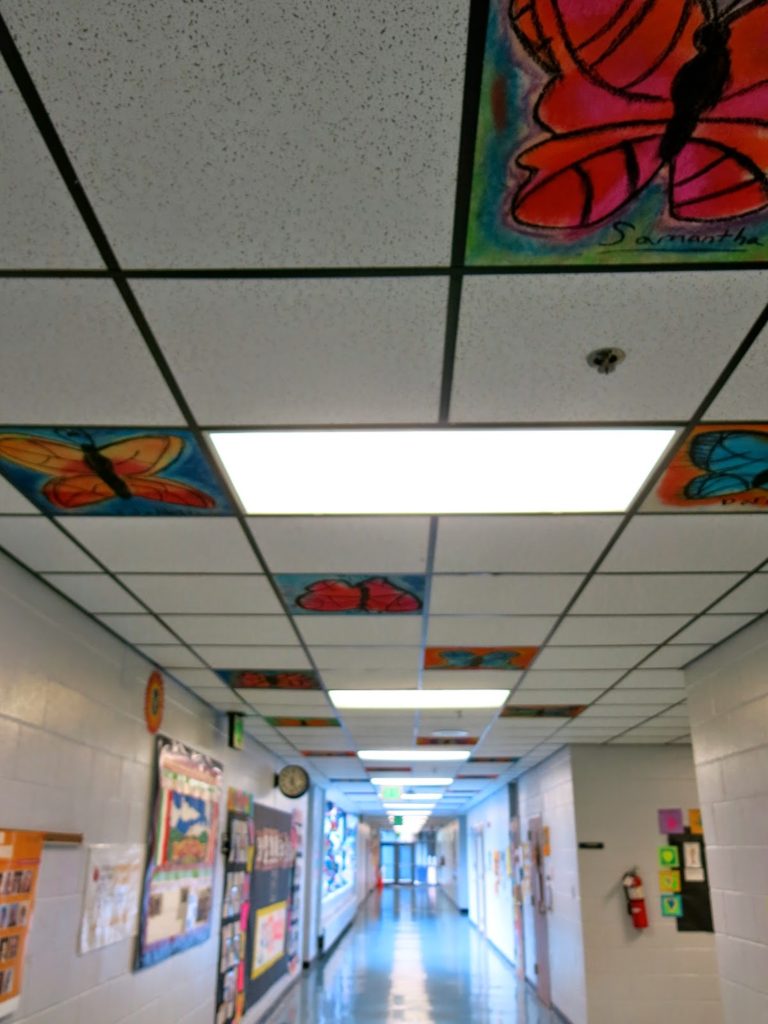 This is a fabulous idea if you have ceiling tiles. Each class decorates one or two tiles to contribute to a larger collection in a hall or to brighten up a corridor. Image credit.
12. CD chandelier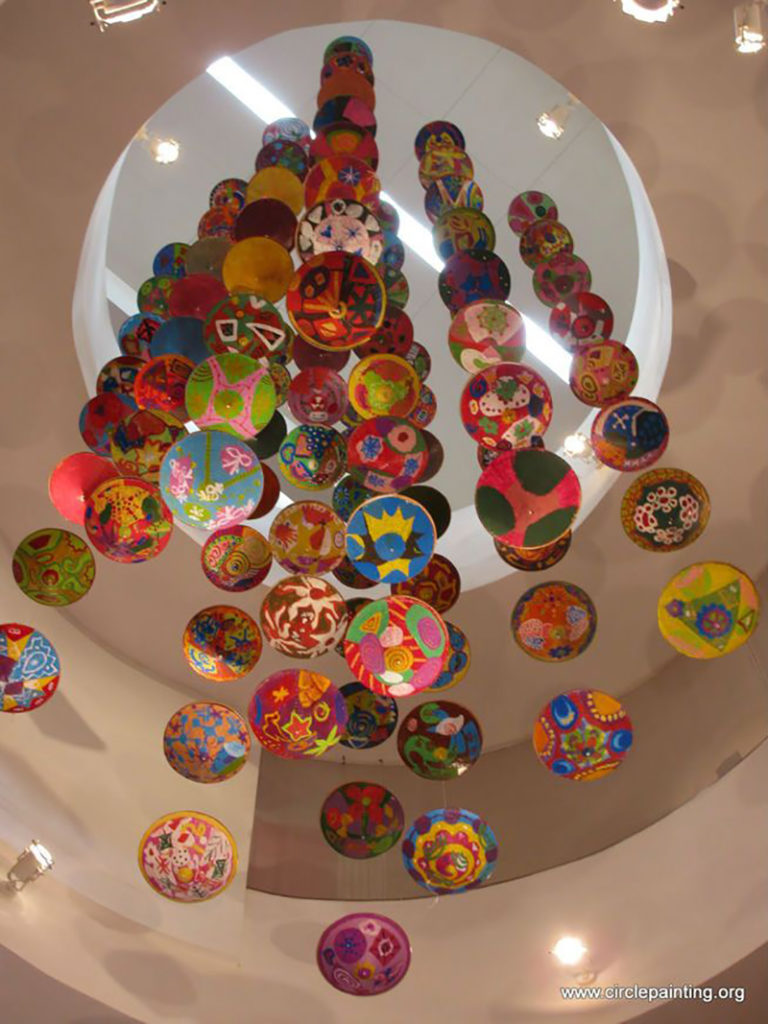 What an excellent idea for old CDs! Children decorate them with vibrant colours, string them up, then attach to an old hoop to hang from a high ceiling, perhaps in a reception area or stairwell.
13. Stairwells and staircases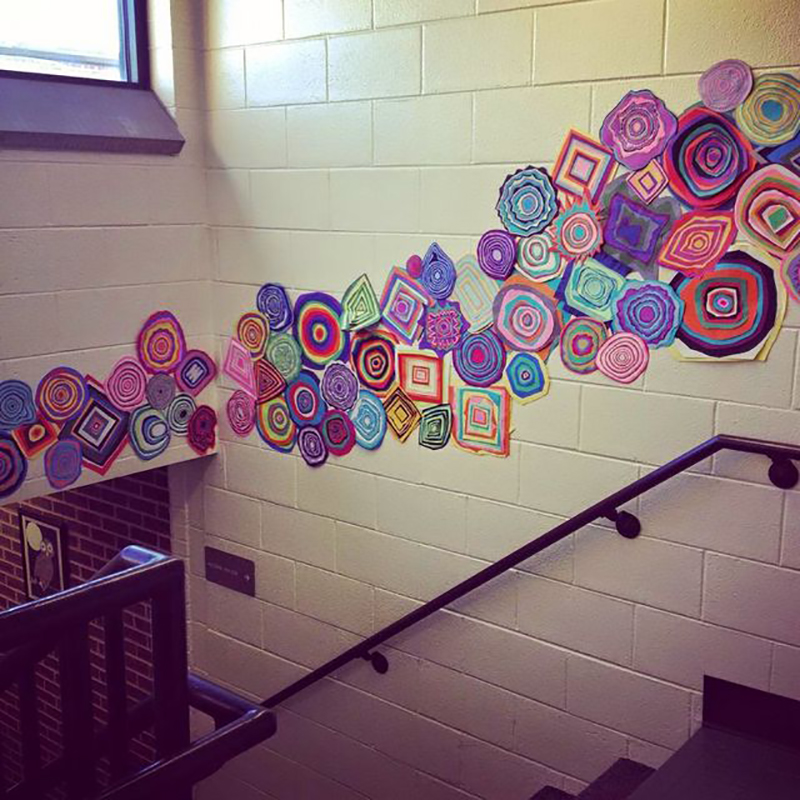 Decorate dull staircases with beautiful artwork by the children. Ask each child to decorate a paper plate and hang them all together in one large collective piece similar to the one above. Image credit – BlogLovin'
Why not decorate the steps themselves with motivational words, your school motto or times tables? Image credits – Pinterest.
14. Egg box flower chandelier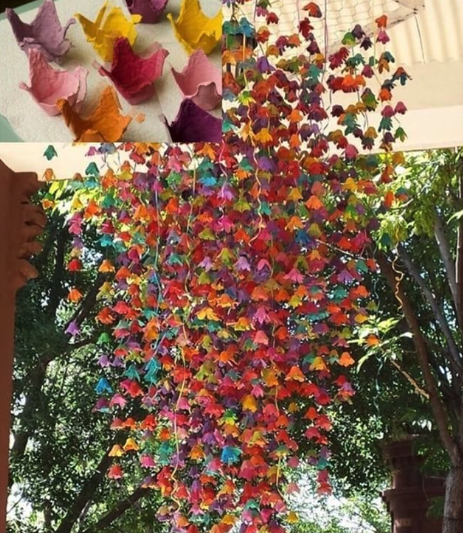 We love recycling an egg box – so many possibilities! This one uses various pieces, painted then cut into delicately shaped petals and strung upside down in lengths from a hoop frame. This would look wonderful in an entrance or stairwell.
15. School-wide handprint mural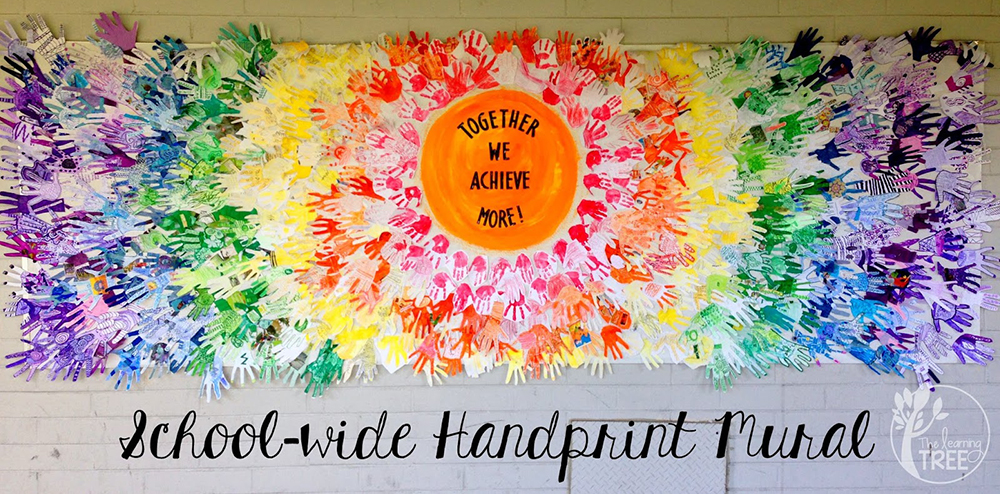 Every child draws around their hand, decorates it to a specified colour scheme, potentially per class or year group, and then cuts it out. The hands shown are very detailed with patterns and writing too!
Staple them onto a large canvas or MDF board in a rainbow or circular pattern such as the lovely one above. Find out how this one was created here.
With thanks to Charlotte Parry for putting these collaborative project ideas together. Many of the ideas and images are from Pinterest. Wherever possible we have provided links to the sources.