Although we encourage children to dress independently for the weather we found that having to take off wellies and all in ones (during the winter) just to come in to find a magnifying glass really disrupted the children's play. We always try to provide as much equipment outdoors as we can, however the weather does not always mean it is suitable to have index books and maps outside. Around 12 months ago, taking the issues above into consideration, we decided to build an outdoor classroom, but we were conscious of the fact that we really wanted it to be a part of the garden and not a replica of our indoor environment.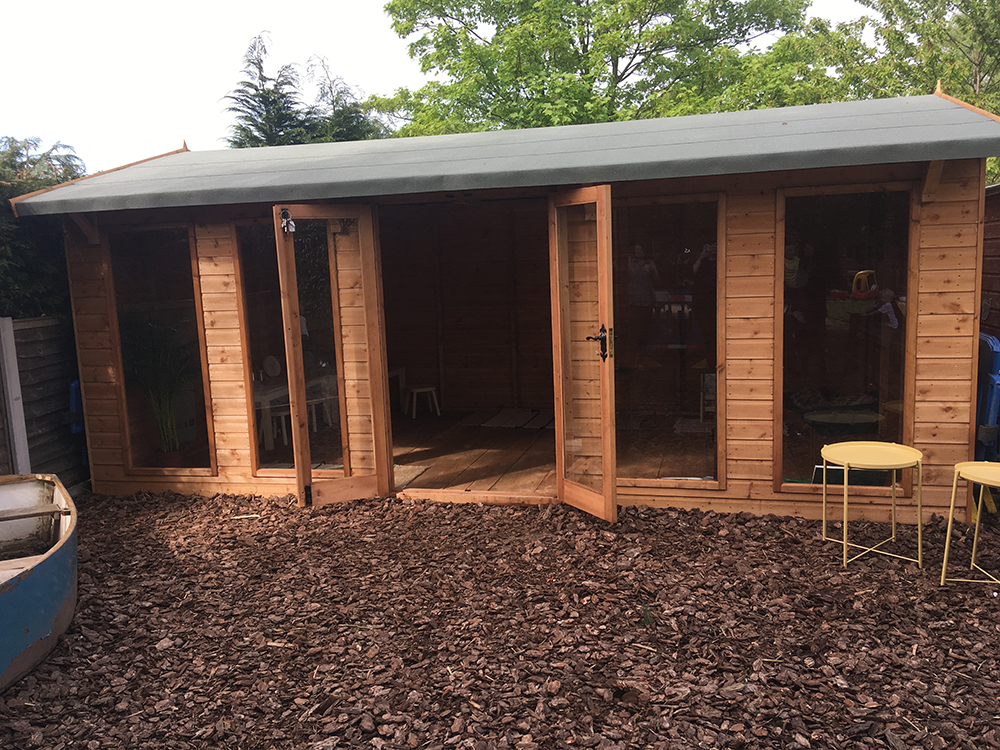 The first thing was to decide what the building was going to be, so we looked at a number of different options including sheds, summer houses, tepees and more permanent brick structures. Bearing in mind that we wanted to keep it as natural and in keeping with the garden as possible, we decided to go for a summer house with lots of natural lighting. We shopped around and found a local company that installed the summer house, they even managed to find reinforced glass so that we could have windows that reached from the floor to the ceiling. Again, this was another factor that was very important, we wanted the children to be able to observe the outdoor environment easily from the classroom and without natural light, we would need an electrical hook up which we didn't want. Furthermore, the summer house was a cost-effective solution which meant that we wouldn't feel so precious about it getting a little mucky with muddy feet and wet hands.
Inside the classroom we wanted to continue that feeling of space and light you get from outdoors and so decided that we wouldn't fill every bit of it with resources, instead we carefully selected materials that would be useful for exploring the natural world. Again, this was important so that we weren't just replicating what we already had in our current indoor and outdoor learning space. We decided to fill the space with equipment for exploration such as magnifying glasses, exploration tables, scissors and maps. In addition to this, we added a self-service drawing area where children could collect paper, pencils and clipboards to take outside and a cosy corner with some books about nature.
I am sure over time this environment will continue to evolve with the children's interests but for now, we are looking forward to seeing how the children use their outdoor classroom.