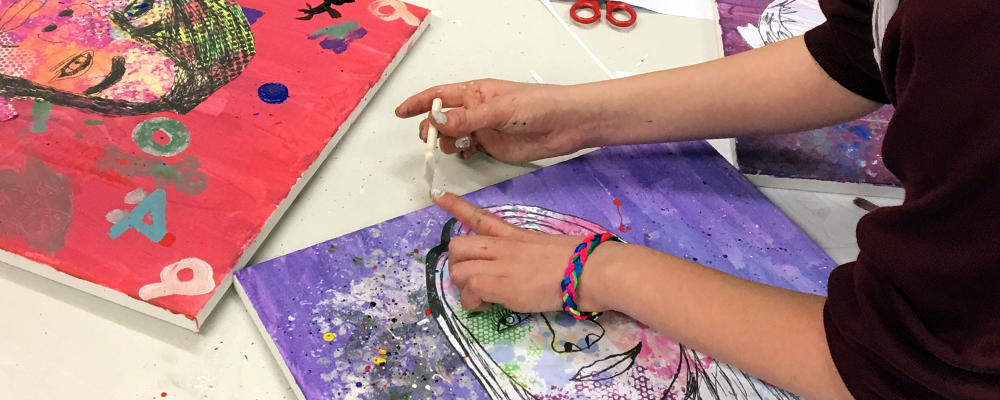 Over the past 17 years I have worked within local education authorities delivering workshops and projects to children and young people in schools; teaching digital photography, digital illustration, drawing and painting projects, graphic and creative design throughout all key-stages.
Much of my personal work is assembled using a computer. I am fascinated with the concept of how one single image, either illustration or photograph, can be presented in an infinite number of ways depending on how it is edited. With the dawn of technology and the wonderful applications that we have at our fingertips these days, it's hard to ignore the creative potential concerning the myriad of apps and programs that allow us to manipulate imagery literally on the hop.
Back in 1998 I had just finished a fine art degree. Much of my focus was on drawing and painting in the traditional sense and I had developed an aversion to art that was made by using computers. At the time computers were just starting to become more common place. Creating art with a computer seemed alien to me; I had the view that it was cheating in some way and that it detracted from the creative process. Luckily this opinion was short lived. Back then, a friend of mine saw the potential in the black and white hand drawn illustrations I was producing and decided to intervene. He took some of my work and scanned it, essentially digitising it, opened my illustrations in Adobe Photoshop and left me to play. My mind was blown and the rest, as they say, is history.
From then on all of my work has started from traditional beginnings. Hand drawn illustrations are scanned, along with a huge amount of made and found textures, marks, splashes and splats, photography and anything else image – based that I can make or find that can be used either on a large basis or elementally. I then use all this imagery to assemble my illustrations using Adobe Photoshop.
The lesson I learned in using digital software to create imagery was that it's just another tool like any other apparatus used for making and creating artwork, be it a paint brush, a piece of charcoal or indeed a palette knife or sculptor's chisel. What it does do very well however is to make creativity immediately accessible to children and young people. In fact, people of all ages benefit from learning creativity with the use of technology. This is because of the access one has to a vast amount of functionality in terms of the art process. That, coupled with some meaningful and creative input, means the results are usually wonderful and varied.
I have been lucky enough to be involved with the delivery of many digital art workshops over the years. I have been constantly stunned by how positively young people respond to the creative process concerning the use of technology.
Below is a project I delivered in 2016 that has a mixture of both traditional skills and digital techniques brought together to result in some super finished pieces. As I was a visiting artist and practitioner, the project was closely linked to the type of work I produce, both personally and professionally, in order that the children could get a feel for the process.
Key stage 2 Art Project entitled 'Who I Am'
This was a wonderful project in which the children explored a wide range of mediums including: photography, pen line portrait illustration, textured mark making with a variety of tools, paint blending experimentation on canvas and digital layering techniques; eventually bringing all these things together for the final pieces. The finished artworks are absolutely fabulous and so wonderfully individual.
First of all the children had their photographs taken. They were asked to make a pose that would form the basis of their portrait illustration. Their photos were printed out at A3 size and they then traced the outline of their features onto a new piece of paper using Biro pens. The resulting images were then scanned and made into line transparencies (meaning the images were digitised and the white background removed, leaving only the line on a transparent background). These images were then saved for a later part of the workshop.
Using their own portraits to make art immediately gives children ownership of the artwork they are producing and they can quickly form a narrative based on the imagery.
The children were then all given an A2 sized canvas to work on. They painted a two or three colour gradient, blending paint in a subtle way to form a solid colour background. Further experimenting with paint, they made marks and textures using sponges, printing with painted bubble wrap and other various texture-based materials to build up an interesting background.
The next stage was to digitally manipulate their hand-drawn portraits using an art based software program called Dazzle 3. The children were given access to a large library of textures and marks to work with during this part of the workshop. After having been shown how to use the layers tool within the software, they were given free reign to colour and change their pen portrait images as they saw fit, using the textures and images that had been made available. Some of the children quickly realised they could make their own unique textures by blending multiple textures together to form something new. Some wonderful and strong images started to emerge.
Building images in layers is an incredibly powerful element to digital image manipulation and once the basics have been mastered, there are unlimited possibilities to the creative potential.
Their favourite images from the digital sessions were then printed out at A3 size and cut out ready for the next phase.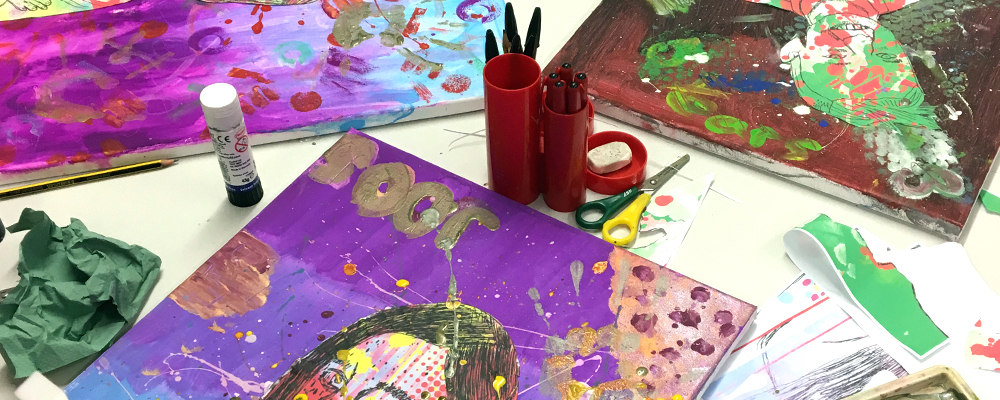 The final part of the workshop was bringing all of their hard work together to form their finished pieces. The children were given back their previously painted canvases and their cut-out digital imagery was incorporated into the canvas using glue. After the digital portrait had been successfully placed on the canvas, the children then worked further into their images using more mark making and painting techniques.
Each of the resulting artworks were full of character and individuality, even though they had all been on the same journey in terms of process.
What I have found over the years is that if you give people, young and old, a set of techniques and skills, all of them will come up with something wonderfully different. Digital creativity is a good vehicle for this as mistakes seems less critical. If required, they may be undone for instance. Not that mistakes should need be undone, but the possibility they can be allows people more leeway. Everybody has latent creative potential inside of them. Much of the time it is finding a way to facilitate that potential through process and technique and freeing up the mind not to be worried about making mistakes. Making mistakes is one of the best ways we learn – after all, it's hard to ignore serendipity and those brilliant and happy accidents!
Instilling the understanding that, in the creative process, a mistake is sometimes the best thing we can make, goes a long way to showing people that art is a journey and not necessarily a destination. Art is to be enjoyed and explored but certainly not feared. Digital art can make this process both engaging and exciting.
With thanks to Mike Barrett – Digital Artist and Photographer for writing this post. www.emelbi.com www.mikebarrettphotography.com