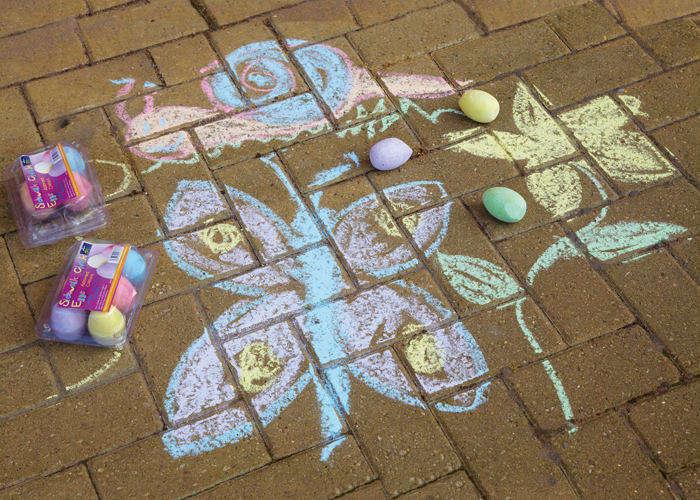 Children's natural creativity needs to be fostered and celebrated in all forms. Providing a diverse range of materials and tools gives children the choice that encourages them to participate and express themselves.

Emma Graham of Busy Bees and Busy Bears County Durham
Try rubbing the chalk on the sole of a child's shoe or boot, then let them jump on or walk along pieces of black or dark coloured paper. They might also experiment with rubbing chalk on the tyres of different types of vehicles and running that along the paper to look at the tracks that are made.
Use chalk outside to make marks on paths and walls. Children can make large movements which help to develop their gross motor skills. They can begin to be purposefully creative, using their imaginations. 'Beginning to use representation to communicate, e.g. drawing a line and saying 'That's me.' (Expressive Arts and Design: Being Imaginative.)
Chalk can be used with chalk boards in role play. Children may have seen chalk boards used in cafes or restaurants, with 'Today's Menu' or 'Specials' written on them. If the role play area is turned into a cafe, put a chalk board out with it, so the children can 'write' on it.
Chalks can be used by children following a rotational schema – they can go round and round with the chalks making circular patterns.
Chalks can be used on a variety of different surfaces – rough brick, smooth concrete, textured bark, concrete paving stone, and different types of paper.  Children will enjoy experimenting with the different patterns produced.
Children might enjoy making a chalk trail in the playground for their friends to follow or to practise walking along for balance and coordination skills.
Using the side of a piece of chalk, cover a blackboard with a thin layer. Provide water pots and paintbrushes of different sizes and allow children to paint over the chalk with water. This can seem quite magical and encourages children to use both fine and gross motor skills
Make ice chalk. Use 1 part cornflour mixed with 1 part water dyed with paint. Pour into moulds (ice lolly moulds are ideal) and freeze for a few hours. Use outside on a warm day and see what mark-making can be achieved before it all melts. A fantastic sensory experience!
Shop our range of Chalk resources here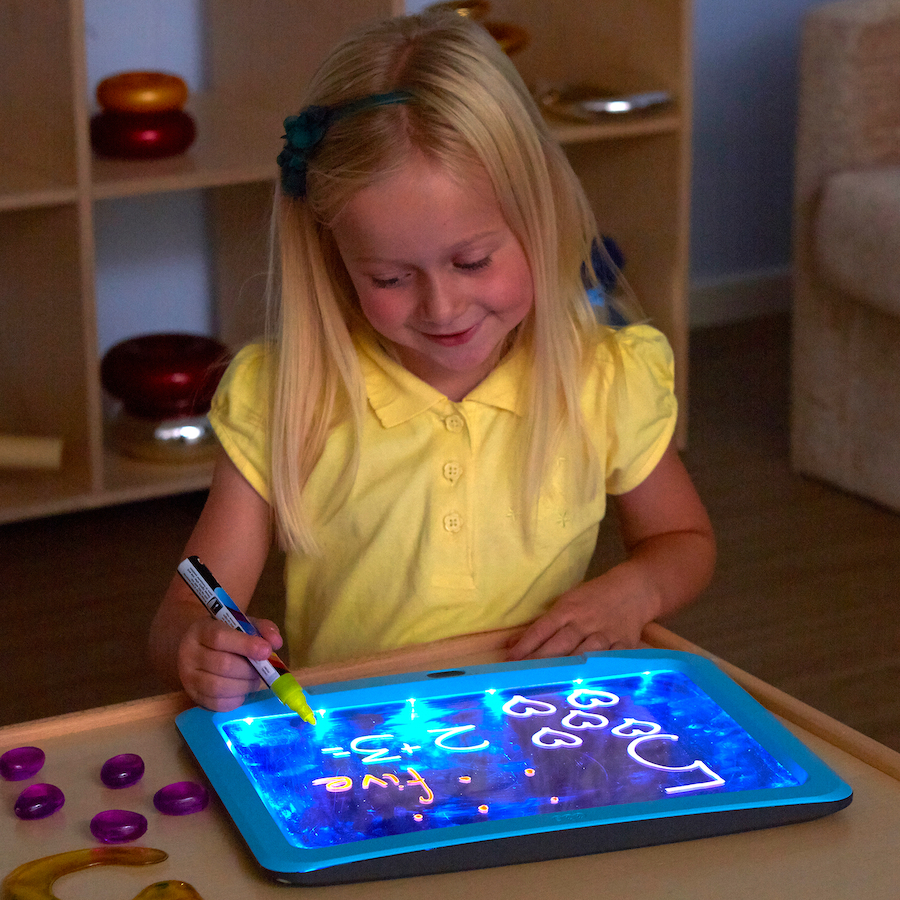 Have you seen our new illuminating writing boards? Ideal for use with chalk pens and markers which easily wipe off. Simply press the switch and your writing, patterns, numbers and drawings become illuminated to add extra engagement and appeal to literacy and mark-making activities. These illuminated writing boards are ideal for encouraging young children to write, helping them to gain confidence. Use with fluorescent dry-wipe pens or chalk pens; wipe surface clean after use.
These ideas have been collated by Jane Bentley, an experienced Early Years consultant and Catherine Clark, our in-house educationalist.
Jane has over 20 years teaching experience and worked in a large primary school for 10 years. While acting as Deputy Head she taught primarily Key Stage 1 and Foundation Stage. Jane moved on from this to set up and manage a private day nursery and gained her Early Years Professional Status. She now works as a freelance writer and is also studying for an MA.
Catherine Clark is the in-house educationalist at TTS, advising on how children learn and how to achieve high level engagement. Catherine also provides training on Early Years education, both in the UK and abroad. She regularly writes for various magazines and blogs and has developed numerous educational resources, many of them award winning. Catherine has over 20 years teaching experience in Primary as well as Early Years education.