1. Children of our Community Dolls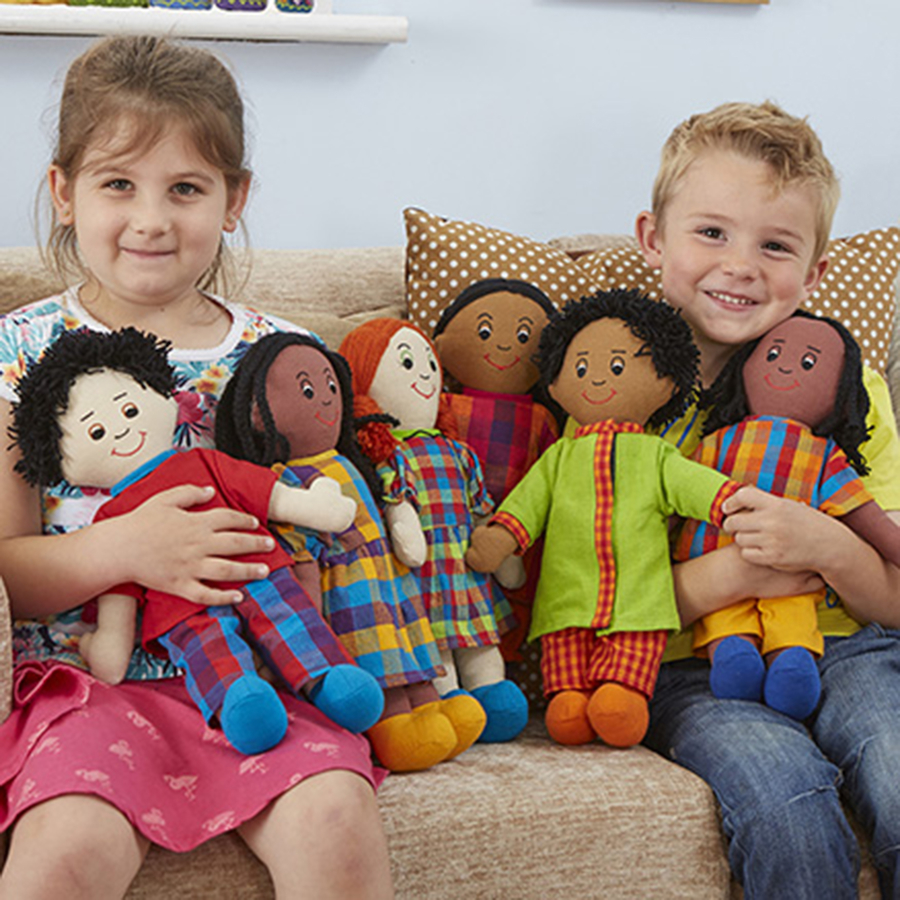 Children love dolls and this set will happily complement any setting's free play resources. They are a contemporary collection of cultural dolls which together help pre-school age groups to ask questions about the different ethnicities. Different hair colour and skin tones help us to try and reflect our diverse British society in the room, encouraging play that – with the right level of intervention – stimulates rich cultural conversations.
To develop a mutual respect and tolerance of different faiths and beliefs, children first need to know what these differences are. Use the dolls alongside other material that show people from different backgrounds often living and working side by side in this country as well as all over the world.
2. Diwali Basket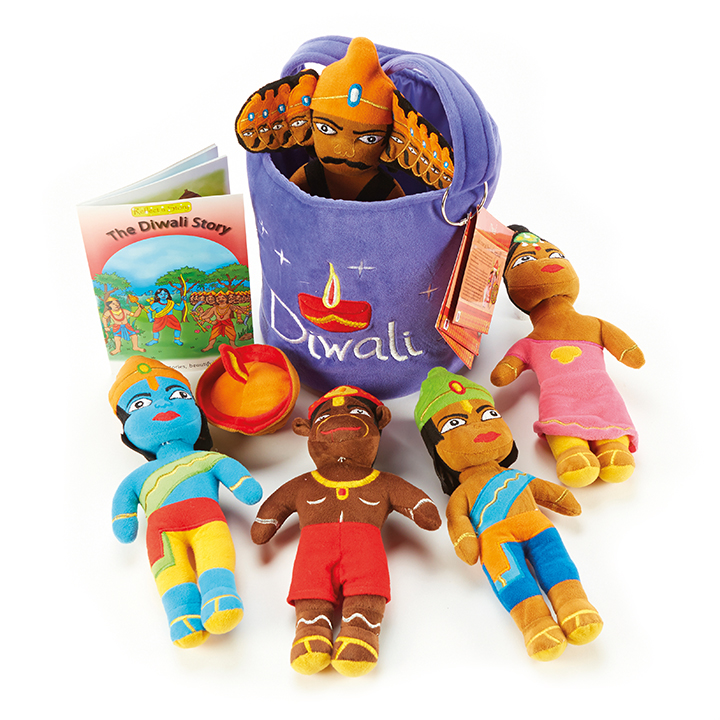 We have a Festival Calendar that is used to plan activities around a range of celebrations, ensuring that the calendar represents both our nursery community and the wider world.
This wonderful bag, full of tactile characters, help us to introduce the story of Rama and Sita and the festival of light. In this way children can start to learn about customs and traditions from other cultures.
We have also collected resources to help children understand the celebrations. For Chinese New Year we have fans, lanterns, scrolls and banners and Chinese dressing up clothes. We will eat Chinese food, which is always a favourite, and use Chinese bowls and chopsticks to eat noodles.
Try working with parents to collect resources or to find out more about the celebrations. One of our parents shared artefacts relating to Wesak, a Buddhist festival, enabling us to have our own celebrations using the paper lanterns and flowers we had made.
3. Multicultural Music Set
From the streets of Rio to the grasslands of Africa, TTS pride themselves on bringing us instruments from a wide range of cultures. They love working on a fair trade basis with artisan instrument makers and with this must come an advisory note that these are instruments and not toys, so children should be supervised at all times.
The set allows up to 20 players to use authentic instruments including hand rattles, thumb piano, Indian ankle bells to name but a few and the resulting ensemble will really add a multicultural feel to music time.
What better way to introduce children to different countries and cultures, using books and other media in addition to sharing images of people around the world dancing, singing and using instruments they might well have in their hands.
4. Basket of Bunnies
Whilst this might not seem at first glance to be a resource linked to British Values, the Basket of Bunnies is a beautiful activity to help children start noticing that whilst the bunnies have different patterns they are all equally important in the set, and are all fundamentally the same.
Suitable from birth the challenge is to find the matching pairs and used with older groups, gives the opportunity to describe each bunny in turn and explore the patterns and textures. The language rich and mathematical opportunities will quickly follow by encouraging the children to discuss what makes the twin bunnies the same and what the differences between the other bunnies are.
Understanding similarity and difference is the basis for respecting diversity.
5. Natural Sorting Tray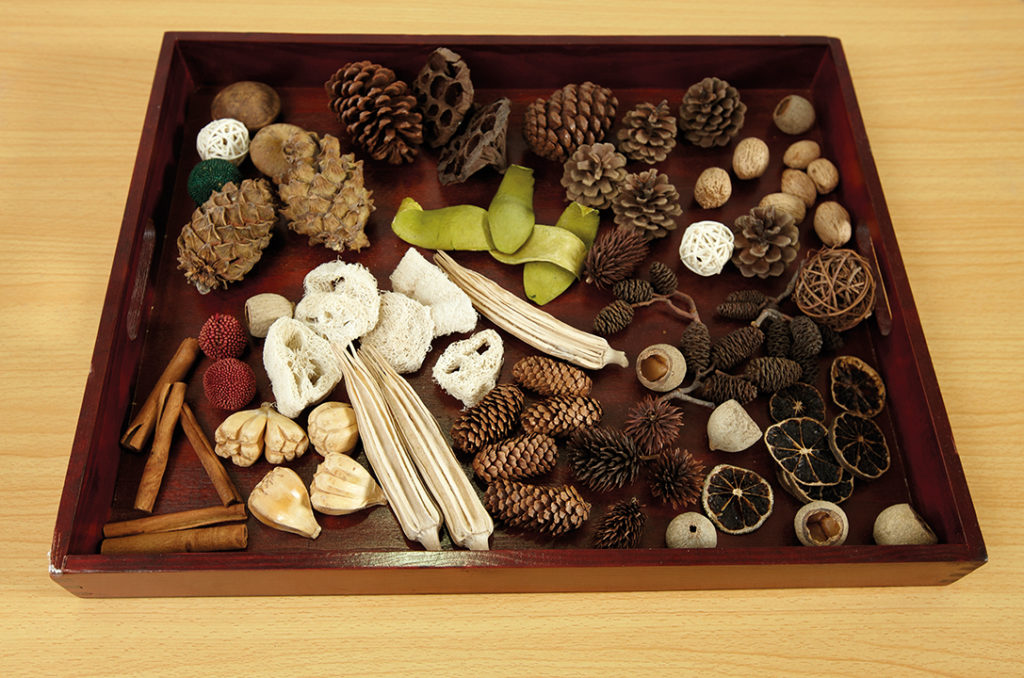 Counting and sorting activities are a great way to teach children about similarities and differences and these wonderful natural products are tactile and interesting for children to explore.
The products come from all over the globe so can be used to teach children about the world they live in: there are luffa or loofah slices and lotus pods from East Asia, pine cones from our woodlands, and cinnamon sticks from Sri Lanka.
Let them quietly group the products together on the tray and then join in to teach about where in the world they come from. Try using a world map mat or even stick pictures of the products on your globe and have string lines from here to there.
One of our team carried out a lovely activity about similarity and difference using a tray filled with a variety of beans. She found it on Pinterest!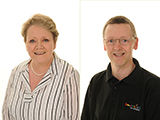 The ideas and advice in this blog are by Steve and Christine Doubtfire, directors of Smarties and Cedar House Day Nurseries in Mansfield. They are both qualified teachers with extensive experience in education, for the last nine years focussing on early years. Steve was one of the first men in Nottinghamshire to be awarded Early Years Professional Status and went on to work as an assessor for the University of Northampton. Christine spent 28 years in FE before leaving to join Steve in the nursery. To support her transition to Early Years, she undertook Early Years Professional status followed by a Masters in Early Years Education. Keen to support professional development in the sector, she worked as an assessor on the EYT programme and as a visiting lecturer at the University of Derby.