After a visit to a day nursery and seeing some small but eye-catching wooden daisies attached to the fence, we were inspired to create something all settings could use…chalkboard daisies.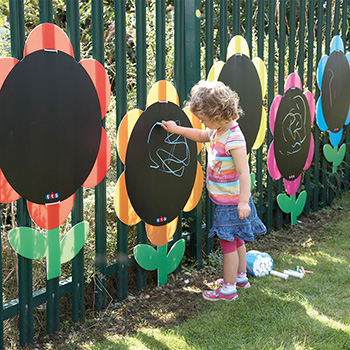 Simply wipe clean at the end of each creative day.
A TTS exclusive and winner of a Practical Pre-School Silver Award 2011 (Creative Play Category)
Bright, attractive and weather resistant these delightful chalkboard Daisies will extend your outdoor classroom and add an eye-catching splash of colour. Make good use of dull playground fencing or walls and transform them into fun, exciting and inspiring areas for young children to explore outdoor drawing and mark making.
A truly open ended resource.
Why not use the Daisies to:
Create themed/zoned/roleplay areas
Explore Maths or Literacy outdoors
Create signs around your outdoor area
Create signs inside around the school building
Write menus for 'little chef's' whilst they're doing a spot of 'alfresco' cooking
Write important notices for the day to parents – they can't miss them if they are on a brightly coloured daisy!
Made from sturdy plastic, the centre of the flower has a special 'chalkboard' finish though all of the flower could be used.
Attach to fencing at the required height through the pre-punched holes using cable ties supplied or mount on playground walls.
Just one of the 2,374 resources we have created over the past 30 years to help you make learning magical!
The TTS team spend a lot of time with teachers, so we know how hard you work.
To celebrate 30 years of delivering innovative resources to every classroom in the country we want to send you a thank you for all you do to make learning magical for the children in your school.
Thank you for your continued support.