Catherine Clark, the Early Years New Product Development Director and in-house educationalist at TTS, introduces our latest communication and language resource. Catherine has researched, investigated and developed over a thousand early years resources during her 15 years working for the company. Many of her ideas have won recognition and awards globally.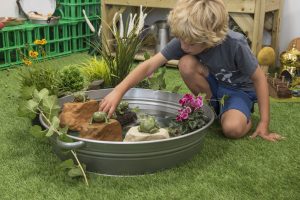 I am really excited to introduce our fantastic Talking Frogs as they offer a plethora of learning scenarios. Not only are they appealing little amphibians, they are recordable, allowing you to embark on all kinds of language activities. They are waterproof too, so they can be in the water tray and sandpit. I do not have to worry that my tech resources have to be hastily brought inside at the first sign of rain or that someone has plunged them into the frothy depths of the messy play station!
I want there to be extra engagement to enliven the learning, add a sense of awe and wonder and hopefully a source of glee. Most of all I want to foster and cultivate a language rich environment where children feel secure in experimenting with words and develop extensive lexicons.
Imagine the daily delight, the sense of anticipation and wonderment as they curiously investigate and activate the frog near the door to hear what it has to say. You could record a message, a mission, a daily greeting or something that is a particular focus for the group. How lovely would it be to hear the frog wishing you happy birthday in your own language. They will be sharpening and encouraging their active listening skills. Is this a magical frog who turns up in all kinds of places with a myriad of instructions, tasks and greetings? Could they be left around the setting, waiting to be discovered in a treasure trail? Imagine hearing that the third frog can be found in the lower branches of the tree, under some shimmering fabric, in a sparkly box or buried deep in the soft sand. Will the frogs lead them to the mystery object, a key or perhaps a box of treasures. We want talk to fuel reasons to talk. Think of the rich language opportunities that can occur. Shouldn't childhood be about such magical moments? Think of these little creatures as catalysts for conversations.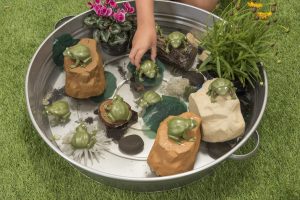 Is it also a resource that they can use autonomously to practice, rehearse and assist their language and communication skills. They each have a 30 second recording time , which you can change as often as you wish. It is so simple you press a button and speak. We need to give children time to talk, to reflect upon words, how they are conveyed and a Talking Frog might just be a relaxed and fun way to achieve this.  Yes, we all have to work on ensuring the children have secured and embedded numerous concepts from numbers to gaining a phonemic understanding, but we can do so by facilitating and offering fascinating provocations.
I imagine sitting with the children at story time (ideally under a tree) and carefully introducing one of the frogs, (with full dramatic effect). "You will never guess children what I have in my hand. If you really listen carefully you just might hear him talk.  Where do you think he came from?" From there you will discover all kinds of explanations as the frogs may turn back into a prince, be a dragon, grant wishes or just have got lost by hopping too far from his pond. No matter what the suggestion, it is firing imaginations and encouraging conversations.
Encourage the children to make up adventures about them, fostering a sense of story. They could be part of a magical small landscape. Small world play is a great way of encouraging children to weave narratives and perhaps the frogs may have speaking roles. Imagine hearing about the frog who lives in a deep, dark pond and only comes out when all the other creatures have disappeared.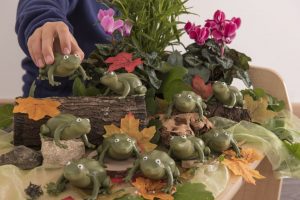 Choose and record the frog's names, perhaps relating to one sound; Frank, Freda, Frances and Felicity. Perhaps make silly sentences such as 'Jilly jumps and jiggles like a jack in a box' or 'Sandy slips and slides like a squid'. Children love to make up nonsense sentences and tongue twisters which are great for playing with sounds as in phase one phonics.
Can you make a collection of rhyming words which the children have to match together, e.g., cat, hat, mat, rat or cap, map and tap.  They really have to tune into the different sounds and differentiate. They can make their own rhyme strings.
Have the frogs with different recorded words and see who is the odd one out. Can you record sounds and match them , e.g. a car, a tap, a bell. Perhaps record/imitate animal sounds . Who makes a roar?
Can you sing the favourite rhyme about speckled frogs (sitting on an actual log they have foraged) but this time have an actual area of water in a bowl for the frogs  to jump into. That is so much more fun and relatable. Perhaps you could record messages together about the activity, e.g. Donna the freezing, shivering frog found the water was like ice and Daphne liked to splish and splash in the clear, cold water.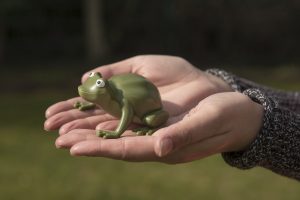 Spoken language is fundamental to all areas of learning and you could incorporate them into talking number lines. The children could rearrange them in order after hearing the word or counting the amount. They could match recorded sounds to objects or match emotions to descriptions.  Record your 3 wishes or a list of your favourite things. Plot a part of a familiar story out, such a Goldilocks and then listen to each one and place in sequential order. Follow instructions, jump, dance and sing or provide instructions and directions for each other.  It could be how to make a jam sandwich, but in doing so the child is really having to select the words carefully.  Solve the mystery by listening to clues what the frog is describing, I am colourful, I have a trunk, Iarge ears and might live in Africa. They could do this for each other, perhaps describing their favourite food, book or toy. They ponder on what to say and then record their voice. If they falter over their words, you simply record again.
I love how I can adapt these cute little characters to all kinds of contexts. I can hold one in the palm of my hand and ponder the learning possibilities that could be enriched by its presence. They can be on floating islands in a water tray or used in a messy area to record the ingredients of their magical potion and it really does not matter if some of that concoctions spills on them. They can have recordings of nursery rhymes, or the start of one for them to then finish. The choices really are diverse.
All I know is that I want children to imagine, to reflect and to have as many enriched language scenarios as possible and these little talking amphibians might help to achieve just that.
Thank you to Catherine Clark for the content in this blog.