Make a felt gingerbread man Christmas decoration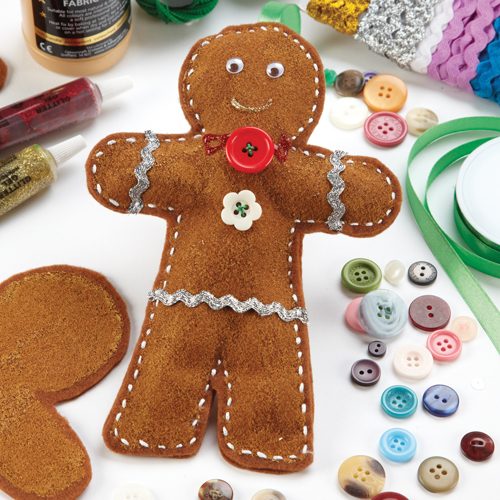 What You'll Need
Additional Materials We Used
Step 1
Choose your template or stencil in a Christmas design – the simpler the better!
To create the decoration, we decided on using a gingerbread stencil and applied a small piece of masking tape to securely hold the stencil onto a sheet of coloured felt. Then  it's a case of 'stippling' the paint into the template until the whole area is completely covered. Repeat the process to create a front and back and allow to dry.
Step 2
Cut carefully around the felt shape leaving approx. 5mm around the edge of the design, this creates a clear guide line when sewing the pieces together. Now add any detail that needs to be sewn on e.g. buttons or ric rack ribbon 
Step 3
Choose a contrasting thread and sew both pieces together, as you do this stuff the shape with a few scraps of felt to give the decoration extra shape.  Be creative by adding a finishing touch with wiggly eyes, glitter glue and sequins
Why not take a look at our other 'Christmas How to…' activities:
Christmas Fireplace and Hearth
Or for fun, quick, accessible festive crafts for the whole class, why not take a look at our Children's Crafts Kits & Decoration range.
Happy making!